It was a brutal weekend for college football in Mississippi. MSU fell to their former coach, USM didn't have enough to pull an upset, and Ole Miss wasn't competitive in their loss. Check out a recap of all three games below:
Florida: 13 #23 Mississippi State: 6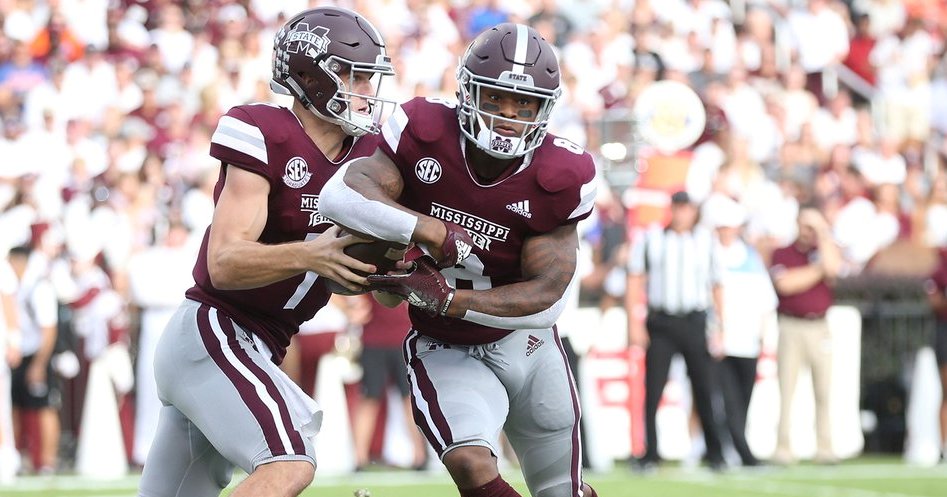 Much to the dismay of the Mississippi State Bulldogs and their fans, Dan Mullen had a successful return to Starkville as his Florida Gators pulled an upset over #23 MSU. 
The game wasn't pretty for either side as they set offensive football back a few years. Neither team was able to stretch the field for the majority of the afternoon, and the game truly came down to a few big moments. 
The teams went into the half with MSU holding a slim 6-3 lead. On Florida's first drive of the second half, QB Feleipe Franks was picked off by MSU's Cameron Dantzler. With the ball on the 50, Nick Fitzgerald and the Bulldogs went for it all. With a chance to grab hold of the momentum and extend their lead, Fitzgerald launched a dime to a wide open Oserius Mitchell near the goal line, and Mitchell dropped a sure thing. 
In what was the most significant sequence of the game, MSU would then punt after the 3 & out. Florida's offense would then move down the field and a trick play would catch the Bulldogs by surprise. Franks threw to WR Kadarius Toney near the sideline, and Toney tossed it to an open Moral Stephens in the end zone. UF grabbed a 10-3 lead, and the Mississippi State offense continued to stall. 
The Bulldogs would have 5 drives that were over in three plays, and never established a rhythm for the second straight week. They surpassed last weeks total by 1 yard as they amassed 202 yards. Fitzgerald didn't make it past 100 yards in the air and fished with 98 while going 11 of 26. RB Kylin Hill ran well early but was featured less as the game went on. 
The defense played well and kept MSU in the game. Franks and the Florida offense moved the ball through short passes, and the running game wasn't effective for most of the game. They did give up chunk plays on quick screens, but allowing just 13 points set MSU up for success, but the offense couldn't convert. 
"This was the second week in a row that the defense gave us an opportunity to win," head coach Joe Moorhead said. "They played incredibly hard and did a good job on third down of getting off the field. Time after time, they got the ball back to us and we just couldn't capitalize."
Scoring Summary: 

Quick Stats: 
N. Fitzgerald: 11/26 98 yards 
K. Hill 9 car. 41 
UF: F. Franks: 22/31 219 yards 1 INT 
Next Week: 
Things don't get any easier for MSU (3-2) next week as they take on Auburn at home
Southern Miss: 13 #10 Auburn: 24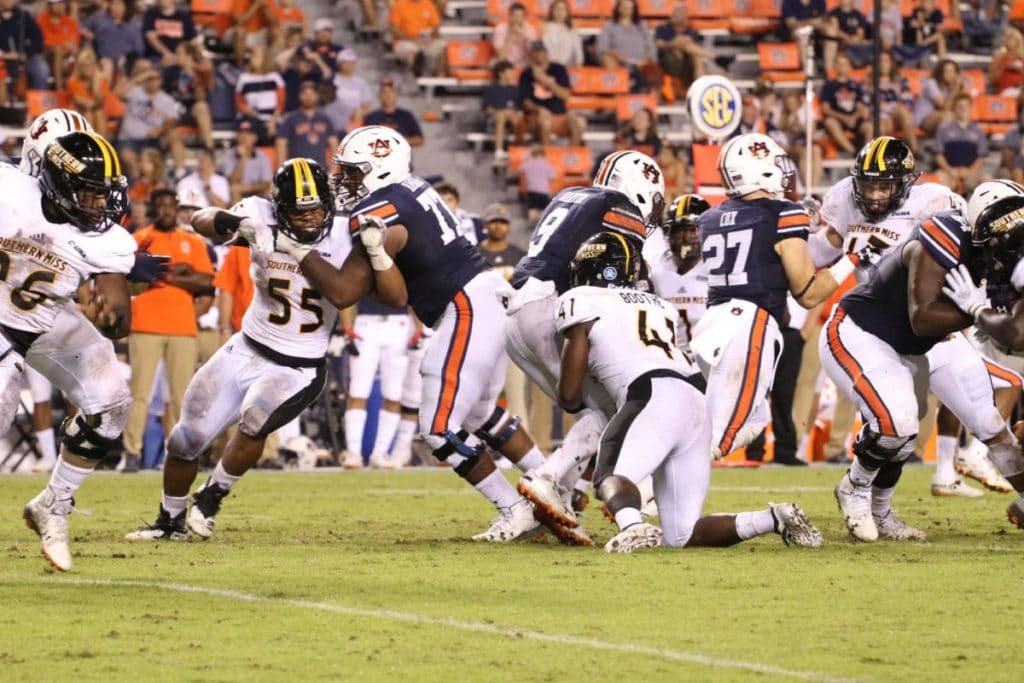 Southern Miss put up a fight as they walked into Jordan-Hare to take on the #10 Auburn Tigers, but they fell short of what would've been an incredible upset.
While Auburn's offense can be explosive at times, they've had a slower start to the 2018 season. That trend continued in the early goings of this one, but they would break through the USM defense late in the 1st quarter to break the scoreless tie. 
USM would cut the lead with a Parker Shaunfield FG early in the 2nd quarter, but Auburn would quickly respond with a TD on their next possession. 
A weather delay lasted several hours, but eventually, the game would resume.
Trailing 14-3 in the 3rd, Shaunfield was true on another FG to make it 14-6. The story of the day would be trading field goals with touchdowns as Auburn went 71 yards in just 4 plays for a TD to extend their lead once again. 
USM wouldn't go quietly though. QB Jack Abraham led USM on a drive and found Quez Watkins for a TD early in the 4th to make it 21-13. The unit would get the ball back down by 8, but Abraham's 2nd INT on the night would all but seal USM's fate. Auburn would add a FG late and walk away with the 24-13 win. 
Losing the turnover battle 3-1 is not a recipe for success, and USM knew that they'd have to be perfect to take down an SEC opponent. With senior QB Kwadra Griggs back from suspension, Abraham cannot be loose with the football if he wants to stay on the field. 
Scoring Summary: 

Quick Stats: 
J. Abraham: 30/44 215 yards 1 TD 1 2 INT
USM rushing: 45 total yards 
Aub: J. Stidham: 19/33 245 yards 2 TDs
Next Week: 
USM (2-2) gets a bye week to recuperate from this week's loss.
Ole Miss: 16 #5 LSU: 45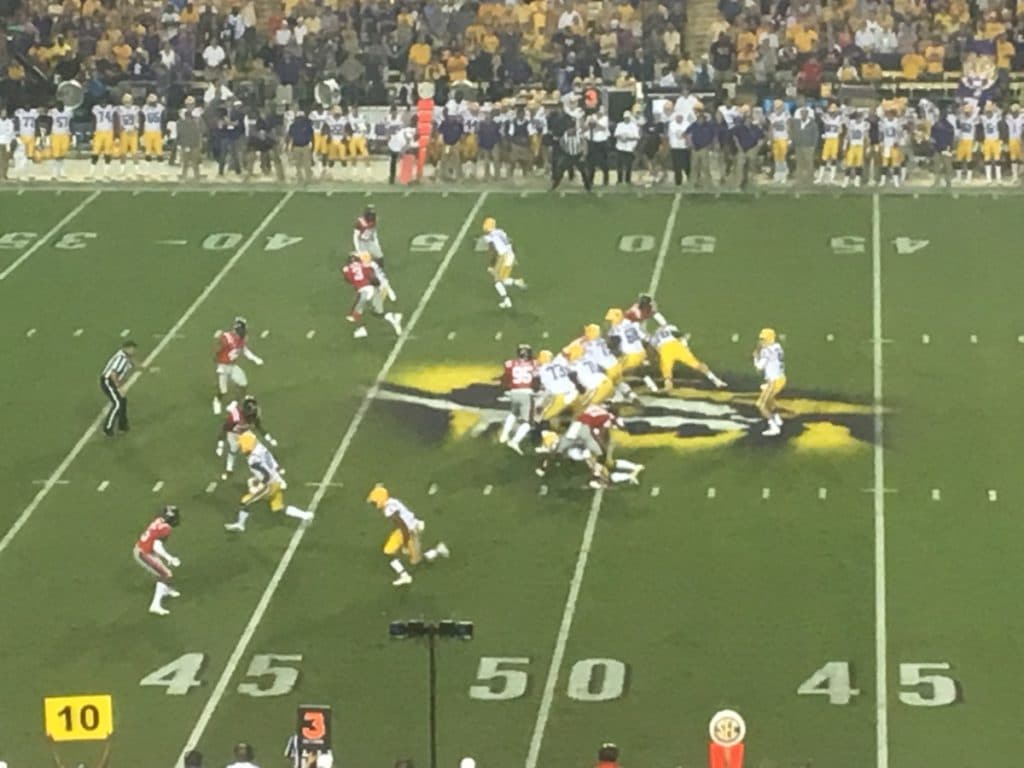 A rainy night in Baton Rouge led to a blowout loss for the Rebels at the hands of the LSU Tigers by the final score of 45-16. 
Against lesser opponents, it's clear Ole Miss can move the ball. After struggling to move to the ball against Alabama many questioned if they could put up points against a top SEC defense, and this game didn't prove anyone wrong. 
Against Alabama, the Rebels were successful on their first play for a 75-yard TD, and they tried a similar play on their first drive last night with a much different result. Jordan Ta'amu's pass was picked off, but LSU would miss a FG on the ensuing drive.  
Ole Miss would move the ball to the red zone on their next drive, but three drops by Rebel wideouts would lead to a field goal for their only lead of the night. LSU would then expose the Ole Miss defense for 28 straight points. 
Ole Miss would use a 13-play drive to make it 28-13 midway through the 3rd quarter, but less than 2 minutes later, LSU would answer with a TD of their own. From there on out, the Tigers went into cruise control without their lead ever in question. 
There wasn't an overwhelming belief out there that Ole Miss would win this game, but without 15 missed tackles and costly penalties to extend drives, it could've been a more competitive game. The Rebels were out-hustled, out-played, and overmatched by LSU. QB Joe Burrow has been dubbed a game manager so far this season, but against the Rebel defense, he couldn't be stopped. 
The Ohio State transfer tossed 3 TDs, and while he's not known as a runner, he led the Tigers with 98 rushing yards. This was the result of wide open running lanes, and the aforementioned missed tackles. 
In total, Ole Miss had 17 penalties for 167 yards. When your defense is one of the worst in the country, you cannot afford to give up any free yards, let alone 167 of them. 
"The uncharacteristic penalties. That is probably what I am most disappointed in," head coach Matt Luke said after the game. "That starts with the coaches. That starts with me. We were beaten soundly in all three phases and we have to find a way to get better."
In their two SEC matchups this season, Ole Miss has now been outscored 107-21 and haven't shown the ability to compete. While a flashy set of wide receivers may be enough to beat Southern Illinois and Kent State, the Rebels don't have the size, depth, or talent to compete in the SEC West. 
Scoring Summary: 

Quick Stats: 
J. Ta'amu: 19/38 178 yards 1 INT
S. Phillips: 16 car. 96 yards 1 TD
Defense: allowed 573 yards
Next Week: 
Ole Miss (3-2) gets an opportunity to rebound with a home matchup against  Louisana-Monroe
Stay up to date with all of Mississippi's latest news by signing up for our free newsletter here. 
Copyright 2023 SuperTalk Mississippi Media. All rights reserved.