Dogs have long been called man's best friend and Charles Dwyer knows this to be true. Dwyer is co-president of Retrieving Freedom in Senatobia who trains dogs with various specific personalities to help serve the needs of Mississippians dealing with autism, those living with diabetes and veterans suffering from PTSD.
While autism has long been known to be an intellectual disorder Dwyer said it often has a reclusive effect on families as many choose not to bring their children in public because of the distress that it causes their child. Dwyer said they chose to focus on helping train dogs for children with autism because it was one of his personal passions and said that they have been highly successful with a process called tethering where an autistic child is tethered to the dog for emotional and sometimes physical support when out in public.
"We go out to Walmart in Senatobia, that is one of the biggest places that we train because you can get all kinds of energy, people, lights, reflections…" Dwyer said. "We'll be walking through Walmart and I guess I've gotten a little desensitized to it because we've been doing it for so long, but you'll look back and mom or dad will be crying, it's like What's wrong? This is going great! They'll say yeah, this is the first time we've ever been in Walmart together as a family."
Dwyer said he has been able to see first hand the drastic changes that can happen once a service dog is placed with an autistic child and their family saying that the dogs are able to provide an autistic child with a non-judgemental companion that becomes a social bridge to the world around them.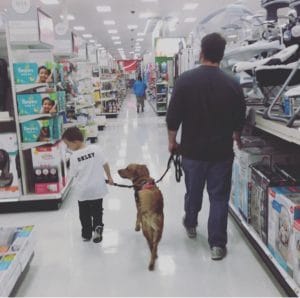 Parents have seen the impact the dogs have had on their children's lives as well. In a post on Retrieving Freedom's Facebook page, one parent said their son's behavior has changed during the time since they got their son a service dog.
"Okley's behavior has changed during the time we've had Murphy," the post says.  "Murphy is such a calming force in our house. He has helped decrease public meltdowns and elopement. Okley wants to walk next to Murphy in public. He helps at home during meltdowns and is a great listener. Murphy is a big part of our family and we are thankful for the wonderful support he provides to our son."
In addition to training medical alert dogs and dogs that help veterans living with PTSD, Dwyer has helped start a prison program that uses the help of incarcerated veterans to train dogs that will ultimately be placed with veterans.
"I've had a couple of veterans tell me that they have learned how to love again, and these guys have been incarcerated for a number of years," Dwyer said. "A lot of the guys that we work with may never get out so, one of the guys told me that it took him a while to make his kissy voice, trying to entice the dog to come to him and he said yeah, man I never thought I would do my kissy voice again. It's cool that these guys now have a purpose that they feel they are responsible for something to give back."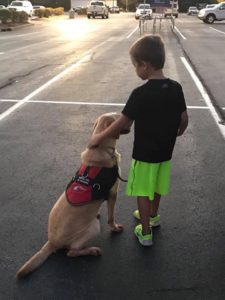 In the end, Dwyer said the dogs become much more than just their owners best friends. They help them live their life.

"I've had a couple of once in a lifetime dogs on a competition side, I've hunted all over the country with them and then you know, they are like my best friend, but since we have been training dogs, especially for our veterans that they rely on that dog to do so much for them day in and day out and then the dog relies on them so much day in and day out, that's a bond I've never experienced and it's incredible to see that happen."
For more information visit Retrieving Freedom here, or call 662-209-2799
Stay up to date with all of Mississippi's latest news by signing up for our free newsletter here. 
Copyright 2023 SuperTalk Mississippi Media. All rights reserved.