U.S. Rep. Katie Hall (pictured second, from left) witnesses along with other national dignitaries as President Ronald Reagan signs federal legislation establishing a national holiday honoring the life and legacy of Dr. Martin Luther King, Jr., in the Rose Garden of the White House on Nov. 2, 1983.
As millions of people across the U.S. and around the world observe the Dr. Martin Luther King, Jr. holiday, Mississippi Valley State University is recognizing U.S. Representative Katie Hall, an MVSU alumna and Mississippi native, who authored and introduced the bill that would make MLK Day a national holiday.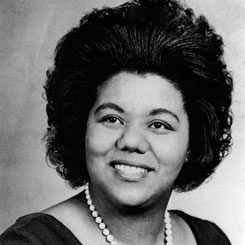 A native of Mound Bayou, Mississippi, Hall graduated from Mississippi Vocational College (now MVSU), with a degree in Political Science. Hall had a desire to one day serve in the United States House of Representatives. This dream would become a reality when she was appointed to fulfill the unexpired term of the late U.S. Representative Adam Benjamin, Jr. (D-IN) in September of 1982.
As a freshmen federal legislator, U.S. Representative Katie Green Hall, a 1960 graduate of MVSU, authored and introduced House of Representatives Bill. H.R. 3706. commonly known as the Dr. Martin Luther King, Jr. National Holiday Law Bill.
After hotly contested debates in both the United States House of Representatives and the United States Senate, Ronald Reagan, 40th President of the United States of America, signed into law on Nov. 2, 1983, Hall's version of "The King Bill".
The nation would thenceforth in Jan. 1986 observe the first national holiday in honor of Dr. Martin Luther King, Jr's birthday on the third Monday in January, as stated in U.S. Representative Hall's legislation. As a result, Dr. Martin Luther King, Jr. became the only African-American in the history of the United States Congress to be honored with a national holiday.
While working on issues affecting Indiana's First Congressional District, Hall had as one of her legislative goals to memorialize the birthday of Dr. Martin Luther King, Jr. in the form of a national holiday. After lobbying for a "The King Bill" in the U.S. House of Representatives it passed with a vote of 338-90.
"Men and women of goodwill on both sides of the aisle showed this was a human concern, not a political or racial issue," Hall said at the time. "Martin Luther King. Jr. gave to this great country a new understanding of equality and justice for all. …this legislation will act as a national commitment to Dr. King's vision of an ideal America."
In later years, Hall often reflected on King's great legacy of love and service to the world based on his philosophy of non-violence.
On July 9, 2016, Mississippi Governor Phil Bryant proclaimed "Katie Hall Day" throughout the entire State of Mississippi, commemorating the 13th anniversary of the Dr. Martin Luther King. Jr. national holiday observance.
The congresswoman is reportedly the first MVSU alumnus to receive this distinction from Mississippi's Office of the Governor. Hall passed away on Feb. 20, 2012, in Gary, Indiana. She was 73 years old.
Stay up to date with all of Mississippi's latest news by signing up for our free newsletter here. 
Copyright 2023 SuperTalk Mississippi Media. All rights reserved.