UM chemical engineering professor Alexander Lopez (left) and chemical engineering graduate student John Malone check out a completed 3D-printed building block that may be used for creating habitation modules on Mars.
A group of Ole Miss faculty and students are working on research for NASA's Mars Mission. InSight is the space agency's eighth successful probe to Mars which continues to stream information from the surface of the Red Planet and the university's Additive Manufacturing Research and Education Cluster (AMREC) is serving on NASA's Mission to Mars program by conducting several funded research projects.
The team has received five NASA seed grants – three from NASA Mississippi Space Grant and two from Mississippi NASA EPSCoR – and one NASA Cooperative Agreement Notice program.
One AMREC research proposal, titled "Developing a Novel Method to Bond Planetary Regolith to Form Rigid Structures for Space-Based Habitats," recently received approximately $200,000 in funding through the NASA Cooperative Agreement Notice 2018 Dual-Use Technology Development at the George C. Marshall Space Flight Center.
"The main goal of our current research is to address some of the top challenges of human health, life support and habitation systems posed by Mars," said Hunain Alkhateb, associate professor of civil engineering, AMREC co-founder and principal investigator for the project. "My research interest is focused on additive manufacturing and additive construction, especially in the field of advancing materials design for multifunctional applications."
Faculty and students alike are hopeful that they will soon watch mankind successfully travel to Mars.
"I asked jokingly that we hold off a fluid mechanics lecture in order to watch the programs following the landing of the InSight probe," said Fielding Ables, a junior civil engineering major from Oxford. "Putting habitable infrastructure on Mars, remotely and ahead of human presence, is exciting. Helping to develop methods and research that result in a cost-efficient, effective and innovative means of building that infrastructure is the coolest thing ever."
Ables has assisted graduate students in their hunt for a cement-alternative design that can be 3D-printed.
"The application, as it applies to NASA, is our interest in using environmental materials and soils in-situ (on site) resources on Mars as major components of the construction materials, eliminating the need to send heavy cement products to Mars to build infrastructure remotely using a 3D printer," he said. "I have helped mix hundreds of cement-alternative designs, studied their material characteristics, such as compressive strength, flowability and initial setting time."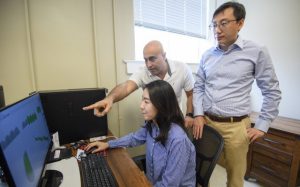 Mars' environment is the biggest challenge faced by the researchers due to its having one-third of the earth's gravity. Because the atmosphere is mostly carbon dioxide, the planet is very cold. These conditions make using liquids impossible.
"Mars' low atmospheric pressure is 0.6 percent of Earth's mean sea level atmospheric pressure," Alkhateb said. "That means a heated substance on Mars would go from a solid condition to a gas condition immediately. The concrete 3D printing process we're working with here requires materials to be heated up to 1,800 degrees in a kiln. Attempting to create 3D concrete printings with the conditions on Mars would be extremely difficult, if not impossible."
Ronald Smith, a junior civil engineering major from Meridian, runs simulations on titanium and aluminum alloy particles to study melting and cooling behavior during the basic 3D printing process of mixed materials. These materials will hopefully make building habitable structures on Mars possible.
"Achievements like NASA's display the prowess of America's space program, as well as the unbelievable reality that we'll put a man on Mars within the next few decades," Smith said. "In the long term, it will be interesting to see if humanity colonizes the planet, whether that be for research or habitation.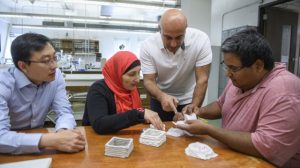 Using computers to simulate extracting surface and deep-planet materials from a Martian regolith (the layer of unconsolidated rocky material covering bedrock), the research aims to overcome some of the technology barriers and challenges in the field of manufactured in-situ construction.
"The utilization of such studies to understand the materials' behavior under Mars' severe environments, compared to Earth's, is becoming a demanding research necessity in order to reach NASA's Mars Exploration Program mission by 2030," said Shane Jiang, assistant professor of mechanical engineering and co-principal investigator on the project. "There will be more and more valuable data coming back to Earth for scientists and engineers to study, stepping forward a little bit once again toward our dream of migrating to Mars in the future."
Ables said the InSight probe is just the latest development in his lifelong interest in NASA's efforts toward space exploration.
"Hopefully, InSight will provide useful data that can give researchers a better picture of the subsurface of Mars," Ables said. "'Marsquakes' have been largely unstudied, and this probe is equipped with seismic sensors.
"Knowing how the planet moves and shakes will give structural engineers more specific design parameters in their work to put habitable and sustainable infrastructure on the Red Planet."
*Photos by Thomas Graning/Ole Miss Digital Imaging Services
Stay up to date with all of Mississippi's latest news by signing up for our free newsletter here. 
Copyright 2023 SuperTalk Mississippi Media. All rights reserved.