The University of Mississippi school of law has been in Australia competing in the Manford Lax International Space Law Moot Court Competition. 
The team came in second to India in the final round of the wold championship. However, competitor, Alexia Boggs, was awarded Best Oralist in the competition.
"We are proud of making it this far and so proud of that Alexia was recognized for her talent," said team assistant faculty adviser Marshall McKeller.
The university makes it a goal to try and send a team from their space law program to the competition every year.
On Tuesday the team made up of law students competed against Greece and wont, advancing them to the world final against India. The court proceeding takes place in front of ICJ judges, three current judges and one retired.
"This is a huge way the UM school of law develops their space law students. These students who are competing have been forged in flames from law students to international law experts proven in front of judges from one of the highest courts of law on the planet," said McKeller.
RELATED: UM Moot court in Australia for world championship
These students, including faculty adviser Dr. Andrea Harrington, have put more time into this project than all of law school.
The team is made up of third-year students Kent Aldenderfer, Kyle hansen, and recent graduate Alexia Boggs.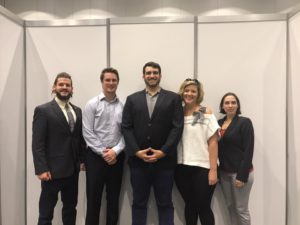 The final round was held on Wednesday and winners to be announced at a 7:00 (Australia time) banquet.
"I believe this is the most taxing thing that a law student can do at the University of Mississippi and the amount of dedication these students have shown to achieve what they have achieved to compete in this competition is just amazing," said McKeller.