After months without football, the first Saturday of the season has come and gone. 
Ole Miss started things off with an early morning victory. Mississippi State kicked off the Joe Moorhead era and didn't miss a beat with QB Nick Fitzgerald. Southern Miss rolled over Jackson State in their opener. Below you'll find a brief recap of all three matchups. 
Ole Miss: 47 Texas Tech: 27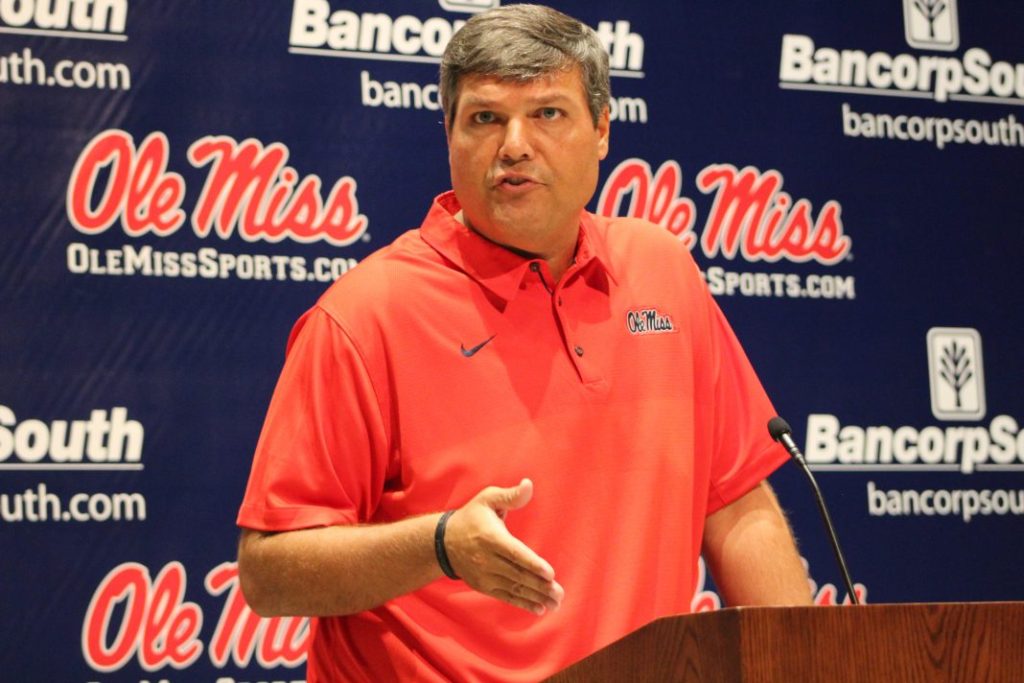 Everyone has high expectations for the Rebel passing game in 2018, and it didn't take long for the unit to show what they're capable of. Just two plays into the season, QB Jordan Ta'amu found WR D.K. Metcalf for a 58-yard touchdown. The Rebels would make their living on big plays throughout the game. They got a kickoff return for a TD, two long runs from JUCO transfer RB Scottie Phillips and a 34-yard TD reception from A.J. Brown. 
The Rebels did struggle to finish several drives and settled for three Luke Logan field goals, and that's something that head coach Matt Luke knows they need to improve on.
"Let's finish on third down. Let's finish in the red zone," Luke said. "Those are the things we needed to do to be successful."
As for the Rebel running game, the loss of Jordan Wilkins loomed large but Phillips showed that he can be the lead back – finishing with 205 yards and 2 TDs on 16 carries. Luke said that he wasn't at all surprised by his performance. 
"The word I've been using is cautiously optimistic, because I've seen a lot of really, really good things in the spring and in fall camp, but it was good to see him. He has short, quick bursts, but he also has the breakaway speed that he can finish it when he breaks the line so really, really pleased to him have some success," Luke said.
The defense gave up nearly 500 yards of offense, but as the game progressed, they showed the ability to clamp down when they needed to. On their first drive, the Red Raiders moved the ball with relative ease against the unit and scored.
TTU's starting QB McClane Carter was injured and replaced with freshman Alan Bowman. Bowman began to find his rhythm as the Red Raiders trailed 24-7. In the 2nd and 3rd quarters, TTU would put up points to cut the Rebel lead down to 37-27 entering the fourth. 
During the 4th quarter, the Rebel D was put into a tough spot following a Demarkus Lodge fumble, but they wouldn't break. In the late stages of the game, a couple of 4th down stops sealed the win and the Rebels are 1-0. 
Quick Stats: 
Jordan Ta'amu – 22-32 336 yards 3 TDs
A.J. Brown – 7 catches 93 yards 1 TD
D.K. Metcalf 4 catches 81 yards 1 TD
Scottie Phillips 16 carries 205 yards 2 TDs
Team Defense: 8 TFL
Offense: 546 total yards. 
Next Week: vs. Southern Illinois
Stephen F. Austin: 6 Mississippi State: 63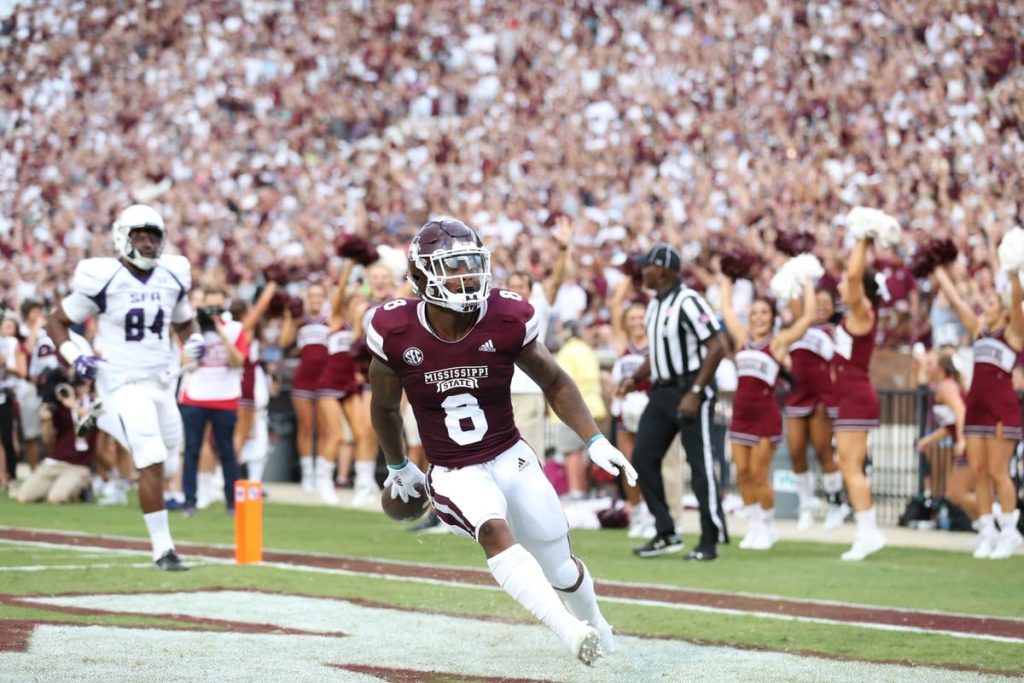 A relatively quiet few weeks leading up to Mississippi State's opener was thrown out the window when new head coach Joe Moorhead announced a one-game suspension for Nick Fitzgerald. 
The 18th-ranked Bulldogs would start the Moorhead-era without their senior QB, but they didn't miss a beat against Stephen F. Austin. MSU saw the Rebels score in just two plays earlier in the day, so they scored on their first offensive play of the game.
Kylin Hill caught Keytaon Thompson's first pass and took it 53 yards for a touchdown and the rout was on. The Bulldogs would put up 21 points in the first quarter, while the defense shut down the Lumberjack offense. 
The first defensive series for MSU was indicative of the entire night, as the dominant DL, lead by Montez Sweat and Jeffrey Simmons, broke through and wrecked havoc. The Lumberjacks would only manage two field goals all night, and they were held to just 254 yards. The defense totaled 17 TFL and had SFA moving backward all night long. 
While SFA struggled on offense, MSU surpassed 600 yards. A large portion of those yards came from Thompson. Heading into the game, Moorhead stated that he has the "next man up" mentality and he proved that Saturday night.
The sophomore QB  threw for 5 touchdowns and ran for 2 to tie an SEC record with 7 total TDs. After the game, Thompson said his coaches put him the right situations to be successful. 
"Coach Moorhead and his staff did a great job on putting us in the best position to make plays.," Thompson said. "They couldn't have called a better game. I'm really proud of the coaching staff and they did a good job on preparing us for tonight," he said.
While the quality of the opponent may not be what they'll see all season long, Moorhead was pleased with the effort, but did say there's room for improvement.
"I thought we did some good things on offense, defense and special teams," Moorhead said. "There is certainly a lot to clean up moving forward against a quality opponent like Kansas State on the road. I am pleased but not satisfied. I am excited about some individual and collective performances. Very proud of our team and very proud of our coaching staff. It is a great way to start the season."
Quick Stats: 
K. Thompson 13-31 364 yards 5 TDs, 10 carries 109 yards 3 TDs
Osirus Mitchell 2 catches 114 yards 2 TDs
Offense: 618 total yards
Defense: 4 sacks
Next week: @ Kansas State
Jackson State: 7 Southern Miss: 55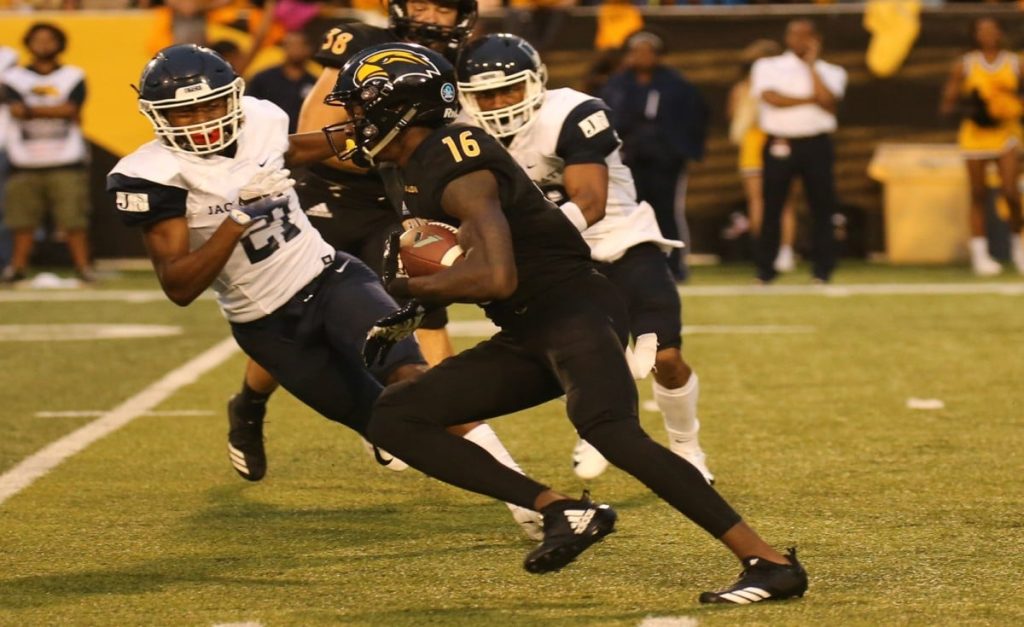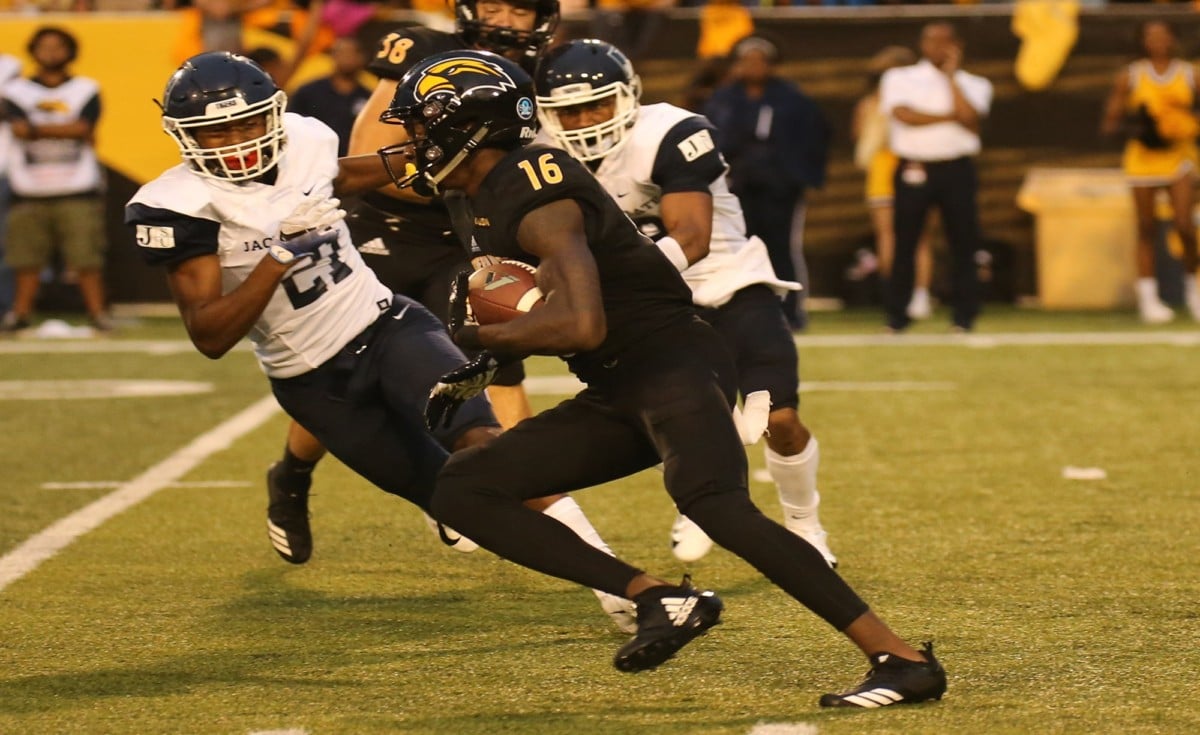 Southern Miss' QB plans were thrown for a loop when presumed starter Kwadra Griggs was suspended indefinitely a few weeks before the season began, but they showed the ability to move forward. 
JUCO transfer Jack Abraham got the start in Griggs' place and quickly showed why head coach Jay Hopson chose him. Abraham completed 21 of 27 passes for 242 yards and four touchdowns. 
"Jack had a good game," Hopson said. "He understands you have to do it week in and week out. He's a level-headed young man and he understands it's one game. I was pleased. He moved us well and he managed the game extremely well, so I was really proud of his effort. Jack was a winner at Oxford and he's proved a lot of great things and he had a really good game today."
Abraham's favorite target all night was WR Quez Watkins, who caught three TDs and he returned a punt for a TD. Watkins became the first Southern Miss player since receiver Allenzae Staggers in 2016 to catch three touchdowns in a game.
By halftime, it was 41-0 with the outcome already decided. JSU would add a TD late in the 3rd to avoid being shutout. The Golden Eagles got to sub their starters out in the second half, and Hopson knows that's valuable experience as the season gets underway. 
"It's always good to get the first win," he said. "We started fast, I really liked our first three or four possessions on offense, on defense we were really good too with a few 3-and-outs early. It was a good opportunity in the second half to play a lot of guys. It's a long year so when you get those opportunities it's always a plus. It gives us a chance to see who's making plays and who is going to give you some solid depth. All in all, it's a good win and it's good to get the first one."
Quick stats: 
J. Abraham: 21-27 242 yards 4 TDs
Q. Watkins: 8 catches 138 yards 3 TDs
Offense: 457 total yards
Defense: held JSU to 3/14 on 3rd down
Next week: Louisiana-Monroe