Mississippi Attorney General Jim Hood and Mississippi Bureau of Narcotics Director John Dowdy are at the forefront of an effort to combat the state's opioid and heroin epidemic and to create discussion among medical, law enforcement and treatment professionals.
The speakers for the summit include:
Judith Landau, MD, Adrian Hickman, PHD, and Johnny Patout, LCSW, Darryl Strawberry, CEO and Founder of Strawberry Ministries, and RON DOCK, former Interventionist for the NY Yankees.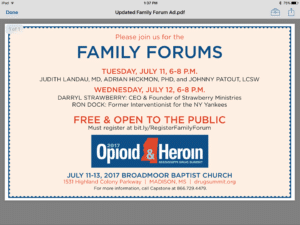 To initiate these discussions and increase the public's awareness of the seriousness of opioid and heroin abuse, multiple government agencies and non-profit organizations have joined forces to hold the 2017 Opioid and Heroin Drug Summit.
The drug summit is scheduled for July 11-13 at Broadmoor Baptist Church, located at 1531 Highland Colony Parkway in Madison. Invited to attend are parents, educators, policy makers, opinion leaders, stakeholders, journalists, physicians, pharmacists, counselors, law enforcement officers and members of the clergy.
"From 2013 to 2016, Mississippi had 563 reported drug-overdose deaths, with 481 of them involving opioids. In 2016 alone, there were 211 reported drug-overdose deaths, the highest in Mississippi's history," said MBN Director Dowdy. "The numbers are likely much higher due to severe under-reporting by the state's coroners," he added.
"We need a comprehensive plan to address opioid and heroin addiction. This drug summit is an opportunity for all stakeholders to have input in its development," General Hood said.
The 2017 Opioid and Heroin Summit will consist of three days of education from individuals who are leading the fight to combat the opioid and heroin epidemic. Among them are Sam Quinones, author of the book Dreamland: The True Tale of America's Opiate Epidemic; Dr. Marv Seppala, Chief Medical Officer, Hazledon Betty Ford Foundation; and Dr. Keith Berge of the Mayo Clinic.
The drug summit also will feature a family forum on the nights of July 11-12 and will include former Major League Baseball player Darryl Strawberry among others.
For more information about the summit and to register to attend it, visit www.drugsummit.com.