Mississippi voters are united around several key policy positions, indicating that an often-fragmented state electorate has found common ground just as the 2019 legislative session begins in Jackson. The January 2019 Millsaps College/Chism Strategies State of the State Survey also found that Mississippians are becoming more pessimistic about the direction of the state and provide a mixed evaluation of the state's main political actors and institutions.
For the sixth consecutive State of the State Survey, infrastructure remains the top policy priority for voters, with nearly 30% of voters saying that state leaders should focus their attention on fixing the state's roads and bridges.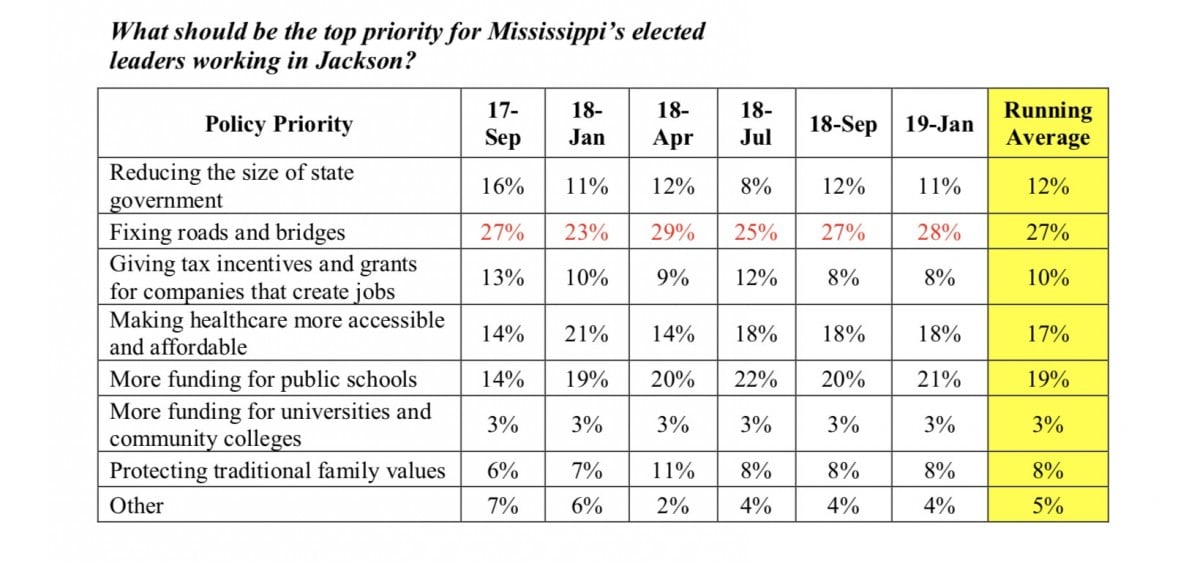 A majority of Mississippi voters (65%) say that funding for the state's public schools is too low, cutting across lines of party, race, gender, educational attainment, and age. Likewise, over 75% support providing for a 3% pay raise for Mississippi public school teachers.

An overwhelming 83% of voters back the plan recommended by the Mississippi Public Service Commission to allow rural electric cooperatives to provide high-speed internet access across the state. Over 60% favor expanding Medicaid under the Affordable Care Act to increase insurance coverage for low-income, uninsured citizens and to help rural and small-town hospitals stay afloat. Mississippians are also very supportive of allowing for early voting in their Circuit Clerk's offices 14 days before an election, with 71% saying that it is time for Mississippi to join the 38 other states that permit early voting for most elections.
"2019 brings us both a fundamentally important legislative session and a crucial election year in which all state officials, including every seat in the legislature, are up for grabs," said Dr. Nathan Shrader, assistant professor of political science and director of American Studies at Millsaps College. "We oftentimes find ourselves discussing the deep divisions within the state's electorate on major policy issues, but the story of the January 2019 State of the State Survey is that Mississippians have found consensus on a number of central issues that are going to play a vital role in this year's election, the current legislative session, and future sessions."
Attorney General Jim Hood's recently announced lawsuit against opioid manufacturers, requiring the companies to reimburse the state for costs associated with combating addiction, was endorsed by 69% of voters.
The planned 2020 ballot initiative to allow for the use of medical marijuana for qualified patients with debilitating medical conditions is also popular with the public, with 67% supporting the proposal. Funding the $75 million needed for Mississippi's Public Employees Retirement System, rather than reducing benefits and pensions, was favored by 54% of voters.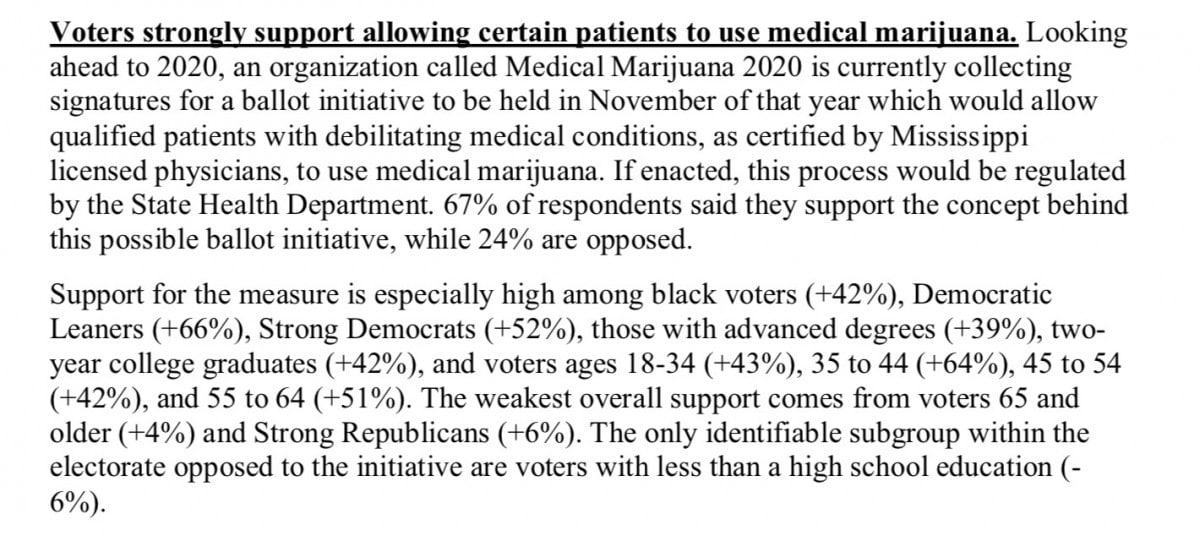 The survey also measured approval and disapproval ratings for several state officials and the legislature itself. Secretary of State Delbert Hosemann and State Treasurer Lynn Fitch remain popular with the voters with net approval ratings of +30% and +19%, respectively.
Insurance Commissioner Mike Chaney and Commissioner of Agriculture and Commerce Andy Gipson also maintain strong net approval ratings (+10% and +13%, respectively), but nearly half of those surveyed said that they don't know enough about them to make up their minds.
On the other side, recently elected U.S. Senator Cindy Hyde-Smith is underwater with Mississippi voters as 50% disapprove of her work in the Senate while 38% approve, for a net approval rating of -12%. Additionally, the Mississippi Legislature's disapproval rating stands at 46%, while just 24% approve of their collective work, a net approval rating of -22%.
"We hope this survey series will continue to remind lawmakers about the issues that voters consider most important," said Brad Chism, president of Chism Strategies. "This information is not filtered through special interests – it comes straight from a representative sample of voters across the state."
Stay up to date with all of Mississippi's latest news by signing up for our free newsletter here. 
Copyright 2023 SuperTalk Mississippi Media. All rights reserved.