Just one week remains in the regular season of college football after a busy week 12. Ole Miss went into OT with Vanderbilt and a questionable call in the end zone will be debated all week long. Mississippi rolled over Arkansas, and Southern Miss kept their bowl-eligibility hopes alive.
Ole Miss: 29 Vanderbilt: 36
By Brian Scott Rippee, Ole Miss Beat Reporter for SportsTalk Mississippi
The result and events that led to it were largely the same for an Ole Miss team that has lost four games in a row after a 36-29 overtime defeat to Vanderbilt in Nashville on Saturday night.
The Rebels have been competitive in most of the games they've played this season and given themselves countless, real and tangible chances to win games, but have been unable to get to the finish line. 
Why? That is a question that requires some unpacking. It's a myriad of dysfunction comprised of factors both significant and minute. 
Ole Miss is bad in the red zone. This night was no different. The Rebels jumped out to a 13-0 lead that could've easily been 21 points. It's surpassed a trend at this point and has become who they are as an offense. The Rebels had seven red zone trips, kicked five field goals, scored one touchdown and turned it over one time.
"I thought that was the story of the game in my mind," head coach Matt Luke said. "If any one of those field goals are touchdowns we win the football game. I think the ball is going to the right spot, we just have to make the plays when they are there and score touchdowns in the red zone."
Ole Miss' lone red zone touchdown came on a nine-yard screen pass to Damarkus Lodge. The Rebels got a playmaker the football quickly in space on the perimeter and it worked. The team was missing Scottie Phillips, who was unable to play with a sprained ankle. Freshman Isaiah Woullard had 103 yards on 16 touches. He was serviceable, but Phillips gives the team an element of explosion that Woullard does not. But this is who Ole Miss is at this point. Phil Longo's offense is predicated on chasing space. When that space condenses, the Rebels don't adapt.
"Anytime we are not having the success in a certain area we reevaluate it," Longo said. "I thought our staff all felt confident in our plan this week. It wasn't enough."
Ole Miss is also undisciplined. In the second quarter, the Rebels led 13-3. Vanderbilt blocked a punt for a safety. Ole Miss proceeded to commit four penalties in the form of an offsides, two pass interferences and a personal foul on the ensuing kickoff. It aided in a scuffling Vanderbilt offense in putting the ball in the end zone for the first time in the game. Ole Miss worked to build a multi-score lead and it was reduced to a single point in a matter of three minutes.
Ole Miss also lacks depth. A short-handed defense started the game by forcing three straight punts. Fatigue eventually set in and the unit succumbed to Vanderbilt's slow, methodical offensive attack. The former and latter often go hand-in-hand. Fatigue often brings frustration and mental lapses. It's part of what leads to the undisciplined play. Make no mistake about it: This struggling defense allowed under 400 yards of offense and gave Ole Miss ample opportunities to seize control of the game, but the offense didn't hold up its end for a second consecutive week.
"Guys are playing with great effort," defensive coordinator Wesley McGriff said. "To come up short, that is what is the most frustrating part."
A lot of those guys are banged up, but they come in with the right attitude and they are playing their butt off. They are playing hard. We as coaches have to figure out how to keep them in position to win ball games."
Lastly, Ole Miss has had some poor luck. The defense has been ravaged by injuries. Scottie Phillips was out on offense and Dawson Knox missed a half. Perhaps the most glaring instance of misfortune was A.J. Brown's catch in the end zone in overtime that was ruled an incompletion upon review. Brown leapt over a Vanderbilt defender on third down and six. He appeared to come down with the football, but the ball squired out and touched the ground after Brown hit the ground. He got both feet in and fell to the ground, but by the letter of the rule did not survive the collision with the ground with the football.
"I had two feet in, two feet down, knee down," Brown said. "I felt like I had control of it. Two feet down, knee down, still had control of it, tucked it and brought it back out. How much more control do you need?"
"It looked like he had possession and he was down and then he was knocked out," Luke said. 
https://www.youtube.com/watch?v=Fmfj8hygvHk
All of these things intertwined have resulted in quite a few stinging defeats for an Ole Miss team that has five days to prepare for its final game of the 2018 season against Mississippi State. Again, it's factors both significant and seemingly minute that eventually weigh enough to derail this team from its already narrow path to victory.
This core has endured massive amounts of adversity over the last two years both on and off of the field. It will need to pick itself up back off the mat one more time to avoid losing five straight games to end the season.
"They have no choice," Luke said. "This is a huge game. They have to be ready. This team deserves to go out with a win with all they have gone through. They continue to fight. That is why I want them to feel some success and we have one more opportunity to do that."
https://www.youtube.com/watch?v=_6sq8MxGd6I
Arkansas: 6 #21 Mississippi State: 52
By Brian Hadad, Mississippi State Beat Reporter for SportTalk Mississippi
Mississippi State's season has held to one pattern, it's offense has been nearly unstoppable in wins, and utterly terrible in its losses. It should be no surprise then, against an outmatched Arkansas team, the Bulldogs rolled up 475 yards in a 52-6 win over the Razorbacks. The Bulldogs did most of their work on the ground, rushing 47 times for 287 yards, including Aeris Williams going over 100 yards for the second time this season.
THE PLAYER
The most rushing touchdowns in @HailStateFB history.

Congrats, @nickfitz07! 👏 pic.twitter.com/fwSHdK0Fz5

— SEC Network (@SECNetwork) November 17, 2018
Nick Fitzgerald added another record to his resume, overtaking Anthony Dixon as MSU's all time leading scorer on the ground. Fitzgerald was just efficient on Saturday, completing 9-14 for 127 yards and 4 scores, and piling up 85 yards on the ground. Fitzgerald may well be the most embattled quarterback in Bulldog history, but he left Davis Wade Stadium a winner, and will have an opportunity to claim his second Egg Bowl win on Thanksgiving. Love him or hate him, he's been on the field for some big moments in maroon and white.
THE PLAY
So here's the deal. MSU scored 7 touchdowns, and they are all about the same. There wasn't a jaw dropping play in there, so let's just go with the first one. All in all, MSU got exactly what it needed on offense today, plenty of momentum heading into Oxford. When the Bulldogs have played a sub-par defense this season, they have rolled up yards and points, and that's exactly what they did again today. If you are a Bulldog fan, that's a great pattern when you consider how bad the Ole Miss defense has been this year.
DEFENSE DOMINATES….AGAIN
Sometimes you just have to appreciate great play when you constantly see it – @HailStateFB Johnathan Abram puts on a clinic at playing safety. So far – 12 tackles (7 solo), 3.5 TFL, 2 QBH, 1 FF. Easy to see why he will be a high 2019 @NFLDraft pick. #HailState

— Bill Martin (@MSUBillMartin) November 17, 2018
I cannot wait to see this Bulldog defense against that Rebel passing attack. It should be a great matchup, even with Ole Miss missing DK Metcalf. You could have understood if the Bulldogs had a slight hangover after playing Alabama, but instead they delivered another outstanding performance. Obviously there's no metric to tell us for sure, but for my money, this is the best defense to ever grace the field in Starkville. Slowing down the Rebels on Thursday might seal that reputation up forever.
WHAT'S NEXT OH WHO AM I KIDDING YOU ALL KNOW WHAT'S NEXT
It's been a year since Ole Miss celebrated at Davis Wade Stadium, MSU will look to repay the favor on Thanksgiving Day. On paper, it looks like the Bulldogs should be a big favorite, but you never know in this rivalry game. One thing's for sure, the Bulldogs want this one very badly. Joe Moorhead will look to be the fifth straight coach to win in his Egg Bowl debut.
You know this will be a huge week on SportsTalk Mississippi and the Thunder & Lightning Podcast. I can't wait to talk about it with you, starting Monday live from the Timeout SportsBook at the Golden Moon Resort, 3 PM.
Louisiana Tech: 20 Southern Miss: 21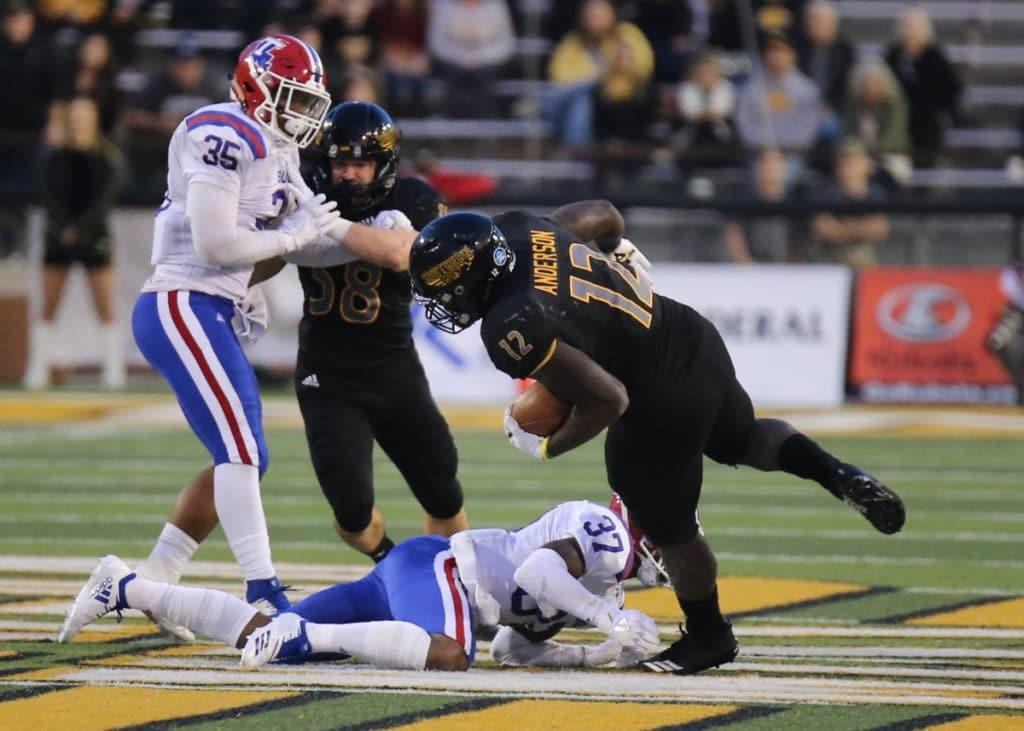 Southern Miss kept their bowl hopes alive with a narrow 21-20 victory over Louisiana Tech at home on Saturday.
After missing two straight starts due to injury, QB Jack Abraham was back under center for USM, and with his team trailing 20-14 in the 4th quarter, he led them on a drive to grab the lead and keep their postseason hopes afloat.
USM got the ball with 13:40 left in the game, and they proceeded to take over 7:30 off of the clock with a 14-play drive that ended with 6-yard TD run from Steven Anderson, who had two on the day.
The Golden Eagle defense would force a punt on the Bulldogs' next possession, and it was the ground game that would seal the deal as USM was able to run out the clock on Senior Night.
While the defense allowed 17 points in the first half, they'd settle in and only allow one FG in the second half.
"We tightened some things up in the second half because our coverage was a little loose," head coach Jay Hopson said of the defensive effort. "We locked down and have two talented corners that can run with anyone. I certainly thought we played better in the second half."
Jack Abraham spent a year at La Tech after originally committed to the Bulldogs out of high school, and after the game, he talked about what it was like facing his former team.
"It was fun, for sure," Abraham said. "I was playing against guys I used to practice against, but going into the fourth quarter, we started feeling confident that we would come out with the win."
USM will try to get their 6th win of the season next week at UTEP in the final week of the regular season.
Stay up to date with all of Mississippi's latest news by signing up for our free newsletter here. 
Copyright 2023 SuperTalk Mississippi Media. All rights reserved.