Photo Credit: Joshua McCoy/Ole Miss Athletics
As if you'd expect anything else, the Rebels and the Razorbacks came down to the wire in Little Rock, while USM fell flat in their return from their bye week. Check out a recap of each game below:
Ole Miss: 37 Arkansas: 33
For the first time since 2013, Ole Miss took on Arkansas and walked out of the stadium with a win.
In another close game between these two SEC West foes, it took a 7-play 97-yard drive with time running out for the Rebels to take a 37-33 lead, and they'd seal a win with an interception on Arkansas' final possession. While picking up their first SEC win, Ole Miss improved to 5-2 after what was another up and down performance but Matt Luke's Rebels fought back all night long.
The defense was gashed in the first half as they allowed 27 points and over 300 yards, but to their credit, they clamped down in the second half and made stops when they needed to. Despite several penalties that kept drives alive and missed tackles, the unit would only allow 2 Razorback FGs in the second half, as the offense went to work.
D.K. Metcalf left this game early with a neck injury, but Jordan Ta'amu and the Rebels were able to adjust and get new players involved. Since Evan Engram's departure, the tight end position hasn't produced much of anything, but last night, TEs Octavius Cooley and Dawson Knox each played a big role in the Rebel comeback.
Cooley's 66-yard touchdown catch and run cut the Razorback lead to 30-24 in the 3rd, and a 48-yard toss to Knox set Scottie Phillips up for the eventual game-winning touchdown run three plays later. For Ta'amu and the offense, he said after the game that once they got the ball back, they knew it was their night.
"I blocked out the noise," Ta'amu said. "Everyone (in the huddle) knew who was going to win. Everyone knew we were going to drive down as soon as they punted."
Ta'amu showed poise and leadership as he brought the Rebels back from a 27-10 deficit. The momentum began to shift as the Rebels put together a scoring drive right before halftime capped by a 6-yard TD pass to DeMarkus Lodge, who finished with 10 catches for 80 yards.
Whenever the Rebels needed a play, Ta'amu made it in the air or on the ground. Designed runs haven't been prominently featured in Ole Miss' playbook this season, and last night, they caught Arkansas off-guard. The senior QB ran 17 times for 141 yards and score. Most of the damage in the run game occurred when they went right up the middle, and Ta'amu had a lot of room to run with no spy from the Arkansas defense.
The Rebel defense made costly mistakes but was able to play a physical brand of football, especially in the later stages of the game. Arkansas starter Ty Storey was knocked out of the game on two different occasions, once in the first half and again in the 4th quarter. Cole Kelly stepped in to throw a TD pass on his first play after Storey's exit, but his limitations in the passing game showed late.
The Rebels appeared to throw Arkansas's offense a life raft when Jalen Julius was called for pass interference on a 3rd and 20 with the Razorback's clinging to a 33-31 lead late in the 4th. Ole Miss wouldn't break as they forced a punt, which gave way to Ta'amu and the offense for the game-winning drive. DC Wesley McGriff said that it may not always be perfect, but a win is a win.
"That is what you have to do in the SEC," defensive coordinator Wesley McGriff said. "You have to make adjustments. Everything is not going to be perfect. You have to fight and you have to play with confidence."
While Arkansas may not be Alabama or LSU, many were waiting to see if Ole Miss could put up these type of big offensive numbers and get stops against an SEC opponent. Racking up 611 yards and showing improvement on defense may be a confidence boost for this squad moving forward.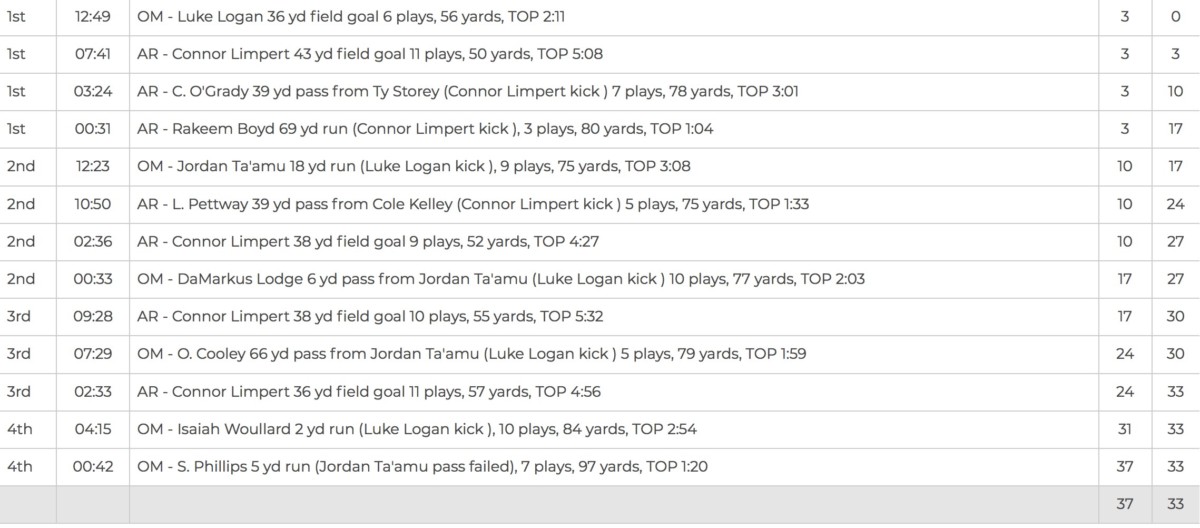 QB J. Ta'amu: 26/35 387 yards 2 TDs 1 INT, 17 car. 141 yards 1 TD
RB S. Phillips: 18 car. 86 yards 1 TD
8 Different players caught a pass
Defense: 8 TFL
The Rebels get Auburn at home. The Tigers have now lost two straight and could be vulnerable if Ole Miss can fix a few things on both sides of the ball and build on this win.
Southern Miss: 7 North Texas: 30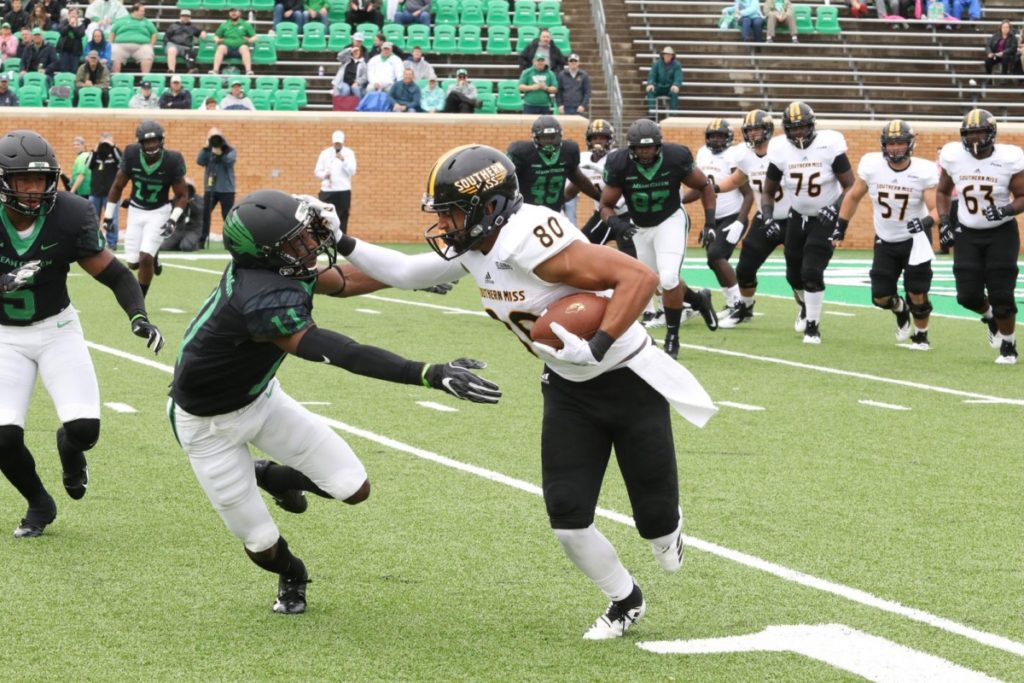 This was not the performance that the Golden Eagles were looking for coming off of a bye week as they fell to North Texas 30-7.
Neither team could break through for any points in the first quarter, but North Texas would strike first in the 2nd quarter when QB Mason Fine found WR Jalen Guyton in the end zone which capped a 99-yard drive. USM wouldn't panic as they scored on their very next drive with a strike from Jack Abraham to Quez Watkins for a 44-yard TD.
North Texas added a FG before the end of the half and took a 10-7 lead. The second half began with a missed FG for USM, and that would be a sign of things to come. A fumble on their next drive and three straight punts allowed North Texas to build a lead behind RB DeAndre Torrey, who punched it in on the Mean Green's next two drives.
He would add a third to seal the deal later in the 4th quarter. The USM defense was worn down and allowed 457 total yards in the loss and the offense couldn't sustain drives, especially in the second half.
Abraham finished with over 315 yards, but the lack of a running game forced the USM offense to become one dimensional and predictable. The Golden Eagles had just 50 rushing yards on Saturday.
Now at 2-3, USM needs to quickly put this one behind them and find new ways to push the ball downfield in the coming week.

J. Abraham: 29/42 318 yards 1 TD 1 INT
WR J Mitchell: 12 rec. 135 yards
WR Q. Watkins: 7 rec. 109 yards 1 TD
USM returns home to take on UTSA (3-4).
Stay up to date with all of Mississippi's latest news by signing up for our free newsletter here. 
Copyright 2023 SuperTalk Mississippi Media. All rights reserved.