"Rest in peace Biloxi Police Officer Robert McKeithen. We've got your watch from here. Godspeed."  That message from the Mississippi Association of Chiefs of Police was on the minds of "Brothers in Blue" and Mississippians across the state as Officer Robert McKeithen was laid to rest in the Biloxi National Cemetery.  The 12-mile procession to his final resting place was a visible reminder of how much he was loved and respected.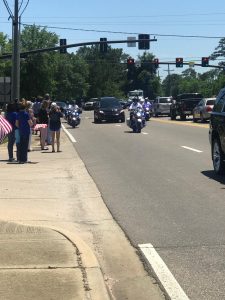 Robert McKeithen, referred to as "Mac" by his friends, was a father, a husband, an Air Force veteran, an officer, and a hero.  After Hurricane Katrina, McKeithen was one of five officers awarded the Biloxi Police Department Medal of Valor for helping to rescue four disabled children from a flooded home.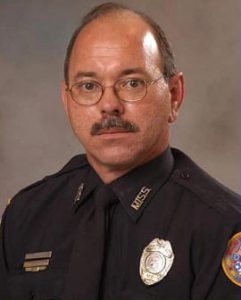 McKeithen, a 24-year veteran of the Biloxi Police Department, was less than a year away from retirement when he was shot to death on Sunday, May 5th.
On that Sunday evening, 19-year-old Darian Atkinson allegedly walked into the Biloxi Police Department.  Security camera video footage shows him leaving the building and walking toward Officer McKeithen and shooting him multiple times.  McKeithen was transported to a local hospital where he was pronounced dead.  Atkinson has been charged with capital murder in the crime.  Atkinson's brother Damien and three others have been charged with accessory after the fact.
McKeithen's stepson, Logan, spoke at the funeral saying Robert was a true father figure.  While the loss of his step-father is painful, Logan said he holds no animosity toward the Atkinson family.  Logan said, "I thought Darian wanted to create fear and hate, but over the past weeks and days, I feel overwhelmed by love and calmness.  Maybe he just wanted to end the life of another, but even that became a failure because Robert is still alive within me because of his love."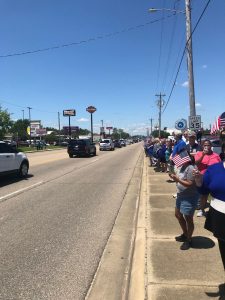 Biloxi Mayor Andrew "FoFo" Gilich said McKeithen was the epitome of what you would want in a police officer.  Gilich said, "He loved his job and took pride in representing the Biloxi Police Department.  He was well-liked and a compassionate professional who had the ability to connect with people."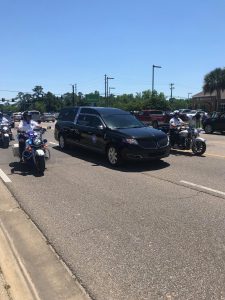 Lt. Governor Tate Reeves, who also offered words of support and in honor of Officer McKeithen said, "I hope in this solemn moment, we remember Robert McKeithen for the man he was; gentle, strong, courageous.  I pray that this community comes together to grow stronger and more resilient through this painful and difficult experience.  And, as we grieve the loss of this great man, I pray we will also commit ourselves to live by his values and remember his service as the act of love it was."
Reeves concluded by quoting a scripture from the Bible saying, "Well done, my good and faithful servant.  Well done."
Officer Robert McKeithen –  End of watch: May 5th, 2019
Most recent:  5th suspect arrested
Stay up to date with all of Mississippi's latest news by signing up for our free newsletter here. 
Copyright 2023 SuperTalk Mississippi Media. All rights reserved.