It's day three of SEC Media Days and it was the Bulldogs' turn to meet the media with all eyes on new head coach Joe Moorhead and the injury status of star quarterback Nick Fitzgerald. 
Mississippi State fans held their collective breath when Fitzgerald went down with a devastating ankle injury on Thanksgiving night during the Egg Bowl, but today, they can all breathe a sigh of relief. When asked, Fitzgerald said that he's ready to get back on the field. 
"If I had to play a game tomorrow, I'd be 100% ready to go," Fitzgerald declared.
Heading into his senior season, many expect big things from the Georgia native and his new head coach Joe Moorhead is one of them. When the former Fordham head coach and Penn State OC got the gig in Starkville, he sent an encouraging text message to his new quarterback, 
"He said, 'I want you to clear off a spot on your mantle for the Heisman Trophy and I want you to know what your ring size is. You're going to need it," Fitzgerald said.
As for Moorhead, he comes in after Dan Mullen's departure and is now tasked with building on a high level of success at MSU. The new head coach earned high praise for his ability to mentor Penn State QB Trace McSorley, and he mentioned that McSorley and Fitzgerald share many qualities that can help them thrive in this offense. 
With all eyes on the offense, Moorhead knows that Fitzgerald's health is key, but he's also confident in the other QBs on the roster. 
"When you look at our top two guys with Nick and K.T., they are two guys that understand the game, understand our offense and are going to make the correct decisions the majority of the time and will continue to improve," Moorhead said. "When their number is called in the run game by either design or improvisation, they can create explosive plays with their feet. Certainly, what we do in the pass game, they have the arm to make all the throws, and we're continuing to work on their understanding of coverages and where to go with the ball and why."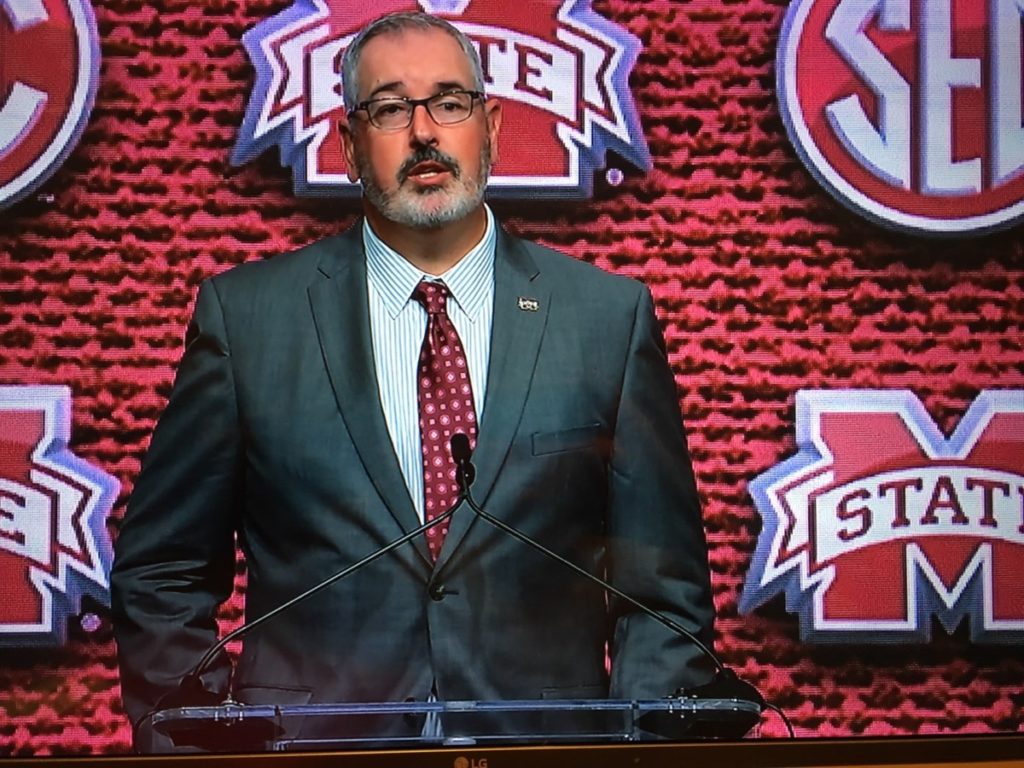 Moorhead didn't coach the team in the Taxslayer Bowl in December, but he did get to see an extended sample size of backup QB Keytaon Thompson, who started for MSU in the winning effort. 
Defensively, Mississippi State turned a lot of heads in 2017 and capped the year off with a 4-interception performance against former Heisman-trophy winner Lamar Jackson. S Mark McLaurin had three of those picks, and he knows that there are more eyes on the unit heading into 2018. 
"Everyone sees that we have a lot great returning starters and a lot of great talent on this team. This year, they see a lot more than they have been seeing," the senior said.
For all 14 teams at SEC Media Days, the goal is to end up right back where they are now; in Atlanta for the SEC Championship Game. Moorhead knows that, and says they won't shy away from lofty expectations for the upcoming season. 
"We feel no one rises to low expectations. So we talk about championship standard," Moorhead stated. "I feel I was brought here to take a program that's really had one winning season in the SEC play in the last 15 years and make sure that we're competing in the conference play on a weekly basis and give ourselves a chance to win a conference championship."
MSU will begin their quest for an SEC title on September 1st against Stephen F. Austin. 
Stay up to date with all of Mississippi's latest news by signing up for our free newsletter here. 
Copyright 2023 SuperTalk Mississippi Media. All rights reserved.