Speaker of the House, Philip Gunn is working to combat human trafficking in Mississippi.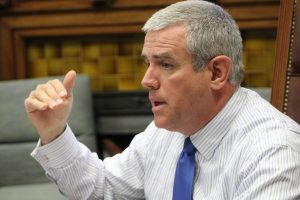 Gunn said that the problem was really brought to his attention when the Republican Women came to the Capitol during the regular legislative session. During their annual luncheon, Gunn said he listened to their speaker talk about human trafficking and learned many things he was not familiar with.
"Human trafficking is an active ongoing financial enterprise, and it is happening right here in Mississippi," Gunn said. "it's involving a lot of young children, boys and girls, and it's a travesty on our society. as a result of this speaker at lunch I really just developed a passion for this issue."
RELATED: Mississippi Federation of Republican Women awarded for publicizing human trafficking hotline
After the luncheon, Gunn said he met with individuals about human trafficking during a summit to understand where Mississippi is at in regards to human trafficking and where the laws need to go in order to be as tough as can be on the issue.

Gunn said that Mississippi has been graded by Shared Hope which is an international organization that works to stop human trafficking around the world.
Mississippi received a "B" for how the state is fighting human trafficking which Gunn says is favorable, but can definitely be improved upon.
"We are very good on the laws that we have, we are good on enforcement, we can probably do better on identification and that is one of the things that I want to address is training, how do we spot this taking place, then we also want to do better on the recovery aspect, the care of those that we rescue out of this environment," said Gunn.
Gunn said he is waiting for recommendations on ways that Mississippi's laws can be improved to stop human trafficking in the state. He added that when he receives those recommendations, he will work to pass the legislation.
"When I am being told is that it is prevalent, it is in every state, and it is in a lot of the communities in the state of Mississippi," Gunn said. "Because we do sit in the crossroads of the south where you have three major thoroughfares, Interstate-10, Interstate-20, and Interstate-55, there is a lot of high traffic that comes through our state."
Stay up to date with all of Mississippi's latest news by signing up for our free newsletter here. 
Copyright 2023 SuperTalk Mississippi Media. All rights reserved.