Pictures from a halftime show are going viral only a week after two Brookhaven police officers were shot and killed in the line of duty. The community is calling the halftime show insensitive saying that students dressed as doctors and nurses were depicted holding SWAT team members at gunpoint. Forest Hill was visiting Brookhaven High School when they performed the halftime show.
RELATED: Two Brookhaven Police Officers dead after shootout
Senator Sally Doty of Brookhaven said that while she was not at the game on Friday night, she received a text message from a member of one of the fallen officers' families who was at the game and texted her a picture of the halftime show.
"Another band director reached out to me and he talked to someone at Forest Hill, a band parent at Forest Hill, who said that this was the first time that they had put that part of the show together and put it on the field," Doty said. "From what I understand that portion of the show had not been performed before. Given what we have experienced in our community it's not like they didn't know."
Doty said that the fallen officers' badge numbers were painted on the field that night and there was a moment of silence before the game.
"For that display to be on our football field, or on any football field, I believe is totally inappropriate," Doty said.
The public has responded and the Forest Hill High School band was supposed to be at a  band competition at Copiah Academy Saturday, however, they have now been uninvited. Forest Hill was originally scheduled to perform at 12:55 p.m.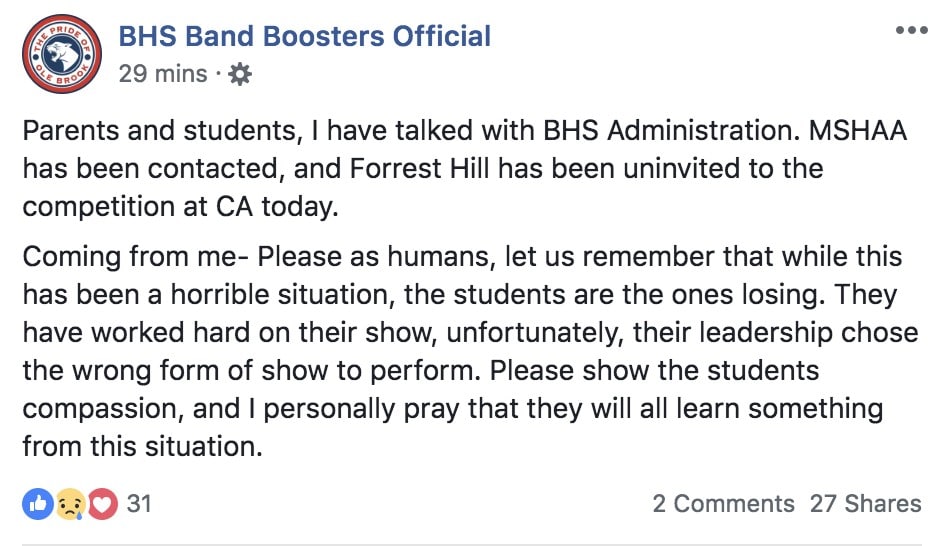 "I think there should be some repercussions against the adults that let this happen," Doty said. "I don't necessarily think every member of the band, the students should be penalized, because I was a member of the band myself, I know how hard they work… I am sure they are good kids and I don't want to penalize them for something that clearly should have been stopped by an adult."
In a social media post, Governor Phil Bryant echoed Senator Doty's thoughts on the matter.
"This is unacceptable in a civilized society," Bryant said. "Someone should be held accountable."
Other members of the legislature have chimed in and said they are going to make sure there is an investigation into the matter.
"I have had a ton of messages on this completely despicable, disgusting, & disrespectful act from last night," said Representative Tom Miles. "I've been told Mississippi Department of Education has been notified & will be launching an investigation into this. Many of us including myself will be following up to make sure that this doesn't happen again. Join me in making the Mississippi Department of Education(MDE) aware of how insensitive this was. If you feel as insulted as I do make your voices heard and call at 601-359-3513."
Lt. Governor Tate Reeves attended both of the fallen officers funerals and said the halftime show was "in poor taste."
"It's just shocking to me that any high school band would that particular performance anytime, anywhere in our state, but particularly in Brookhaven on the same week that two officers were killed," Reeves said.
Miles said that in Mississippi if a student brings a gun, fake or otherwise to a school, they would automatically be suspended and expelled.
"Someone had to go purchase these guns for the students to do this," Miles said. 
The Brookhaven School District issued a statement saying that their district had no prior knowledge of the halftime show.
Jackson Public School District Superintendent Dr. Errick Greene issued a statement Saturday afternoon saying the offensive portion of the halftime show was based on a movie.
"On behalf of the Jackson Public School (JPS) District, I want to offer my deep and sincere apologies for the performance by the Forest Hill High School band during Friday's football half-time show in Brookhaven," Greene said. "Based loosely on the movie, "John Q," the band's performance depicted a hostage scene that included toy guns.  JPS has a great deal of respect and appreciation for our law enforcement partners.  The band's performance does not depict the values and people in our community and was incredibly insensitive to the students, families, law enforcement officials, and the entire Brookhaven community.  For this, we sincerely apologize to all, and we pledge to do better in the future. 
Greene went on to say that they have taken some initial actions in response to the matter.
"You have my commitment that we will investigate it fully and take additional appropriate action with respect to procedures and personnel," Greene said. 
In a social media post, Brookhaven Mayor Joe Cox, said the halftime performance conducted by the Forest Hill Band at the Brookhaven High School home football game on Friday night had been performed before and was inappropriate, irresponsible, and insensitive to say the least.
"It was a horrific display of disrespect demonstrated toward our local law enforcement, our students and families in attendance of the game, and all citizens of Brookhaven," Cox said. "It is disturbing that the Forest Hill routine has been performed previously with no repercussions to faculty members or administrators, especially given the fact weapons were involved. Even though the weapons were obviously toy guns, it is still a serious violation of school policy. This type of performance is inexcusable under any and all circumstances, especially within the school system, but also in light of our fallen heroes on September 29th who served the Brookhaven Police Department with great honor, Officer Zach Moak and Officer James White."
Mississippi Department of Public Safety Commissioner Marshall Fisher also issued a statement saying that the department was "extremely disturbed" by the school's leadership for approving the halftime show.
The Mississippi Department of Education also issued a statement on the halftime performance saying that they were "closely monitoring the situation."
"The content of this band performance is not indicative of the high caliber of high school band performances that occur across the state nor was it reflective of the high quality of student guidance by our educators," the statement reads. "This performance was in poor taste and insensitive, and we expect better of our teachers and school leaders who are responsible for guiding students appropriately. This is a school district matter that is currently being addressed by the district's leadership, and we are pleased to see that they are taking immediate personnel action."
According to multiple reports, Forest Hill's band director was suspended over the weekend and many people are calling for the firing of the band director and person(s) responsible.
"The question is who authorized the guns to be bought? That's something that needs to be asked, that's what I want to know," said Miles. "Someone had to go purchase the guns for these students to do this."
Stay up to date with all of Mississippi's latest news by signing up for our free newsletter here. 
Copyright 2023 SuperTalk Mississippi Media. All rights reserved.