Mississippi created 11,000 jobs in 2018, but a report from the Mississippi Center for Public Policy shows that the Magnolia State is trailing behind its neighbors when it comes to overall job growth.
Mississippi had a job growth rate of 1% last year, and while a record number of jobs are currently available in the state, the report shows that the state's growth is lagging behind the rest of the region.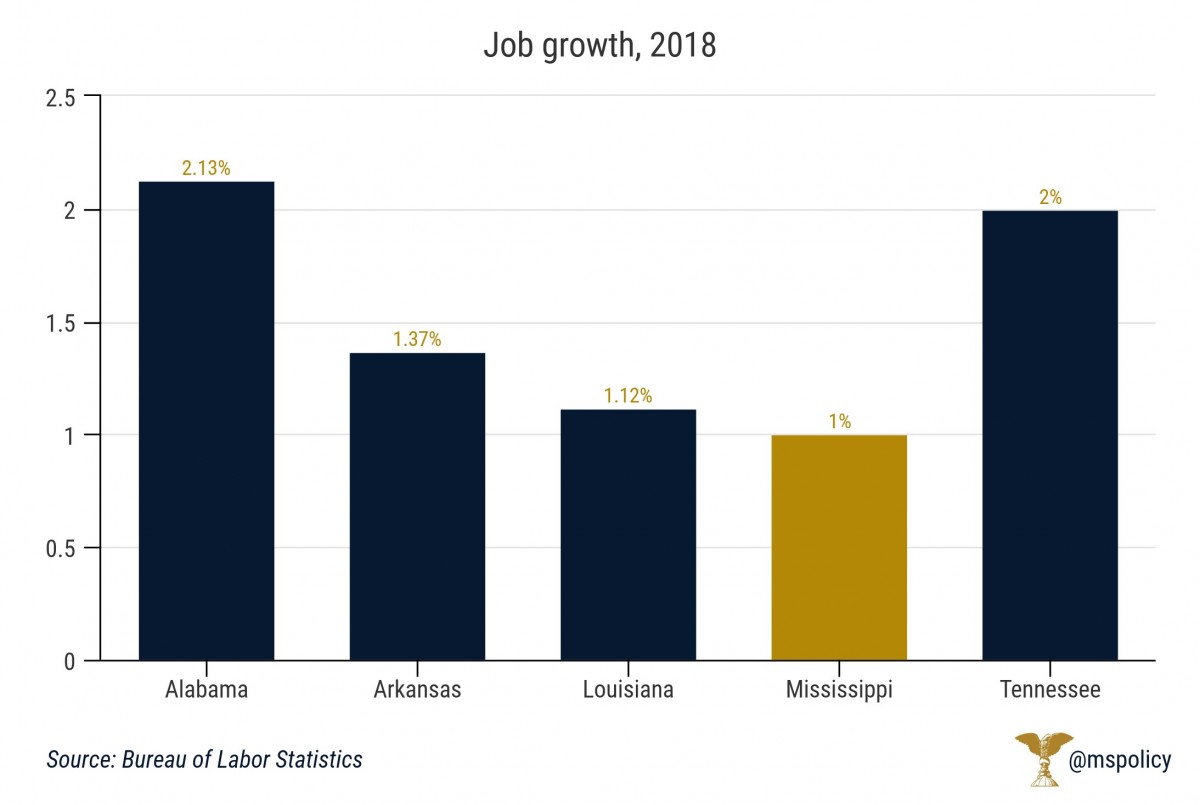 The MCPP's report states that "Mississippi has the fifth largest government share of state economic activity", and that leads to limited economic freedom. They go on to credit the state for making strides to improve the economic climate in the state through the elimination of certain taxes on business owners, but they also offer another significant change that could be made.
"Government incentives, often in the name of economic development and being 'business-friendly,' attempt to lure businesses to the state through financial benefits, such as site preparation, infrastructure, job training, or special tax breaks. The only reason these incentives are necessary is because of higher taxes or policies that burden businesses.
Instead of special incentives for a few, Mississippi should work to provide a favorable climate for every business. And let the market decide where a business locates or expands. An economic development officer can sell low taxes and low regulatory burdens to a company looking for a great location like Mississippi. What's more, the data shows us that such policies allow existing businesses already in our state to expand and grow from a small employer to a large employer without getting any incentives from the taxpayers. That's economic growth." – MCPP 
As for the jobs that were created in 2018, professional and business services led the private sector with 5,300 new jobs. That was followed by leisure and hospitality jobs with 3,600 and manufacturing with 2,000. In that time frame, 1,400 government jobs were added in the state. 
In the past year, the state lost 1,900 jobs related to trade, transportation and utilities.
Mississippi's unemployment rate remains at record lows, and it has been at or below 4.8% for the past 15 months, but it is higher than the national average of 3.9%. 
Click here to check out the MCPP's full report – Full Report
Stay up to date with all of Mississippi's latest news by signing up for our free newsletter here. 
Copyright 2023 SuperTalk Mississippi Media. All rights reserved.