The public is invited to attend a Founder's Day Open House on Oct. 19, 2017, at NASA's Stennis Space Center.The day's activities will include an opportunity to view a test firing of an RS-25 flight engine.
This is a Press Release
The theme for the event is "SSC – 56 Years of Making Fire and Rain!" to commemorate the anniversary of the rocket engine test site. NASA announced plans on Oct. 25, 1961, to build a site in south Mississippi for testingthe Apollo Program rocket stages that carried humans to the moon.
Security gates will be open for access to the site from 11 a.m. to 1:30 p.m. Since all activities will be located within the Stennis test complex area, only U.S. citizens age 10 or older will be allowed to participate.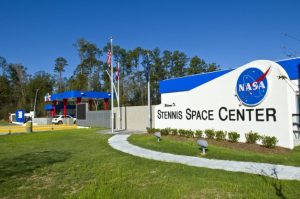 Open house activities – including activities, exhibits, demonstrations and speakers – will be hosted by participating Stennis agencies prior to an afternoon test of RS-25 flight engine No. 2063 on the A-1 Test Stand.The engine is being tested for use by NASA's new Space Launch System (SLS), being built to carry humans to deep-space destinations, including Mars. It is scheduled to be one of the four engines that will help power the launch of SLS on Exploration Mission-2, which will be the first flight of the new rocket to carry humans.
Food and drinks will be available for purchase. Personal coolers will not be allowed on site. Participants may bring collapsible chairs that are bagged and can be carried in one's lap on the bus
Tickets are available online at: https://ssc-open-house.eventbrite.com. Each participant must obtain a ticket to gain entry to the site. In addition to the pass, participants age 16 or older must show a picture ID (driver's license or passport) for entry.
On Oct. 19, participants should proceed to either the south or north security gates at Stennis Space Center. Once cleared for entry, they will be directed to a central parking location, where buses will transport them into the test complex area.
For additional information about Open House, contact the Office of Communications at:
ssc-pao@mail.nasa.gov or 228-688-3333
For information about Stennis Space Center, visit:
http://www.nasa.gov/centers/stennis/
Stay up to date with all of Mississippi's latest news by signing up for our free newsletter here. 
Copyright 2023 SuperTalk Mississippi Media. All rights reserved.