Mississippi's Center for Violence Prevention has announced the official opening of The Bridge, a community forensic clinic for victims of sexual assault, domestic violence or human trafficking. Sandy Middleton, Executive Director of the center says sexual assaults are vastly under-prosecuted in Mississippi.
Since December 2014, state law has required all circuit, justice and municipal courts in Mississippi to report semi-annually to the Office of Courts all individual misdemeanor and felony case records by offense. According to the records obtained from the Office of Courts, from July thru December 2017, throughout the state, only 193 charges were prosecuted for sexual assault crimes (including rape, statutory rape, sexual battery, and child molestation).
2017 data for Child Advocacy Centers in Mississippi stated that 2446 children under the age of 18 reported sexual abuse. For 2017, the FBI recorded that there were 1091 cases of sexual assault reported to law enforcement just in the urban areas of Mississippi.
"According to statistics gathered from Mississippi's Office of Courts, only 193 sexual assault crimes were prosecuted (from July-December, 2017) from over 1,000 reported just in the urban areas of the state in 2017," said Middleton. "When compared with other states, Mississippi's prosecution of sexual crimes lags far behind. In an effort to provide trauma-sensitive care for victims and increase prosecution, The Bridge will work toward the following goals:
24/7 emergency care for patients who have been a victim of sexual assault/rape or strangulation. This care includes completion of the evidence kit if wanted by the patient.
To test for pregnancy, HIV, and syphilis and provide necessary referrals if positive results.
Provide prophylactic treatment of STDs.
Provide SANEs (Sexual Assault Nurse Examiner) to partner hospitals without a SANE on duty.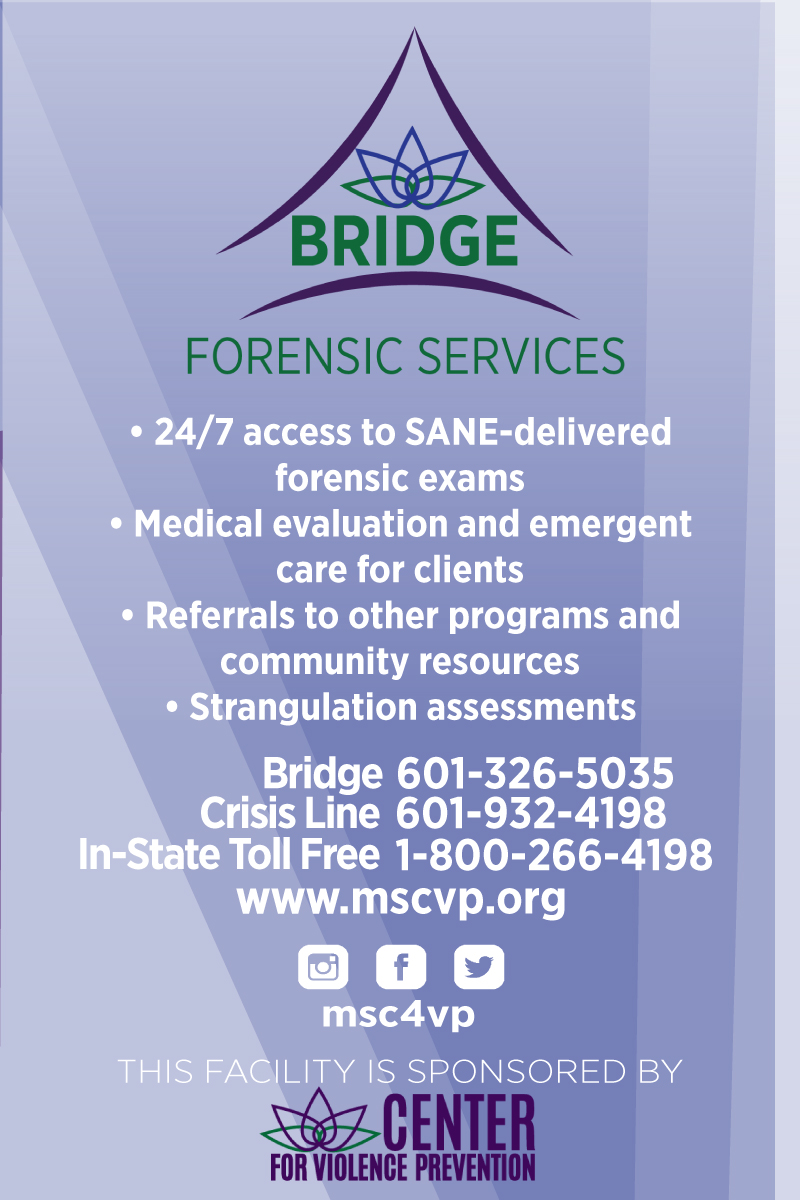 The Center for Violence Prevention has provided emergency shelter and supportive services to victims of interpersonal violence in central Mississippi since 1990. The center originally focused on victims of domestic violence and developed trauma-informed practices, as well as, a client-centered approach to meeting the emergency and recovery needs of victims.
Over the last decade, Middleton said the focus has continuously evolved to address gaps in services including victims of sexual assault, survivors of homicide, and victims of human trafficking.
In September of 2017, The Center opened the state's first and only human trafficking shelter, named the Tower. The Center is also a member of three human trafficking task forces across the state, providing advocates to aid law enforcement with emergency functions and services to victims. Those victims have access to all services offered by The Center.
"There have been many nights since we have started at that facility where we've had law enforcement, CPS, and multiple people there with a minor victim," said Middleton. "We want it to be a place where law enforcement feels free to come and we will also have a soft interview room where if the victim wants to pursue the charges and wants to cooperate with the prosecution aspect then we can offer that setting for them to have their interview with law enforcement."
This is something which Dean Scott, Pearl Police Chief says provides a sense of security to the victims.
"As many times as my child has been [to the ER] for cuts, bruises, broken arm, it is still traumatizing," said Scott. There is so much going on and what you have to remember is that as soon as somebody overhears that they are there for an assault, a sexual assault, everybody starts looking and everybody tries to listen. What the Bridge does is it takes away that one degree of the second level of trauma that comes with the treatment."
Nick Brown, Sergeant with the Hinds County Sheriff's Office investigates sexual assault and human trafficking cases and says the environment at the Bridge often assists them with their investigations.
"As soon as someone hears sex abuse and specifically human trafficking, everybody wants to jump in. So, we can be sitting in there talking and well you've got this person that's going to walk in, interrupts it and kills your rapport. Somebody else walks in and you will see them a lot of the time doctors are male, they walk in and they shut down, so it takes that element out of it too so it's not just the hustle and the bustle of the hospital that shuts down what we are trying to do."
Middleton added that the facility is funded through a federal VOCA grant and will provide victims a safe and comfortable setting after life-changing assaults.  The facility will also include trauma-informed care with an in-house Sexual Assault Nurse Examiner and a soft interview room.
Stay up to date with all of Mississippi's latest news by signing up for our free newsletter here. 
Copyright 2023 SuperTalk Mississippi Media. All rights reserved.