The Rankin County Sheriff's Office has a man in custody in connection with a triple shooting at a home in Rankin County. The suspect is identified as 23-year-old Fareno Da'quian Harris who is a neighbor of the victims.
The three victims of the deadly shooting were siblings. A 17-year-old girl and her 18-year-old brother are dead. Their 17-year-old brother was also shot but is expected to survive.
District Attorney Micahel Guest said that they believe Harris and the victims were distantly related and were playing cards and watching television before Harris pulled out his gun to start shooting.
"The surviving victim described the defendant as being very fidgety," Guest said. 
Around 9 p.m. Wednesday Rankin County dispatch received a 911 call from the 400 block of Ebenezer Road regarding a possible shooting. The first deputy arrived on scene nine minutes after the call was received. Early reports given were that multiple victims had been shot and the shooter fled the scene on foot.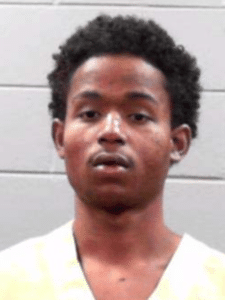 Deputies from the Rankin County Sheriff's Office were able to quickly secure the scene and found three individuals shot. One juvenile was pronounced deceased at the scene. A second juvenile and an eighteen-year-old victim were both transported to area hospitals. The eighteen-year-old was pronounced deceased at the hospital. The juvenile that was transported does not appear to have life-threatening injuries.
Officers from Richland Police, Flowood Police, Madison Police, Ridgeland Police Pearl Police, Mississippi Highway Patrol and the Mississippi Fusion Center all provided resources to the scene. Units from the multiple agencies established a search perimeter along South Pearson Road onto Monterey Road.
Members of the Rankin County Special Response Team (SRT) surrounded the suspect's residence on Ebenezer Road and forced entry at the command of Sheriff Bryan Bailey. At 10:10 p.m. SRT members said that they had 23-year-old Fareno Da'quain Harris, in custody. Harris was positively identified on the scene as the shooter.
District Attorney Michael Guest said that law enforcement recovered a .40 caliber handgun and a rifle in the bathroom of the home that Harris was found in.
"Law enforcement began questioning the defendant and he admitted that prior to law enforcement arriving he had hidden a third weapon under a neighbors home," Guest said.
Guest said that Harris has been charged with two counts of first-degree murder and will be charged with one count of attempted murder. All of those crimes carry with them the potential for life sentences. Guest added that when Harris was Mirandized he admitted to law enforcement that he went to the home and shot the three victims.
"Based upon the statement given by the surviving victim we believe that the weapon used in the crime has not yet been recovered," Guest said.
The three siblings attended Richland High School and school officials said that they would be postponing some scheduled tests and that grief counselors would be available for students and faculty.
Stay up to date with all of Mississippi's latest news by signing up for our free newsletter here. 
Copyright 2023 SuperTalk Mississippi Media. All rights reserved.