It's been three weeks since the midterm elections, and just one seat in the U.S. Senate remains up for grabs. The runoff between Republican incumbent Senator Cindy Hyde-Smith and Democratic candidate Mike Espy has brought a national spotlight to Mississippi, and today you went to the polls to cast your ballot to select a winner. 
President Trump came back to Mississippi to campaign for Hyde-Smith and Espy received the support of former VP Joe Biden and other prominent Democrats after both candidates qualified for the runoff by grabbing around 40% of the vote on November 6th. 
Both candidates had their fair share of controversies leading into today's vote with controversial remarks made by Hyde-Smith and new details emerging regarding a contract that Espy had with a foreign dictator. It remains to be seen how this will affect voters in Mississippi. 
Turnout was low compared to November 6th, according to the Secretary of State's Office, which could hurt Espy's chance at flipping Mississippi blue. If Hyde-Smith hopes to keep the state red, she needs Chris McDaniel's supporters to follow his call for unity.
The numbers below will be updated throughout the night: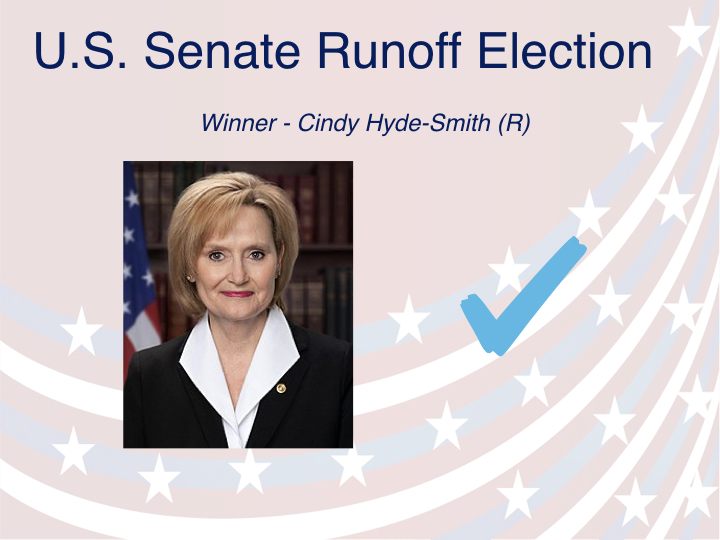 Precincts reporting: 86% – Race Called 
(Incumbent) Cindy Hyde-Smith (R) – 55.3% – Winner 
Mike Espy (D) – 44.7%
Stay up to date with all of Mississippi's latest news by signing up for our free newsletter here. 
Copyright 2023 SuperTalk Mississippi Media. All rights reserved.