Jaz Brisack is the University of Mississippi's 26th Rhodes Scholar, and the first woman in the university's history to be selected to the elite international academic program.
Brisack, a senior general studies major from Oxford, is the 2018 Truman Scholar for Mississippi and has a long history as a champion for human, civil and labor rights in Mississippi. She is president of the College Democrats and a frequent contributor to The Daily Mississippian.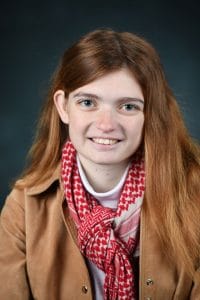 She has worked as a teacher-adviser for the Sunflower Freedom Project in 2016 and as a labor organizer with the United Auto Workers on the Nissan campaign. She also helps defend the Jackson Women's Health Organization, known as the "Pink House," Mississippi's sole abortion clinic.
She was selected after interviews with officials from the Rhodes Trust Nov. 16-17 in Birmingham, Alabama. Scholarship recipients were announced Saturday (Nov. 17).
"I guess this is one small step toward smashing the patriarchy," Brisack said. "But I think it's especially important to use this platform to call attention to the way the glass ceiling is easier for some women to break through than others."
The Rhodes Scholarships, which were created in 1902, bring outstanding students from many countries to the University of Oxford in the United Kingdom. Besides "intellectual distinction," the selection committee seeks excellence in qualities of mind and of person, which combined offer the promise of effective service to the world in the decades ahead.
Rhodes Scholars receive tuition, travel, room and board, and a stipend for two years of study at Oxford University, with the possibility of being renewed for a third year.
Ole Miss students Jarvis Benson and John Chappell were also 2018 finalists for the Rhodes Scholarship and competed in Birmingham with Brisack. Besides those current students, Chinelo Ibekwe, a 2018 chemical engineering graduate from Lagos, Nigeria, was named a finalist in the Rhodes Scholarships for West Africa program. She will interview Dec. 1 in her category.
UM has had 25 Rhodes Scholars and many Rhodes finalists, but never four finalists in one year.
"I'm awed by how wonderful the other applicants all are," Brisack said. "I've known John and Jarvis, the other UM applicants, for years and am continually inspired by them. But everyone was brilliant, caring and amazing."
Chancellor Jeffrey S. Vitter said that from last year's Truman Scholarship to this distinction of being the university's first female Rhodes Scholar, Brisack continues to chart a groundbreaking path of excellence.
"Her success on the national stage reflects the best of the university's exceptional programs – like the Sally McDonnell Barksdale Honors College – that enable students to flourish intellectually and personally," Vitter said. "With her deep drive, leadership abilities and passion, Jaz will continue making a difference in the lives of others."
Douglass Sullivan-González, dean of the UM Sally McDonnell Barksdale Honors College, said that out of the thousands of honors students he's met over a decade-and-a-half, Brisack is one of the top 10.
"She engaged our academic community with deep conviction, knowledge and understanding," Sullivan-González said. "The name of Jaz Brisack may become a household name when all is said and done. I'm proud to know her as a colleague and scholar of the SMBHC."
Brisack is thankful for the opportunity that Ole Miss and the Honors College have provided her to work with professors who have inspired her.
"I have had the opportunity to work with so many amazing people at this school, from Debra Young and Tim Dolan to Joe Atkins and Curtis Wilkie to JoAnn Edwards and Kiese Laymon," Brisack said. "They have challenged me to think about the world in different ways and inspired me to pursue this chance."
Journalism professor Curtis Wilkie first met Brisack when she was in an upper-level Honors College course he was teaching. He said Brisack is one of the most extraordinary students he's ever taught.
"I was astonished that she already knew virtually every book that I cited during the semester," Wilkie said. "Aside from her excellent grades, I've been impressed by her passion for so many causes that are rarely embraced by people of her age.
"We are all so proud of Jaz, and feel that her triumph is one for Ole Miss as well."
Stay up to date with all of Mississippi's latest news by signing up for our free newsletter here. 
Copyright 2023 SuperTalk Mississippi Media. All rights reserved.