Dr. Mike McMullan confers with Jared Gould of Petal, a congenital heart disease patient. Photo courtesy of UMMC. 
At age 22, Jared Gould is transitioning from seeing a pediatric specialist for his congenital heart disease to his first appointment with the adult congenital heart program at the University of Mississippi Medical Center.
"I've had four open-heart surgeries, but I only recently had to go on some medications," said Gould, a Petal resident who will graduate in May with a degree in history from the University of Southern Mississippi.
He was diagnosed in 1996 as a newborn with hypoplastic left heart syndrome, a defect that leaves the left side of the heart critically underdeveloped. Gould will continue to be monitored through his adult life, and he's heartened by the knowledge that UMMC's adult congenital heart program has been honored as one of the best in the nation.
The Adult Congenital Heart Association recently announced that UMMC has been certified as an adult congenital heart disease accredited comprehensive care center. With the designation, UMMC becomes one of only 30 programs recognized so far nationally. In addition, UMMC's is the only adult congenital heart program accredited in Mississippi.
"Patients can know with certainty that no matter how complex the disease is that they were born with, we have the people in place who are certified and qualified to take care of them," said Dr. Mike McMullan, professor of cardiology, medical director of the adult congenital heart program, and director of the Division of Cardiovascular Medicine. "We are able to manage all types of congenital heart disease here."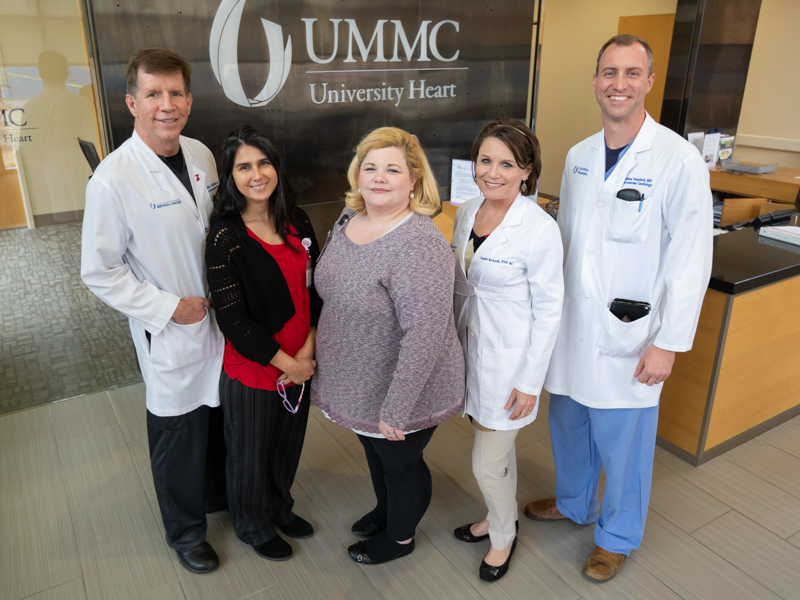 UMMC's program joins Accredited Comprehensive Care Centers at institutions including Stanford University, the Children's National Heart Institute and Children's National Health System in Washington, D.C., Emory University, Washington University in St. Louis, New York University and Duke University.
When he was a child, Gould said, he and his family experienced "the fear of when I have an adult-sized heart, who would treat me? I don't have to worry about that anymore.
"This program gives me the hope that I don't have to worry about the circumstances of my condition," he said.
UMMC earned the designation after three years of hard work and documentation that included meeting requirements on both staffing and medical services.  "The person responsible for making this happen is Camille Richards. This would not have happened without her," McMullan said.
Richards, a cardiology nurse practitioner and director of adult congenital heart/structural heart programs, is interim executive director of University Heart and has served as a member of the ACHA board of directors. "She put together the 100-plus page report for the application. We're excited that it's finally happened," McMullan said.
The Adult Congenital Heart Association is dedicated to supporting individuals and families living with congenital heart disease and advancing the care and treatment available to them through education, advocacy and the promotion of research.
Congenital heart disease is the most common birth defect in the United States and is diagnosed in close to 1 percent of all births, the association says. Two-thirds of the U.S. congenital heart disease population, many with moderate to complex disease, are now adults numbering about 1.3 million.
Visits to UMMC's adult congenital heart clinic, which opened in 2014 are now top 700 annually. Mortality rates have decreased to almost zero since then; in 2013, 35 of 615 patients died, a mortality rate of 5.69 percent. In 2017, four of 789 patients died, a mortality rate of 0.51 percent.
The quality of care available to congenital heart disease patients varies significantly in different areas of the country, meaning patients often don't know the qualifications of the program they are visiting. That's one of the reasons ACHA officials say they began an accreditation program in 2016.
Comprehensive Care Centers must have a minimum of two ACHD-certified cardiologists, board-certified or board-eligible in either pediatric or internal medicine cardiology, and who have advanced cardiovascular life support certification.
They also must have a medical program director, at least one full-time advanced practice nurse or physician assistant, and at least one dedicated full-time registered nurse with advanced cardiovascular life support certification. The centers must have a cardiothoracic surgery and cardiothoracic intensive care unit led by an ACHD-certified surgical director who is board-certified as a congenital heart surgeon by the American Board of Thoracic Surgery. That person also must have advanced cardiovascular life support certification.
Other requirements include having access to heart failure and heart transplant programs; offering interventional cardiac catheterization and interventional electrophysiology; and offering inpatient, outpatient and transitional services, patient-centered care and psychology and social work services.
It also requires that the program offer cardiac MRI, cardiac computed tomography, pulmonary arterial hypertension services, exercise testing, and cardiac rehabilitation, and reproductive services.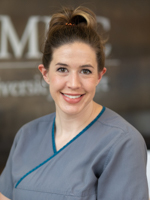 There's one heart scan that Carol Sykes, a UMMC adult, and pediatric MRI technologist, can't perform: her own. Diagnosed as a child with an enlarged aortic root, Sykes had surgery several years ago at the Medical Center to repair the congenital defect.
Her disease is a complication of Marfan syndrome, a genetic condition that affects the body's connective tissues. Sykes had her son Emmett, 5, tested. He carries the gene.
"Once I found out Emmett had it, I wanted to be proactive," she said. Emmett has been on medications since he was 15 months old for an enlarged aorta and sees Dr. Avichal Aggarwal, associate professor of pediatric cardiology. Aggarwal "is on top of it," Sykes said.
Sykes said she reached out to the Mayo and Cleveland clinics when her son was diagnosed. "They said, 'UMMC is doing everything we would do,'" Sykes said. "That made me feel a lot better.
"I'm excited to see what this (ACHA) designation does for the university," she said. "This is something that (Emmett) can take advantage of."