In Mississippi, over 50 percent of children rely on Medicaid for their healthcare coverage. In a state marked by a majority of rural area, Medicaid is often the only way their families can afford to get their kids the treatment they need.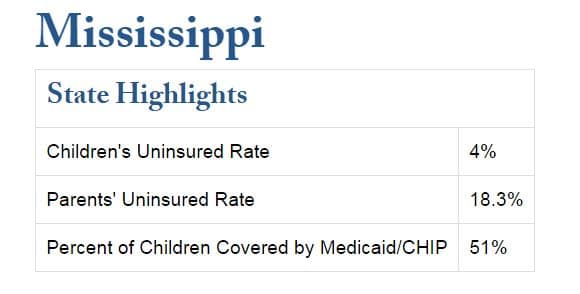 According to a recently-published study by the Center for Children & Families (CCF) of the Georgetown University Health Policy Institute, Medicaid covers a larger share of children and families in small towns and rural areas than in large metropolitan areas. In 2014-2015, Medicaid provided health coverage for 45 percent of children and 16 percent of adults in small towns and rural areas, compared to 38 percent and 15 percent, respectively, in metropolitan areas.
In nearly all states, a larger share of children and adults living in small towns and rural areas relies on Medicaid than those in metropolitan areas—and is more likely to be affected by increases or decreases in services.
When it comes to rural areas, Mississippi ranks #2 in percentage of children who depend upon Medicaid: 60% of children living outside of cities get their health coverage from Medicaid.
According to the study: Medicaid plays a critical role for Americans who live in small towns and rural areas. In fact, Medicaid is of greater importance in these areas than in metropolitan areas. Almost half of all children living in small towns and rural areas receive their health coverage through Medicaid. In addition to the health benefits of Medicaid, it also protects the entire family against medical debt, bankruptcy and improves economic insecurity. Because more families living in small towns and rural areas are enrolled in Medicaid than in more urban areas, they are more likely to reap the health and economic benefits and more likely to feel the effects of any changes made to Medicaid.
Stay up to date with all of Mississippi's latest news by signing up for our free newsletter here. 
Copyright 2023 SuperTalk Mississippi Media. All rights reserved.