H.B. 1523, otherwise known as the Religious Liberty Accommodations Act, is back.
And, according to the U.S. 5th Circuit Court of Appeals, the divisive law is set to take effect this Friday.
1523 allows any business owner or service provider – from a baker to a surgeon, and even city or state officials – to refuse service to someone based on deeply held religious beliefs without fear of legal repercussions from government bodies.
According to Rep. Andy Gipson, the author of the law, 1523 does not influence or deny the right to enter personal litigation over refusal of service.
Rep. Gipson further clarified the bill saying, "In the event of a public employee encountering a conflict, the bill says that person must find someone within their office to provide the service 'without delay.'"
The act was signed into law last year, but has hit one roadblock after another ever since. According to a statement from Governor Phil Bryant, the law ensures that Mississippians are "free to peacefully live and work without fear of being punished for their sincerely-held religious beliefs."
Those opposed say it gives an unconstitutional religious privilege and violates the First Amendment, designed (in part) to block government bodies from endorsing a religion or religious practice.
Governor Bryant's statement after signing the law in 2016: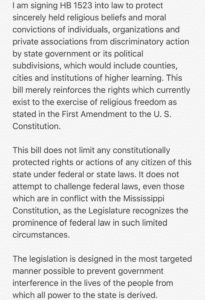 RELATED: Gov. talks 1523 impact, what's next
Stay up to date with all of Mississippi's latest news by signing up for our free newsletter here. 
Copyright 2023 SuperTalk Mississippi Media. All rights reserved.