UPDATE 3:30 p.m.: stay off roadways, commercial vehicles avoid I-10.
The National Weather Service says that winter weather continues to affect roads and bridges in the following counties: Adams, Amite, Clarke, Covington, Forrest, Franklin, George, Hancock, Harrison, Jackson, Jasper, Jefferson Davis, Jones, Lamar, Lawrence, Lincoln, Marion, Pike, Perry, Simpson, Smith, Stone, Walthall, Wayne and Wilkinson.
As (MDOT) crews continue response efforts to keep roads safe, motorists are advised to stay off roadways and limit travel only in case of emergency in affected areas.
Before leaving home, anyone expecting to travel in central and south Mississippi is encouraged to check weather and road conditions by visiting www.MDOTtraffic.com. 
South Mississippi is beginning to experience icing of bridges along I-10. MDOT is anticipating extreme icing into tomorrow morning. Roadways could become very dangerous for drivers and impassable as weather conditions decline.
Commercial motor vehicles are encouraged to seek an alternate route until road conditions improve and temperatures rise above freezing.
All roadways remain open in southwest Mississippi, but roads are still damp and wet. Motorists are advised to use extreme caution when traveling roads in this area, especially lesser traveled roadways that have not dried out.
Crews are focused on clearing roads and bridges of excess snow before sunset using motor graders and track hoes. As temperatures drop, crews will begin placing salt and slag on roads and bridges that accumulate slushy conditions.
UPDATE: Winter storm warning Light snow will continue through mid-afternoon. Additional half inch accumulations are possible. Total
accumulations of 3 to 4 inches are expected in portions of east central, south-central, and southeast Mississippi until 4 p.m.
The National Weather service warns of slick roads that will make travel hazardous.
As of 10: 15 a.m. MDOT is reporting ice on roads and bridges in several counties in Central and South Mississippi.
MDOT says their crews are currently working to place salt and slag on the affected roads and bridges to make them passable.
Ice has been reported in the following counties: Adams, Amite, Claiborne, Clarke, Copiah, Covington, Forrest, Franklin, Jasper, Jefferson, Jefferson Davis, Jones, Kemper, Lamar, Lauderdale, Lawrence, Leake, Lincoln, Marion Neshoba, Newton, Pike, Scott, Simpson, Smith, Walthall, Warren, Wayne, Wilkinson, and Winston.
Video courtesy of MDOT:
Mississippi Department of Transportation issued a warning to drivers in Mississippi at 9:15 a.m. Friday: Stay off the highways and limit travel to emergencies.
MDOT advises motorists to stay off #MShwys with #winterweather conditions affecting roads in portions of the state. Limit travel to emergencies. If you have to drive, use these #safedriving tips: https://t.co/uxi9iCKAM8 pic.twitter.com/D4vkGSuUhq

— MDOT (@MississippiDOT) December 8, 2017
MDOT is also reporting ice on roads and bridges around Central and South Mississippi.
The National Weather Service in Jackson is forecasting an elevated threat of snow through the afternoon for much of the southeast corner of the state, with three to six inches of snow possible.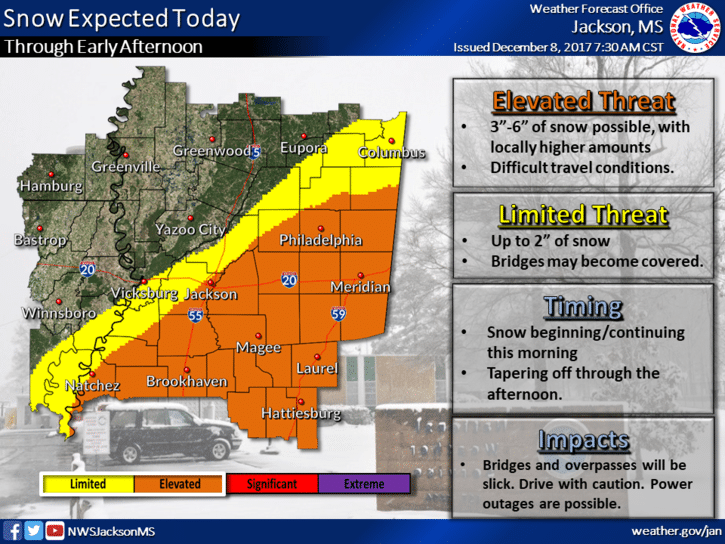 Stay up to date with all of Mississippi's latest news by signing up for our free newsletter here. 
Copyright 2023 SuperTalk Mississippi Media. All rights reserved.