Five of Mississippi's top college baseball players gathered at the Mississippi Sports Hall of Fame with the C Spire Ferriss Trophy up for grabs. When it was all said and done, Southern Miss Pitcher Nick Sandlin hoisted the trophy.
Sandlin was selected as the winner over teammate Luke Reynolds, Mississippi State's Jake Mangum, Ole Miss' Ryan Olenek, and Delta State's Zack Shannon.
In 13 starts, Sandlin has made it through the regular season without a blemish on his record at 8-0. In addition to the perfect record, Sandlin's ERA is among the best in the nation at 1.25. The list of impressive stats for the junior goes on, as he has struck out 122 batters this season and has issued just 14 walks in over 86 innings of work.
"It is definitely an honor," Sandlin said after accepting the award. "Obviously, a great state of baseball here in Mississippi. I've gotten to know a lot of great players here with Jake, Ryan, and Luke, so it's been great."
A complete game is a rare feat in college baseball, and Sandlin has thrown two complete-game shutouts this season.
Sandlin has held a role in every spot of the rotation in his three years at USM as a closer, reliever, and now, a starter. Head coach Scott Berry recalled a conversation he had with an assistant coach at the beginning of the year as they sought to fill their rotation. He spoke of how Sandlin gives them a chance to win every time he steps on the mound and how his competitive nature shines.
"He never shook his head and he said, 'whatever you need me to do, that's what I'll do'," Berry said. "His ability to come into our program and adjust in the roles we've asked, is a testament to him."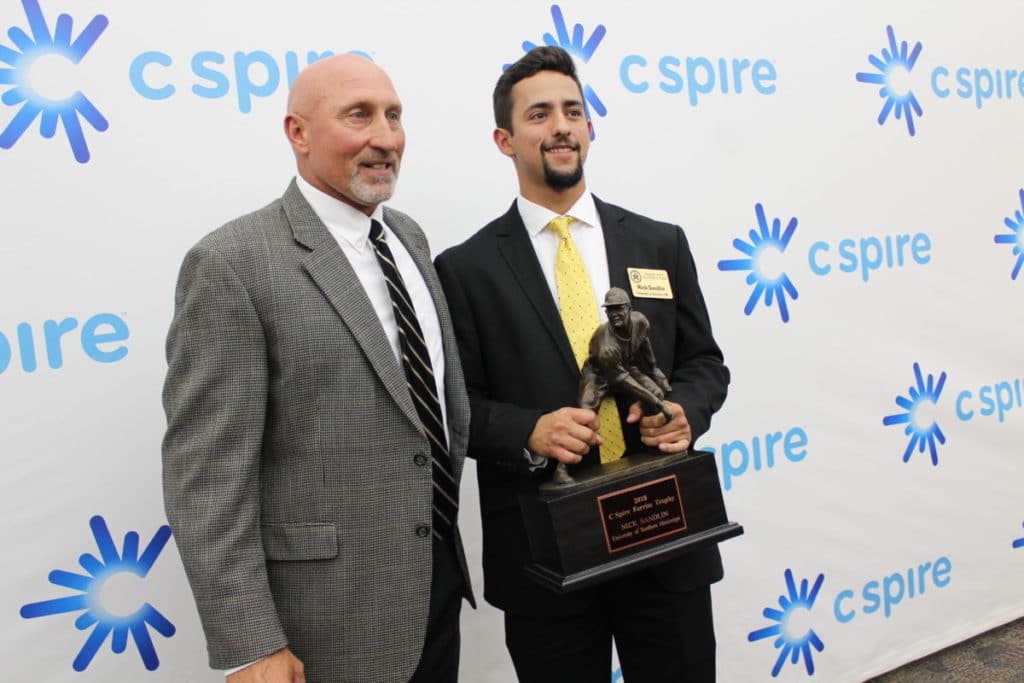 In his speech during today's ceremony, Berry compared Sandlin's work ethic and ability to one of the greats of Major League Baseball.
"Greg Maddux won a lot of Cy Young's, but it wasn't just because of what he could do on the mound pitching. It was how he could win those Gold Gloves as well, that took those runs away. In every aspect of his game, he wanted to be perfect, and that's no different with Nick Sandlin."
The award is named for the late Boo Ferriss, who left a lasting impact on baseball in Mississippi as a player for MSU and a coach for Delta State for 26 years. Sandlin, a Georgia native, took a moment to reflect on what this award means to him after learning about Ferriss during his time in Mississippi.
"Obviously, it's a great honor with him being the great pitcher that he was. It's an honor to be here with some great other players," Sandlin said.
In addition to Sandlin's individual success, the Golden Eagles recently earned their 2nd straight C-USA regular season championship and will try to keep things going when their conference tournament begins. The Golden Eagles will take on UAB on Wednesday.
Going into the event, Executive Director of the Hall of Fame Bill Blackwell said that this may have been the hardest decision to make in the 15-year history of the award.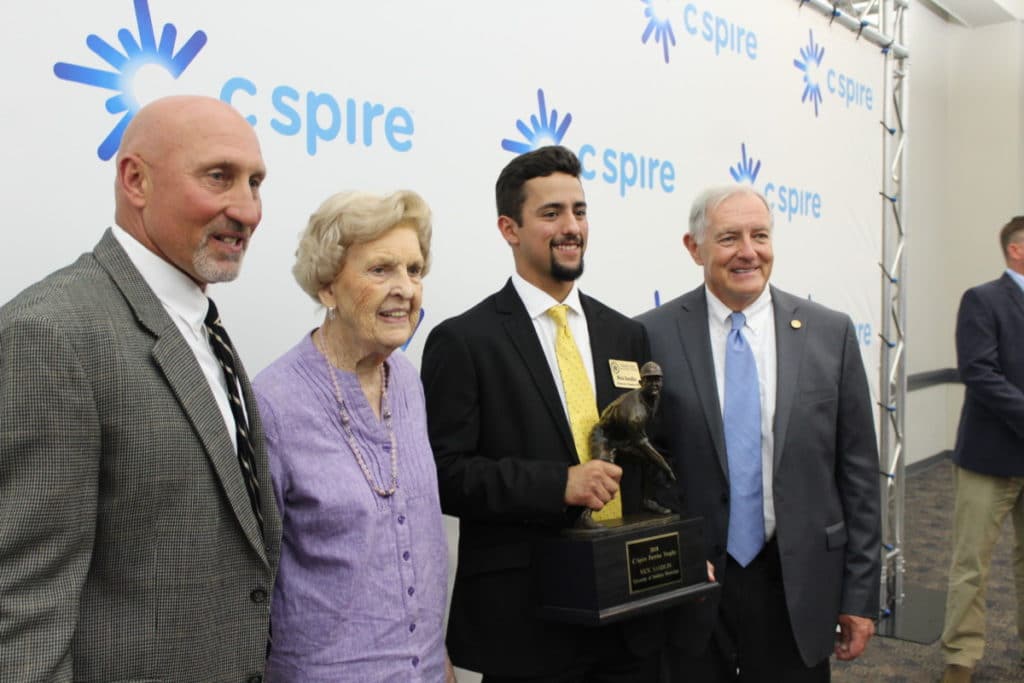 Fans were also given a chance to weigh in on the winner, and Olenek won the fan vote after more than 11,000 votes were cast.
To watch the full presentation check out the videos below.
Stay up to date with all of Mississippi's latest news by signing up for our free newsletter here. 
Copyright 2023 SuperTalk Mississippi Media. All rights reserved.