Medical drones could be the wave of the future in helping with disaster situations. When a devastating EF4 tornado ripped through Hattiesburg in 2013, Dr. Italo Subbarao realized those first responders were unable to reach the injured people and this started him on a journey to create a high-tech, cost-effective "ambulance drone".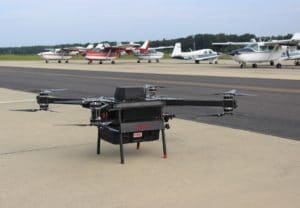 The drone is capable of flying into disasters, delivering customized medical kits and enabling doctors to direct emergency treatment through a live communication interface.
However, Dr. Subbarao has been working toward this goal for most of his professional life. Before he came to work at William Carey University, Dr. Subbarao was a guy with a go-bag waiting by the door, first as an emergency room physician and disaster fellow at Johns Hopkins University School of Medicine and later as director of Public Health Readiness for the American Medical Association.
Sometimes an emergency notification gave him a couple of days to arrive at the scene of a disaster. More often, it was 12 hours.
Dr. Subbarao has been recognized for his work in domestic and international disaster response, including terrorism and has provided field and technical leadership during earthquakes in Haiti and Pakistan, shootings in Mumbai, hurricanes like Gustave and Ike, and other large-scale emergencies.
Back in 2005, Subbarao arrived in Ocean Springs in the aftermath of Hurricane Katrina.
"I was sent to support the American Red Cross Public Health Team," Subbarao said. "I went all over the coastal areas helping with the medical needs of people living in shelters. My very first impression of the people of Mississippi was how generous and rich they were in spirit. When I showed up to assist, they asked me if I needed food, water or a place to sleep. I couldn't believe it, given their personal losses."
Seven years later, William Carey recruited him to join its College of Osteopathic Medicine. Dr. Subbarao is the COM's senior associate dean and chief operating officer. He lives with his wife and son in Hattiesburg. While the doctor may not have a go-bag by the door anymore, he's still working emergencies.
"I got the idea for the HiRO drone in 2013, the year after I got here," Subbarao said. "That's when an EF4 tornado came right down Hardy Street and did a lot of damage at the University of Southern Mississippi."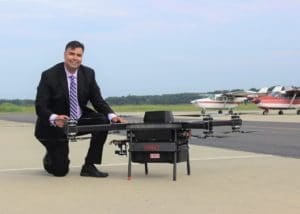 HiRO stands for Healthcare Integrated Rescue Operations.
"I was proud of our emergency responders," Subbarao said. "But I thought, we can do better. There were downed power lines and downed trees that kept ambulances from getting to injured people. I thought about drones. Back then, they were mostly a novelty. But what if you could land one next to a stranded victim? And what if it could deliver a medical kit and a live hook-up to a doctor?"
At first, Subbarao said, he and his team just wanted to see if the idea was feasible. They bought a commercially available drone and strapped on a medical kit. Could the drone fly in and release the med-kit on cue? It took hundreds of tries, but the answer was yes.
"We also knew the video interface would work at short distances," he said. "But we didn't know how far we could go. One evening, we flew the drone to a blueberry patch about 10 miles away and the live interface worked. The people in the blueberry patch could talk to the team back at Carey. It was feasible."
Subbarao enlisted a WCUCOM student, Paul "Guy" Cooper, as co-developer of the HiRO project. Before entering medical school, Cooper earned a graduate degree in computer programming from Georgia Tech. He is now a second-year resident at Indiana University Hospital.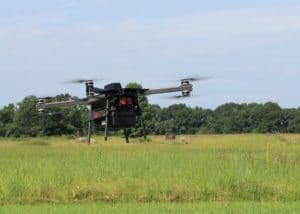 "Success emboldened us," Subbarao said. "None of us knew how to build engines or fly drones. None of us were engineers. But the deeper we got, the more we thought we could swim. We taught ourselves a lot, and we found partners who had the expertise we lacked."
One of those partners was Dennis Lott, who was involved in the early development and testing of the drone. Lott knows drones. He's the director of the two-year Unmanned Aerial Systems program at Hinds Community College. William Carey's drone is housed at John Bell Williams Field, owned by Hinds CC, and Lott remains involved in the process.
"The involvement of students in research at all levels is important as it is a search for the truth," said Dr. James Turner, dean of WCU's College of Osteopathic Medicine. "In this particular research project, students have been able to see a timely, real-world application. This project is an expansion of our goal to provide health care to those who need it, in this case, people in need of emergency medical care but out of reach of emergency medical care providers."
Last year, the American Osteopathic Association's (AOA) annual convention showcased the drone during a live demonstration in Philadelphia. In February, personnel from the Department of Homeland Security, Mississippi Emergency Management Agency and National Guard units from 30 states watched a demonstration during Patriot South, a large-scale federal disaster exercise hosted by Camp Shelby. In July, the HiRO team demonstrated the drone for a large gathering of emergency response professionals in San Francisco, Calif. An October appearance at the AOA's 2018 convention in San Diego is on the schedule.
Subbarao said his team is working to refine the HiRO drone
"The biggest challenge right now is making sure we comply with Federal Aviation Administration regulations," Subbarao said. "We're working with public safety partners from across the state of Mississippi on how it's all going to work."
He added that they want to increase the flight time from 45 minutes to an hour.
"The solution will lie in adjusting the power-to-weight ratio," he added. "Maybe another battery or an engine modification. But we've got to stay within the FAA's maximum weight. We can't exceed 55 pounds and our current model weighs 50 pounds."
Additionally, Subbarao said there is great interest around the world when it comes to the medical drone and they are working to make it as cost-effective as possible.
"Early adopters are likely to be state and regional emergency management agencies and ambulance companies," Subbarao said. "And I could also see smaller entities like volunteer fire departments wanting to buy one. The medical kit itself, without the drone, has many practical applications. With the ability to put people in live communication with a physician, I could see it being part of the equipment carried by all kinds of emergency vehicles. In rural areas far away from the nearest hospital, it could even be stored in a central gathering place, like a church or community center."
Subbarao said the HiRO drone can also be sent into situations like the mass shooting in Las Vegas, where emergency responders were hampered by the presence of an active shooter. 
"We anticipate several kinds of medical kits for use in different kinds of emergency situations," Subbarao said. "We'll be field testing them this summer to see how well people with no medical knowledge can interact with a doctor giving instructions. This may lead to improvements to make the medical kits simpler or more intuitive."
Stay up to date with all of Mississippi's latest news by signing up for our free newsletter here. 
Copyright 2023 SuperTalk Mississippi Media. All rights reserved.