The Federal Bureau of Investigation has joined with the Tupelo Police Department in the search for a man linked to an attempted kidnapping. 
On July 4, 2017, Tupelo police received a call about an attempted kidnapping in the 900 block of Mitchell Street. They were told a black man who was seen driving a silver Pontiac Grand Prix with a spoiler on the back (model around 2000's) came into the neighborhood and tried to take a 7-year-old girl.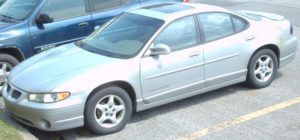 The child was able to escape and get to help, however the man was gone before authorities arrived. He is described as a slim black man with balding hair and some facial hair. He is possibly in his mid-40s and was said to be wearing a grey shirt and khaki shorts. He also had a large dark brown dog with him.
If anyone has any information about this case please contact the Tupelo Police Department, 662.841.6546, the FBI Jackson, 601.948.5000 or Crime Stoppers of Northeast Mississippi at 1.800.773.TIPS.