MEMA held a press conference on how dangerous this situation is becoming.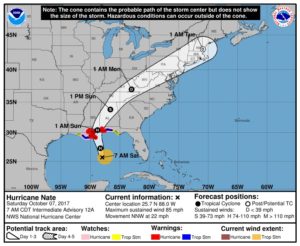 The National Weather Service has upgraded Nate to a category 1 hurricane, and is expected to make landfall as a Cat 2 with sustained winds around 100 miles an hour.
Thankfully, the storm is moving quickly at 22 miles per hour. This is a blessing, as it will have much less time to grow stronger. This will also weaken the amount of storm surge waters it will be able to heap onto the shore. Five to 11 feet of storm surge are expected along the length of Mississippi's shore.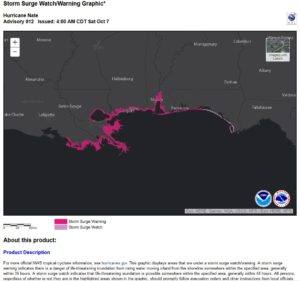 TIMELINE:
Saturday 8PM – Coastal Mississippi will begin to feel high winds and heavy rain. Southeast Mississippi will feel the effects as the storm bends north and east into Alabama.
Saturday 1AM – Landfall somewhere near Biloxi, Mississippi.
Sunday sunrise – Hurricane Nate will continue to ride north and east along the I-59 corridor toward Alabama, dumping rain across southeast Mississippi.
Sunday afternoon – the storm should be on its way out of the state and cleanup will begin.
Where to go to stay safe.
Hurricane Shelter Information
In preparation for Hurricane Nate, here are some resources you may need in order for your family and visitors to be fully prepared for the upcoming storm. Please follow the advice of your local officials regarding the possibility of evacuation. We encourage those in low lying and flood prone areas, those in motor homes and travel trailers to seek shelter. We encourage people with disabilities to go to the accessible shelters indicated below.
Recommended items:
· Medications
· Food items for persons with dietary restrictions
· Clothing
· Assistive Devices
Shelters
The following shelters are scheduled to open Saturday, October 7, 2017:
Jackson County – 8:00 AM opening
East Jackson County Safe Room, 18413 Highway 613, Hurley, MS 39555
Central Jackson County Community Safe Room, 5500 Ball Park Rd, Vancleave, MS 39565
West Jackson County Safe Room, 13000 Walker Rd, Ocean Springs, MS 39564
Harrison County – 2:00 PM opening
*County Farm Rd Safe Room, 15035 County Farm Rd, Gulfport, MS 39503
*D'Iberville High School, 15625 Lamey Bridge Rd, Biloxi, MS 39532
*West Harrison High School, 10399 County Farm Rd, Gulfport, MS 39503
*Lobouy Safe Room, 9509 Lobuoy Rd, Pass Christian, MS 39571
*Saucier/Lizana Safe Room, 23771 Saucier-Lizana Rd, Saucier, MS 39574
Forrest County – 2:00 PM opening
Forrest County Safe Room, 946 Sullivan Drive, Hattiesburg, MS 39401
George County – 4:00 PM opening
Agricola Community Center, 3161 Cooks Corner Rd, Lucedale, MS 39452
Benndale Community Center, 5207 Hwy 26 W, Lucedale, MS 3945
All Shelters above are accessible except the East and West Jackson Co. locations. Pet friendly shelters are indicated with asterisks*.
Pet Friendly Shelters
If you seek shelter with pets, consult you County Emergency Director for pet friendly shelters. All pets in pet-friendly shelters must be crated in the shelter.
Make sure you bring the following items with you:
· Leash and collar
· Kennel or crate
· Bedding
· At least one week supply of food and water
· Vaccination records
· Medications
· Bags for sanitary needs or kitty litter with enclosed container
Stay up to date with all of Mississippi's latest news by signing up for our free newsletter here. 
Copyright 2023 SuperTalk Mississippi Media. All rights reserved.