Make-A-Wish Mississippi needs your help this week as their Wish Challenge comes to an end.
The Wish challenge is a radio challenge where their goal is to raise $40,000 to help fund wishes for children right here in Mississippi.
So far they have raised about $16,000, with $24,000 left to go.
Staci Tyler, who is a volunteer for Make-A-Wish Mississippi and on the Board of Directors, attended events with her dad as a child, and has now been on the board for about three years.
"All of the money that's raised here in Mississippi stays in Mississippi, so this is a way that we as Mississippians can help other families who live right here in our state to experience a wish being granted for their child with a life threatening medical condition," Tyler said. "We grant the one true wish of the child whether that's a wish for something, a wish to meet someone, a wish to go somewhere, or a wish to be something for a day."
Tyler stated that granting that wish really does have a positive impact on the child's medical outlook and it's also an amazing memory for the family.
Make-A-Wish has shared each child's story and they can be read below.
Matthew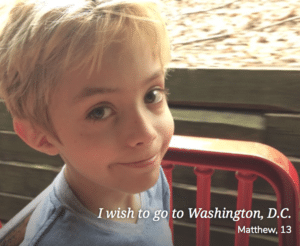 Matthew was a normal healthy little boy until he developed a kidney stone at the age of three. A second kidney stone at the age of five led to a series of test. Doctors diagnosed Matthew with end stage kidney disease, a rare genetic disorder that affects the kidneys. Over time, the disease has also affected his liver. As a twelve-year-old, Matthew's kidney function was so low concern was raised among his doctors.  Since his disorder is rare, he was airlifted to a hospital two hours away to see a kidney specialist. Once at the hospital, he never left. Matthew's daily treatment regimen consisted of a 5-hour stint of dialysis. Besides the difficulty of daily treatments, the process has been difficult on Matthew's family both emotionally and physically. Due to the distance between home and the hospital, the family is seldom together as one. While Matthew was going through his tough dialysis regimen, he was informed that he qualified for a wish.  Matthew's favorite subject in school is history.  He is fascinated with United States presidents with Abraham Lincoln being his favorite.  For his wish, he wants to go to the epicenter of presidential history, Washington D.C. and add to his already profound history knowledge. As happy as a trip to Washington D.C. will make him, Matthew is more overjoyed that after so much time apart his whole family will finally be able to spend quality time together. We are happy to report that in January 2018, Matthew received his liver and kidney transplant.
Danny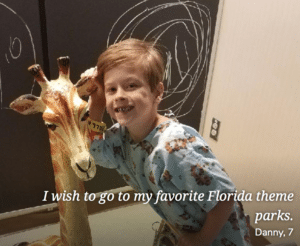 "Hey ya'll, I am your Broken Superhero, Danny!" Despite being broken in many ways, Danny does what any superhero does, fight the bad guys. Born with three heart defects and a list of medical issues that has grown as he has aged, Danny continues to fight medical problems that have plagued him since birth. By the age of seven, Danny had three heart surgeries, one back surgery, two hernia repairs and regular infusions to combat a low immune system.  Laughter has been the best remedy for his family in dealing with the long, difficult hospital stays. Danny's main source of laughter is animated television characters. When he learned he was eligible to receive a wish, he was ecstatic! Danny's wish is to go to the Florida Theme Parks to meet his favorite characters who have helped him endure throughout his journey. The idea of his wish coming true provides Danny with the strength needed to face the rigors of physical therapy. His doctors use his wish to motivate and encourage him.  Once he arrives in Orlando, Danny's good eating habits and hard work from physical therapy will give him the strength to stand up and hug his favorite characters. Our Broken Superhero's wish trip is just what he needs to help him continue the good fight.
Cooper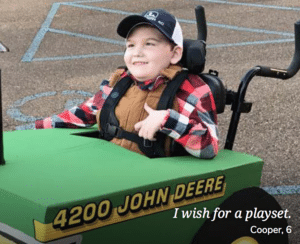 The first signs of a health issue with Cooper began during labor. With every contraction Cooper lost oxygen and red blood cells. By the time he was delivered, he was no longer breathing. He had to be resuscitated and his organs began to shut down. Immediately, he was transferred to the NICU unit, where he had a series of seizures that led to brain damage. He eventually made it home and for the next few months, he seemed to get better. Then at 9 months old, his condition took a turn for the worse when he experienced a different kind of seizure. He began to rage, day in and day out screaming and crying at the top of his lungs. The seizures caused additional brain damage and left him reliant on a G-tube to be fed. Now, Cooper is a happy six-year-old, who can laugh, clap and kick his legs. However, he is non-verbal and bound to a wheel chair. Cooper is happiest when he is outdoors. In between treatments and naptime, he loves to be outside where his favorite activity is being pushed around in his wheelchair. Being outdoors has a positive, emotional impact on him. The decision for Cooper's one true wish was easy; it had to revolve around his love for the outdoors. Cooper's wish is to have a playset with a special wheelchair swing. This wish come true will allow Cooper and his family to enjoy something that they can do together. Cooper will be able to go on new adventures and experience the joy of the outdoors in new and exciting ways.
Leon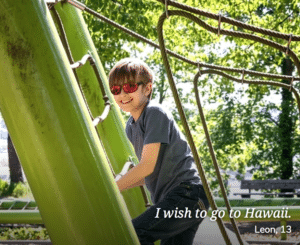 Leon was a happy boy who loved playing soccer. Life changed just before his eleventh birthday when a lump on his neck was noticed.  Doctors discovered six golf ball sized tumors in his neck. A month after his birthday, he was diagnosed with cancer. Surgery was performed removing the lumps and shortly after his twelfth birthday, Leon was in remission. All Leon wanted was to be a normal kid again. The excitement of being in remission did not last long. Leon's cancer returned, and chemo was needed to fight it. A summer of playing outside with friends was lost, and attending school in the fall was not a possibility. Leon was strong until his hair began to fall out. Then, he finally understood the reality of cancer and became scared. During this time, Leon was told that he qualified for a wish. Instantly, he knew he wanted to go to a place where his dreams had taken him which was far from the hospital. A place where fears of cancer were replaced with visions of walking on beautiful sand beaches and snorkeling in crystal blue water. Leon's wish is to go to Hawaii. Leon's wish to swim with dolphins and watch whales motivated him through the pain and grueling tests. His wish has given him something exciting to look forward to.