The 2018 Neshoba County Fair will kick off on July 27th and end on August 3rd.
The Neshoba County Fair has grown from a two-day meeting of local farmers and their families to an eight day Giant House Party in over 600 cabins and over 200 RV campers. The traditions of the Fair continue today. Families still gather for reunions and friends, old and new, visit every summer as they have since 1889.
The fair includes events throughout the week including horses races, petting zoo's, a beauty pageant, a farmers market and many more. The fair is also well known for its many concerts and political speakers each year.
The main entertainment on the Grandstand stage include:
Sister Hazel on Tuesday, July 31st
Corey Smith on Wednesday, August 1st
Chris Lane on Thursday, August 2nd
Granger Smith on Friday, August 3rd
The late night entertainment at Founders Square include:
Southbound on Friday, July 27th
U.S. on Saturday, July 28th
Spunk Monkees on Monday, July 30th
PinniShook on Tuesday, July 31st
Class Reunion on Wednesday, August 1st
Mustache the band on Thursday, August 2nd
The Jason Miller Band on Friday, August 3rd
Political Speakers on Founders Square will include: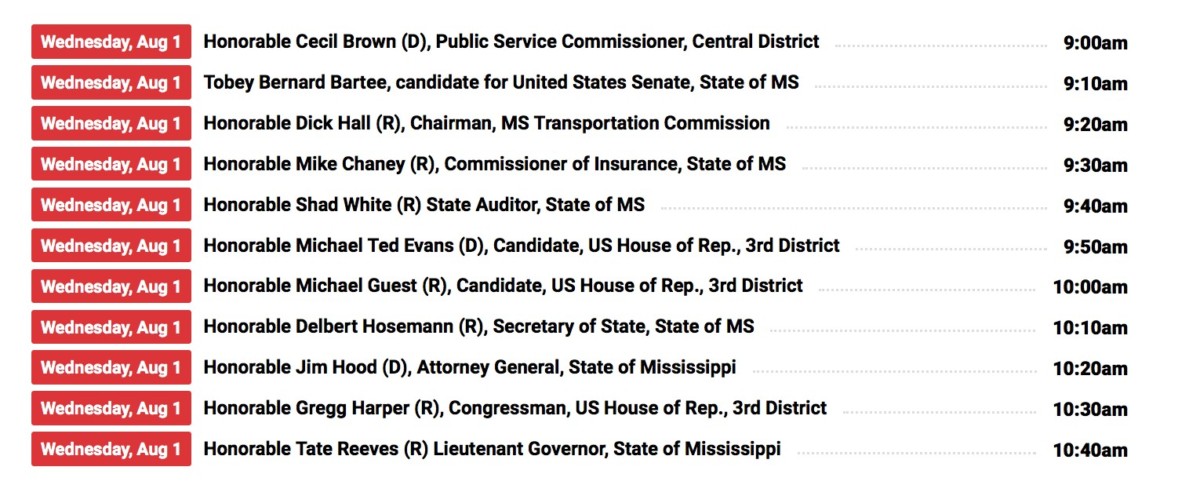 Stay up to date with all of Mississippi's latest news by signing up for our free newsletter here. 
Copyright 2023 SuperTalk Mississippi Media. All rights reserved.