The Ole Miss Law School and the office of U.S. Representative Steven Palazzo have established a space externship program to help Mississippi and the U.S. train and educate a generation of lawyers prepared to address the complex demands of a space economy. The program will explore the utilization of space in a sustainable manner and will support at least one UM law student each term with a generous stipend. The extern will, among other things, follow and report to the congressman on all space-related legislative initiatives.
"No matter which party has control of the House of Representatives, we cannot lose sight of the strategic importance of space development in our nation," said Palazzo, a member of the House Appropriations Committee. "We are extremely proud of Mississippi's contributions to US space activities, starting with our own Fred Haise of the Apollo mission era, as well as the incredible work that continues at NASA's Stennis Space Center on the Mississippi Gulf Coast."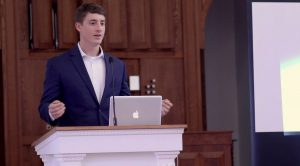 The inaugural extern of the program is Nathaniel Snyder, a second-year Juris Doctor candidate in the air and space law concentration from Elburn, Illinois.
"I am incredibly thankful for the opportunity to work with Congressman Palazzo," Snyder said. "He is extremely devoted to advancing American space interests, and I am excited to be included in those advancements. I look forward to building on the education I've received through the air and space law program at the University of Mississippi School of Law."
Snyder presented information on his studies and the air and space program to congressional delegates in November during a campus visit. He began his externship on January 7th. 
The Ole Miss law school has been the premier center for space law scholarship in the U.S. since the late 1960s. Hosts the world's first space law program and publishes the Journal of Space Law, the only peer-reviewed law journal dedicated to space activities.
"We are extremely grateful to Congressman Palazzo and his dedicated staff for taking our student under their wings," said Charles Stotler, associate director of the air and space law program at the UM School of Law. "It is fitting that the inaugural externship commenced just months after NASA's Voyager 2 entered interstellar space. We are entering a new and very exciting era in space exploration, the success of which depends on a deep understanding of space law, policy and diplomacy."
"We are delighted to partner with the University of Mississippi and welcome Nathaniel," Palazzo said. "As the former chairman of the Space Subcommittee of the House Science, Space, and Technology Committee, I understand that our interaction with space will grow exponentially in the coming years, and we must be ready to tackle both the expected and unexpected issues that may arise."
Stay up to date with all of Mississippi's latest news by signing up for our free newsletter here. 
Copyright 2023 SuperTalk Mississippi Media. All rights reserved.