The SEC has lifted its ban on alcohol at sporting events. 
As the SEC Spring Meetings continue, the conference's presidents and chancellors have adopted a new plan that allows each individual school to decide if they will offer beer and wine inside of their stadiums. In the past, alcohol has been served in suites and other premium areas within certain stadiums, but the new policy applies to public areas.
As for Mississippi, it is currently illegal to sell alcohol on a college campus unless a structure has "resort status." Sports Illustrated's Ross Dellenger is reporting that Ole Miss' Vaught-Hemingway Stadium has resort status, but Mississippi State's Davis Wade Stadium does not.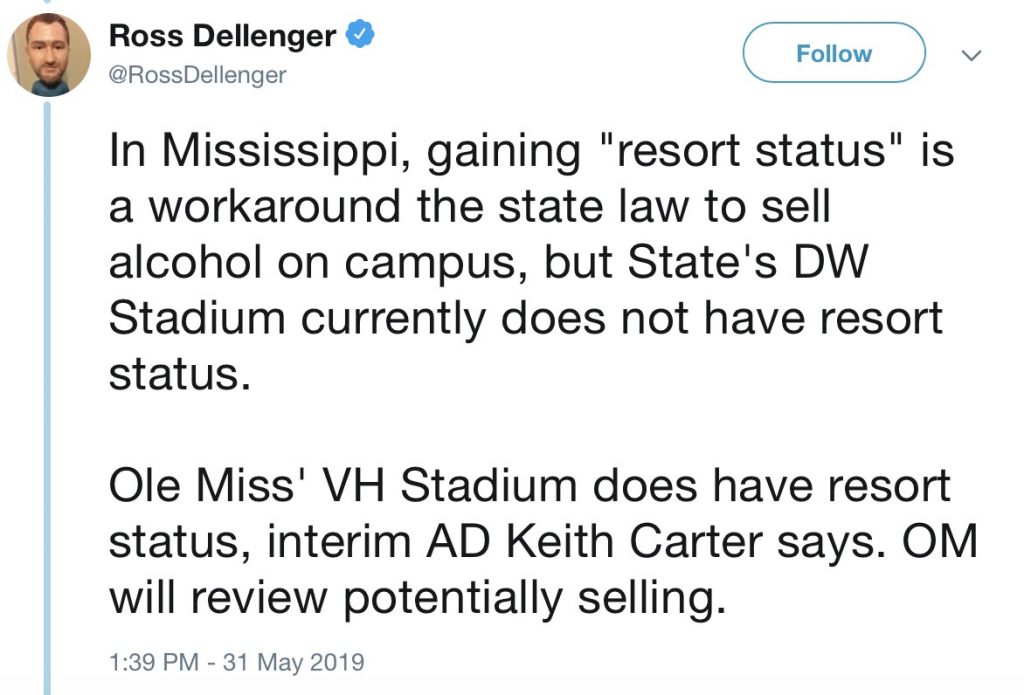 Dellenger also mentioned that MSU President Mark Keenum wasn't ready to embrace the new rule.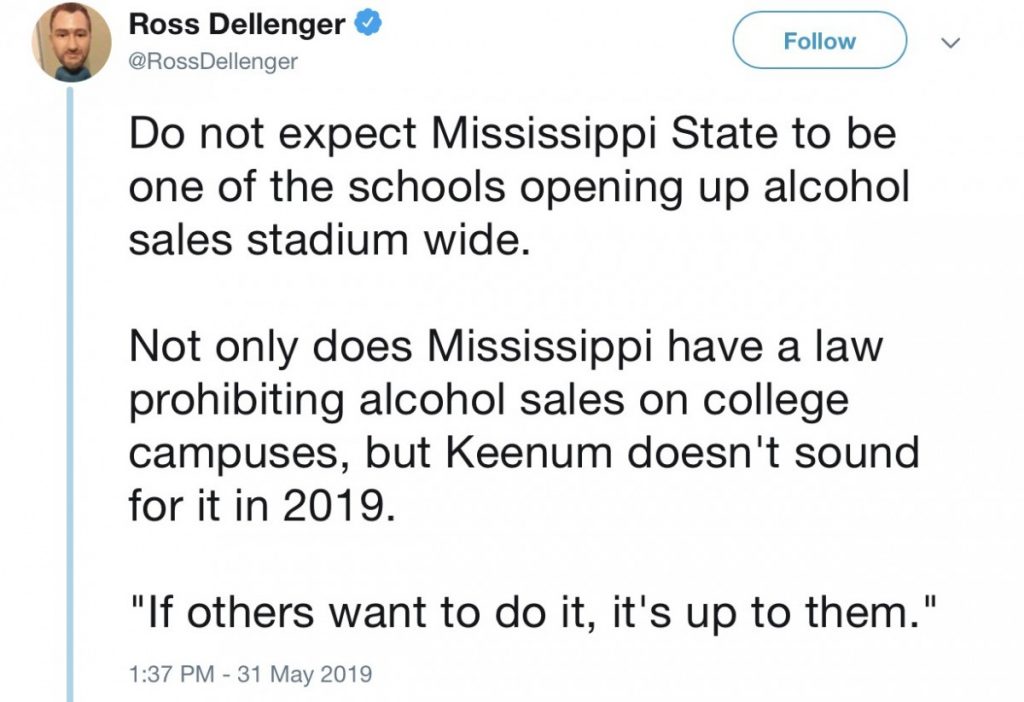 The new rule will take effect on August 1st, and the SEC has implemented several guidelines that schools must follow if they choose to allow alcohol sales. 
Alcoholic beverages are to be sold and dispensed only at designated stationary locations;
Alcoholic beverages may not be sold by vendors within the seating areas;
Identification check is required at every point of sale to prevent sales to minors;
Alcoholic beverage sales are limited to beer and wine only (no hard liquor or mixed drinks may be sold in public seating areas);
Limits must be established on the number of drinks purchased at one time by an individual;
Alcohol must be dispensed into cups;
Safe server training and additional training for staff to handle high-risk situations is required;
Designated stop times for sale and/or distribution of alcohol must be enforced as follows: Football (end of 3rd quarter); Basketball (Men's-Second half 12-minute TV timeout; Women's-End of 3rd quarter); Baseball (end of the top of 7th inning); Softball (end of the top of the 5th inning); and Other Sports (At a designated time, no later than when 75% of the event's regulation length competition is scheduled to be completed).
The debate over alcohol at SEC sporting events is not a new one, and Commissioner Greg Sankey explained that they have been following the trends around the country before making their decision. 
"Our policy governing alcohol sales has been a source of considerable discussion and respectful debate among our member universities in recent years," Sankey said. "As a Conference, we have been observant of trends in the sale and consumption of alcohol at collegiate sporting events and have drawn upon the experiences and insights of our member schools which have responsibly established limited alcohol sales within controlled spaces and premium seating areas. We remain the only conference to set forth league-wide standards for the responsible management of the sale of alcoholic beverages."
The rules also state that advertising displays "mentioning or promoting alcoholic beverage shall not be permitted in any playing facility with the exception of common point-of-sale signage."
The SEC will review the policy each year "to determine institutional compliance" with the rules and evaluate "fan conduct."