While the weather continues to shake off its winter chill, baseball is back in Mississippi. The rain held off over the weekend, and college baseball has officially begun.
MSU @ USM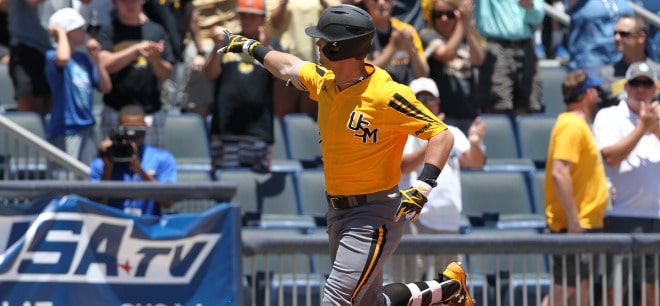 What better way to start a season than with an in-state rivalry series? Well, if you're Southern Miss it's starting 3-0. The Golden Eagles were able to sweep the Mississippi State Bulldogs, outscoring them 21-6 over the weekend. After the Bulldogs knocked USM out of the NCAA tournament last year, this sweep gives the Golden Eagles confidence as they begin the season on a high note.
"This was real big," Southern Miss shortstop LeeMarcus Boyd said. "As you know, they put us out of the (NCAA) Regional last year, so, coming back and doing this, sweeping them this weekend, that let us know as a team that we really are going to be pretty good this year."
USM couldn't have asked for a better start as they won Friday's opener 11-0, and rode that momentum all the way through the series. Luke Reynolds, who transferred to USM from MSU, was a key contributor for his new squad as he went 6-10 at the plate over the weekend, driving in five runs.
While the bats deserve praise, so does the USM pitching staff, who kept the Bulldogs at bay all weekend. As a whole, the arms for USM struck out 23 batters in the course of the three games, allowing just six runs. The strongest performance was turned in by opening day starter, Nick Sandlin, who pitched 7 shutout innings to help set the tone for the series.
The good news for Mississippi State is that baseball season is long and they have time to make the proper adjustments. As far as what this series taught head coach Andy Cannizaro, he knows his team can improve.
"We found out that we have a lot of work to do," Cannizaro said after the sweep.
Despite a 6-11 performance from 1B Josh Hatcher, few Bulldogs were able to find their swing in the opening series and as a team, MSU hit a combined .212. They were able to put together a strong 12-hit performance on Saturday but scratched across just 4 runs while allowing 7 to USM.
Who's next? 
Next up for the Golden Eagles (3-0) is a Tuesday matchup with South Alabama on the road.
As renovations continue Dudy Noble Field, MSU (0-3) will continue their road trip on Wednesday at Jackson State.
Winthrop @ Ole Miss: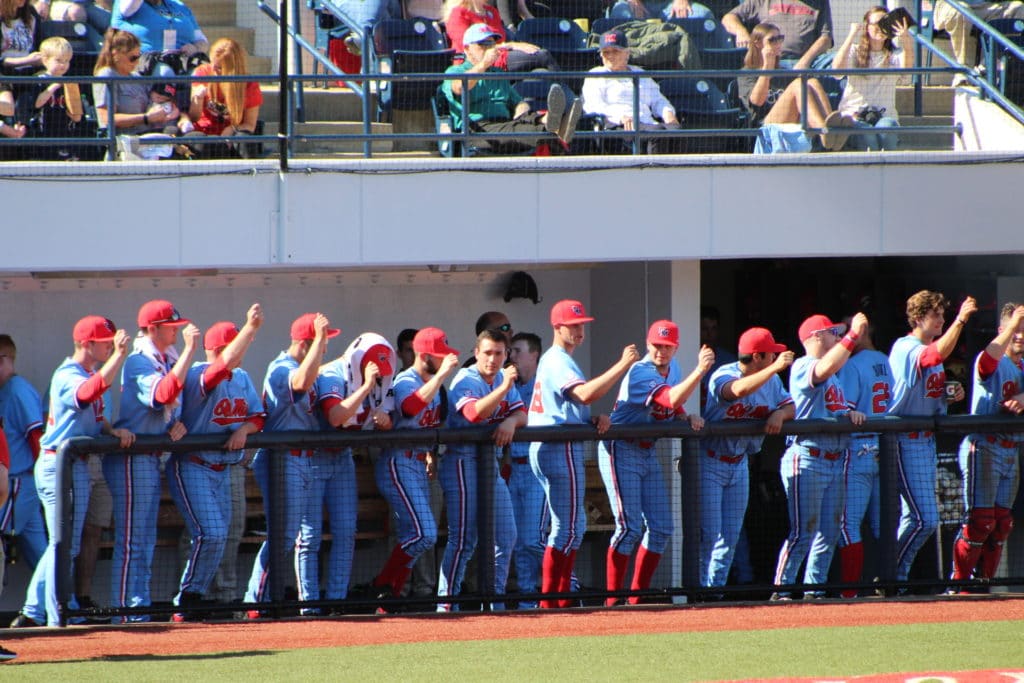 Ole Miss opened their season at home over the weekend and followed USM's style with a sweep over the Winthrop Eagles. Behind a 12 strikeout performance from opening day starter Ryan Rolison, the Rebels rolled to a 1-0 start. DH Tim Rowe provided the first beer shower of the season for Ole Miss with a three-run home run in the 3rd inning to bust the game wide open.
Rolison wasn't the only Rebel starter to put his team in a winning position, as none of the three starters gave up an earned run over the weekend. On Sunday, the Rebels managed just three hits, but thanks to the sound pitching performances, they were able to pick up a 3-1 win. The bullpen was able to hold, and for the third straight season, Ole Miss opens up with a sweep.
Last season, Ole Miss struggled at the plate and scoring a total of 18 runs and racking up 30 hits in their first three games could be a confidence booster for a young team still trying to find their identity at the plate.
Who's next?
The Rebels' (3-0) homestand continues on Tuesday with a matchup against Memphis.