Stacy Ware is a mother to three children and two of them have been diagnosed with autism. Her son, Zach, has a Level 3 diagnosis, the most severe form of the disorder, and her daughter Peyton a Level 2 which is a mid-level form of autism. Ware said it's all about putting the children in the right environment.
"It's about moving them into an environment where people see them as people that can learn and are willing to teach them versus having them in an environment where someone sees them as just being in the way," Ware said. "When you move a child somewhere where they can learn, they will learn."
RELATED: Report: 91% of parents satisfied with ESA program
Grant Callen, President of Empower Mississippi said the legislation can fix the issue in two different ways, by creating the scholarships to serve the students who are already eligible and essentially doing away with the waitlist. The second way would be to have universal eligibility where every child in the state would be eligible to attend any school of their choice.
"The real problem here is that the legislature created the program, made a promise that we are going to create 500 new scholarship every year and haven't actually created those new scholarships," Callen said. "We are stuck with the original number of scholarships from 2015 instead of it growing with demand."
The Ware family is a single income family and spends $27,000 on tuition for both of their children to attend school each year, not including therapy expenses and says the ESA money belongs to them, the taxpayers, as it is not taking money away from other children.
"The legislature needs to be a little more forceful with the Department of Education on how it is managed and how it is used, and fund it accordingly, but on the other hand, the Department of Education needs to look at these parents that are on this waiting list and say 'this is their money.'"
The Equal Opportunity for Students With Special Needs Act was signed into law in April of 2015 in an effort to help families with special needs children.
The legislation authorized 500 seats in the first year of the program and an additional 500 new seats each year after. This would have brought the total number of authorized seats to 2,000 in the 2018-2019 school year, however that hasn't happened.
With 500 ESAs issued since 2015, only 428 ESAs were issued for this school year because the program continues to be level-funded by the Legislature, meaning: a slight increase in the value of the ESA accounts translates into a decrease in the number of ESAs available.
This leaves 72 waitlisted families left to figure out how to pay for their children's education on their own because the legislature has not followed their own law.
Currently, ESAs are awarded by a lottery held twice a year because the number of families on the wait list (over 200 this summer) has far outgrown the number of ESAs available.
Ware added that she wants every child in Mississippi to have the opportunity to receive an education tailored for them.
"We've been waitlisted five times," Ware said. "I can't afford $27,000 a year every year and pay taxes on top of that to support a school district that doesn't support my kids. Every child deserves an adequate education. They all do, and if they can't get it at the public school then they should have the choice to able to take their money and go somewhere else. No one should have to sit in an eligibility meeting and hear that their child will never learn when they can learn."
PEER Report for ESAs: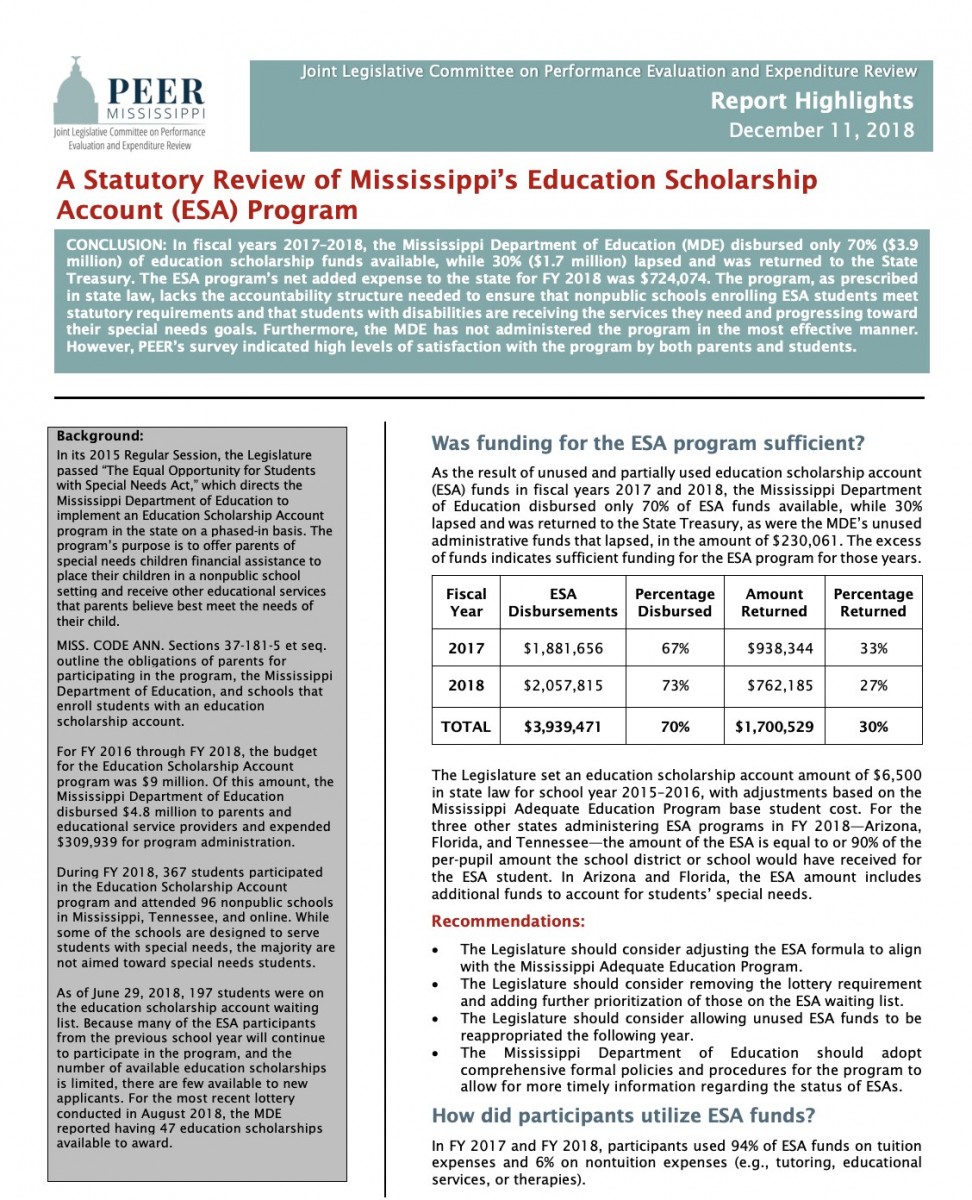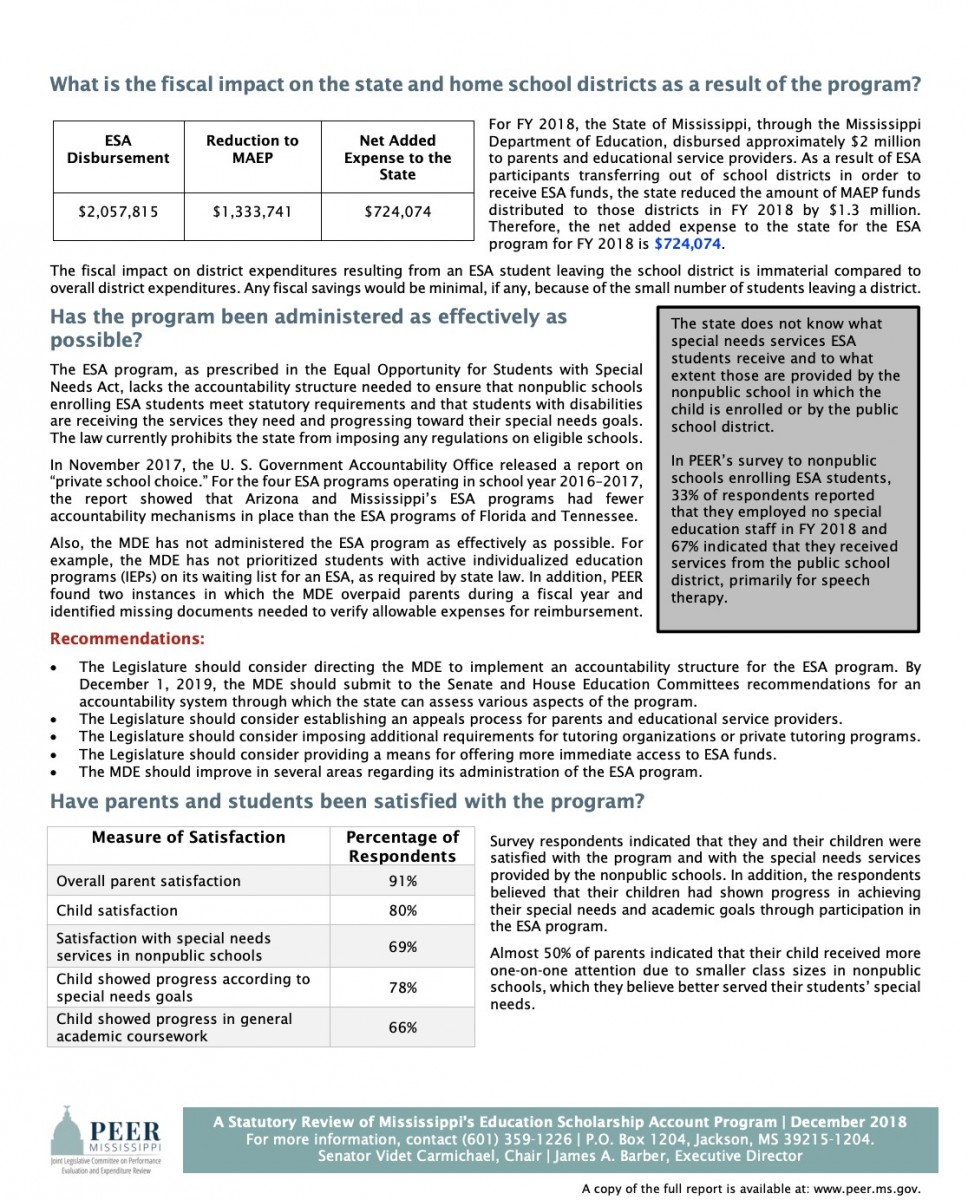 Stay up to date with all of Mississippi's latest news by signing up for our free newsletter here. 
Copyright 2023 SuperTalk Mississippi Media. All rights reserved.