The price for a pack of cigarettes could soon go up drastically, by $1.50 to be exact. The tax is currently at 68 cents, and Senator Brice Wiggins said that if the legislation passes, it would rise to $2.18.
"If you don't raise it high enough then the reduction in health costs and improvement in health won't happen," Wiggins said. 
According to research gathered by the campaign for tobacco-free kids, the cost to residents' state & federal tax burden from smoking-caused government expenditures is $1,046 per household.
Senator Willie Simmons said that he stopped smoking at his son's request many years ago due to the harmful effects of second-hand smoke.
"He said daddy, you're going to kill us," Simmons said. 
Dr. Bill Grantham, President of the Mississippi state medical association said that an increase in the tobacco tax would improve the health of Mississippians across the board.
"We would see about 22,800 youth not smoking, about 26,500 adults stop smoking and then prevent about 14,000 premature cancer-related deaths," Grantham said. "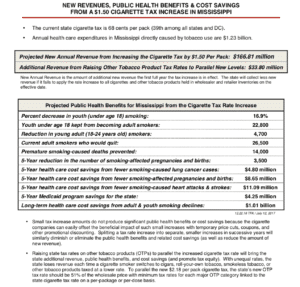 While the legislators believe the tax increase will have an effect on adults, the target of the increase is to make it harder for the younger generation to buy tobacco products.
Wiggins added that the initiative would ultimately save the state money and potentially increase Mississippi's workforce.
"I have the Chevron's and Ingalls in my district, who are two of the largest employers in the state, and they want to hire Mississippians, but their costs that they have to deal with from a healthcare cost is astronomical and so that would apply across the boar," Wiggins said. 
Simmons said that he believes there is no downside to the tax increase.
"This is a win-win situation for everybody," Simmons said. "I can't figure out who loses in this process." 
Stay up to date with all of Mississippi's latest news by signing up for our free newsletter here. 
Copyright 2023 SuperTalk Mississippi Media. All rights reserved.