Tucked away among the pastures of Neshoba County is a 146 acre spot of land that many call "magical."
Wednesday it was a battleground between Republicans and Democrats.
Fiery political speeches are nothing new to the NCF. Michael Ted Evans, a Democrat and District 45's representative in the House threw out the first volleys Wednesday morning.
"Those folks in Jackson last session didn't do anything but what I call 'back the buggy.' Walmart, Budweiser, anybody with a franchise got tax cuts. We passed 'back the badge,' but did we back the 75 men who lost their jobs with the Mississippi Forestry Commission?"
Evans noted the persistence of special interest groups and their affects on state politics.
"You've got these people manipulating votes, and people actually donate money to them. I tell you: you'd be better served by giving your money to a Jamaican telemarketer than give to a special interest group."
While Attorney General Jim Hood and Lt. Governor Tate Reeves are prospective candidates for the 2019 governor's election, neither gave clear indications of their trajectories.
Attorney General Jim Hood used his 15 minutes of mic time to admonish leaders in state government over corporate tax cuts that he fears will lead Mississippi down a path that's been witnessed in Kansas and Louisiana.
"This whole theory of giving these large, out-of-state tax cuts to corporations isn't helping Mississippi's main street businesses. And it's failed in Kansas, it's failed in Louisiana. There's a record, there's proof, there's evidence. I'm just stating the facts."
Hood also noted the effects of the state's epidemic of opioid abuse and lamented legislators cutting funds to the state department of mental health:
"I remember the crack and meth epidemics. Neither of them were this bad. The opioid epidemic spans across all cross sections of the population. It doesn't matter: rich, poor, young old, black, white. And the legislature has cut budgets to those things that we need to fight drug addiction and that is mental health treatment."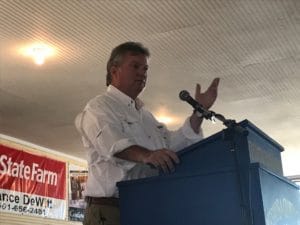 Hood continued: "The legislature is not facing the issues. Tax cuts for billionaire corporations, giving away the state treasury when we need it the most."
But it was Lt. Governor Tate Reeves, immediately following Hood, who seemed to carry the longest and sharpest knives for his colleagues on the other side of the aisle.
Reeves began almost immediately with a mention of Hood. "The more he talked, the more I'm convinced the heat has gotten to him. His vision is blurry and he's just not making any sense. Can somebody track General Hood down and keep him hydrated today?"
Reeves even took a swipe at the news media. "I begin to worry about him and his friends in the media. Bless their bleeding little hearts."
"I think it's time to brag on our state for a little while" Reeves continued. We in the legislature removed regulations, getting government out of the way so industry can grow. A flatter and fairer tax code can create more jobs. Mississippi is open for business and we want yours."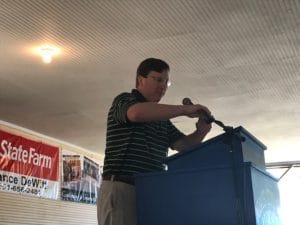 On the topic of state budgeting, Reeves again targeted past Democratic leadership.
"The sky is not falling. Liberals would convince you otherwise. When liberals ran the government they took more taxes to create more spending to create more deficit. Democrats are fighting to raise taxes on truck drivers, realtors, preachers, and others who are self-employed in the state."
Reeves continued to hammer A.G. Hood, comparing him to recent Democratic presidential candidates. "Our Attorney General seems more concerned with impressing his friends in California and seems more interested in supporting liberal policies pushed by Hillary Clinton and Bernie Sanders than doing the job he was elected to do."
Reeves concluded with a jab at California's recent state employee travel ban to Mississippi.
"That's O.K. We'll keep sending our economic development teams out west to recruit businesses to our state with our lower taxes and fewer regulations, and they can just stay home."
Other speakers were more tame (except for state transportation commissioner Dick Hall, but that's to be expected)
District 18's Republican Senator Jenifer Branning touched on some positive action from the legislature: the HOPE Act aimed at purging welfare roles and getting more people back to work, and the successful passage of campaign finance reform.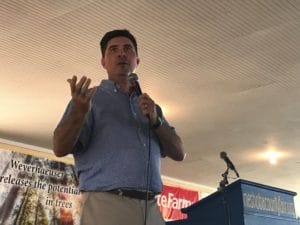 State Auditor Stacey Pickering gave a revved-up pep talk as he admired the work of his staff. "These folks are working 7 days a week for YOU." We also learned that it's not a good idea to have those with the power of subpoena escorted off your property when they come to audit you (speaking on his recent order to Green Tech Automotive's to repay the state $4.9 million – plus interest).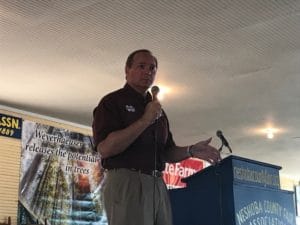 MSU's President Dr. Mark Keenum roused a conservative clanga of cowbells from across the grounds of Founder's Square as he talked of Mississippi State's leadership in unmanned aviation and automotive technology, as well as the necessity of boosting the state's high school and graduation numbers.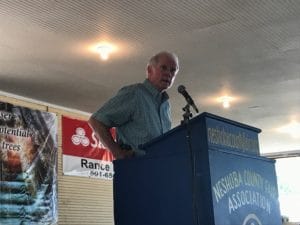 Dick Hall, the chairman of the state transportation commission opened his speech with a nightmarish scene of a school bus full of screaming children careening off a dilapidated Mississippi bridge. "There are 5700 bridges in the state system, over 1000 are classified as 'deficient.'"
Hall pushed the need for an updated gas tax to help pay for the much-needed improvements to the state's infrastructure.
"This ain't rocket science. It's going to take real money to fix our roads. Every one of our surrounding states has a higher fuel price than you'll find in Mississippi."
Commissioner Hall echoed the words of former U.S. Senator Trent Lott: "If they can't get here, they ain't coming," referencing the reticence of some industries to relocate or expand to Mississippi due to crumbling roads and bridges.
News Mississippi will be streaming LIVE from the speeches on Thursday. See more here.
Stay up to date with all of Mississippi's latest news by signing up for our free newsletter here. 
Copyright 2023 SuperTalk Mississippi Media. All rights reserved.