A 5-foot-tall flowering plant (Amorphophallus titanum) is set to bloom any hour now and when it does the otherworldly looking lime green and burgundy plant will smell like decomposing flesh. The smell is intended to attract pollinators but it is a putrid smell nonetheless that has earned titan arum the nickname "corpse flower" or "corpse plant."
Lal Jayaratna, a research and development botanist with the Maynard W. Quimby Medicinal Plant Garden of the National Center for Natural Products Research, where the plant is usually housed, said he believes the odd-looking plant, which has the largest unbranched flower cluster in the world, will blossom by Friday, June 15th.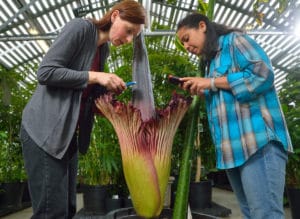 The plant is native solely to western Sumatra and western Java in Indonesia and is grown at the garden as a collection and also for research by NCNPR scientists on the chemistry of different parts of the plant. The garden is home to three mature titan arums and a few others.
The blooming of the plant is a rare sight, with the titan arum taking about five or more years to start flowering.
It then subsequently blooms infrequently, once in three or four years, and even more rarely in cultivation. In 2014, UM housed two plants that bloomed within weeks of each other.
Stay up to date with all of Mississippi's latest news by signing up for our free newsletter here. 
Copyright 2023 SuperTalk Mississippi Media. All rights reserved.