Less than one week ago, Governor Tate Reeves announced an overall investment of $1.3 billion in transportation capacity funding to repair roads and create project-ready sites across Mississippi.
Included in the $1.3 billion is an additional investment of $100 million into the Emergency Road and Bridge Repair Program, which all 300 municipalities and 82 counties across Mississippi are eligible to apply for.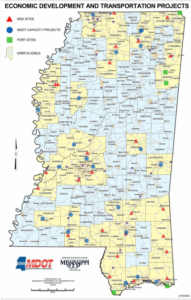 The plan also includes $57 million in grants to develop project-ready sites across the state. Once finished, these sites will allow companies to relocate to Mississippi immediately.
Mississippi Department of Transportation (MDOT) Executive Director Brad White explained that the funds will address the department's capacity program, which focuses on the state's major construction projects.
"That's kind of sat dormant for the last 10 years," White said on The Gallo Show. "Thanks to Senator Wicker, the Federal Highway Administration received an extra $1 billion for Mississippi to be spent out over the next five years and that allowed us to restart the capacity program."
White stated that prior to last week's announcement, Reeves chose what projects to fund out of a three-year plan compiled by MDOT.
"He took them right out of our plan, starting with those that are most shovel-ready and he just moved down the list until he had those projects that he thought were key to moving forward," White said. "They are all projects that we are already investing and have been investing pre-construction dollars into to bring them to the construction phase."
He added that among others, one of the first projects ready for construction is Highway 15 in Tippah County, which he expects to be started next year.
"Neshoba County has a Highway 19 four-lane project that would be ready to be constructed, should we have the money, as early as next year," White said. "There's another widening project in Yazoo County, some others in the Delta, Highway 90 down in Jackson County, Highway 49 in Harrison County."
The full interview with White can be watched below.
Stay up to date with all of Mississippi's latest news by signing up for our free newsletter here. 
Copyright 2023 SuperTalk Mississippi Media. All rights reserved.