As of 12:30 this afternoon, nearly 110,000 Mississippians remain without power due to Hurricane Ida, which has now become a Tropical Storm. 
According to poweroutage.us, a large portion of the outages are occurring in Pearl River County and the Southwest portion of the state.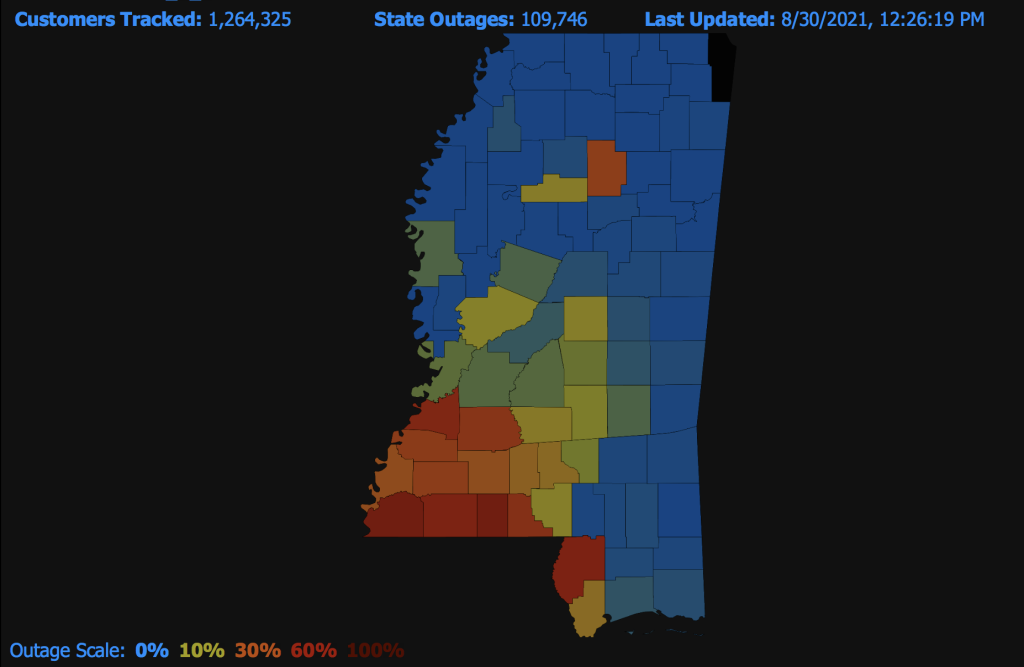 Linemen for the power companies will begin restoring power as soon as conditions are safe to do so. 
Both Entergy and Mississippi Power shared that they have secured additional resources that will assist their teams in restoring power quickly. Outage maps for both companies can be seen here – Entergy & Mississippi Power
If you lose power, Mississippi Power and Entergy each share the following tips on how to stay safe.
If you lose power, turn off large appliances and air conditioners and wait 10 to 15 minutes after power has been restored before turning them back on.
Keep freezer doors closed and sealed. Well-filled freezers keep most foods frozen two to three days if the door is kept closed.
Continue listening to local news for the latest updates.
Stay alert for extended rainfall and subsequent flooding even after the hurricane or tropical storm has ended.
If evacuated, return home only when officials have said it is safe.
Drive only if necessary. Avoid flooded roads and washed-out bridges.
Keep away from loose or dangling power lines. Any power line could be energized. You can't tell by just looking. Report them immediately to Mississippi Power at 800-532-1502. Call Entergy at 1-800-ENTERGY (1-800-368-3749)
Don't attempt to repair the electrical system or pull tree limbs off lines. Let our trained work crews perform this potentially dangerous work.
Don't walk in flooded areas or standing water
Be cautious when entering your home, and watch for snakes, insects and other animals that may have been driven to higher ground by flood water.
Stay alert for natural gas leaks.
Dave Miller with C Spire shared with SuperTalk this morning that their network was largely unaffected by the storm.
Stay up to date with all of Mississippi's latest news by signing up for our free newsletter here. 
Copyright 2023 SuperTalk Mississippi Media. All rights reserved.