Three Mississippi schools are among the 353 schools across the nation that have been named National Blue Ribbon Schools for 2023 by the U.S. Department of Education.
The recognition is based on a school's overall academic performance or progress in closing achievement gaps among student subgroups.
The Mississippi schools named as National Blue Ribbon Schools were:
Caledonia High School, Lowndes County School District
Laurel Magnet School of the Arts, Laurel School District
Lewisburg Elementary School, DeSoto County School District
"The [Mississippi Department of Education] applauds these three schools for their outstanding achievements that have earned them this national recognition," Dr. Ray Morgigno, interim state superintendent of education, stated. "We thank all educators, staff, and community stakeholders whose hard work contributed to successful student outcomes."
With its 40th cohort, the National Blue Ribbon Schools Program has granted approximately 10,000 awards to more than 9,700 schools.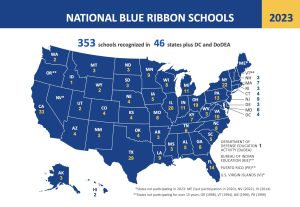 The U.S. Department of Education recognizes all schools in one of two performance categories, based on all student scores, subgroup student scores, and graduation rates:
Exemplary High-Performing Schools are among their state's highest-performing schools as measured by state assessments or nationally normed tests.
Exemplary Achievement Gap-Closing Schools are among their state's highest-performing schools in closing achievement gaps between a school's student groups and all students.
Lewisburg Elementary School and Laurel Magnet School of the Arts were recognized as Exemplary High-Performing Schools. Caledonia High School was recognized as an Exemplary Achievement Gap-Closing School.
"The honorees for our 2023 National Blue Ribbon Schools Award have set a national example for what it means to Raise the Bar in education," U.S. Secretary of Education Miguel Cardona explained. "The leaders, educators, and staff at our National Blue Ribbon Schools continually inspire me with their dedication to fostering academic excellence and building positive school cultures that support students of all backgrounds to thrive academically, socially, and emotionally."
Up to 420 schools may be nominated each year.
The U.S. Department of Education invites nominations for the National Blue Ribbon Schools award from the top education official in all states, the District of Columbia, U.S. territories, the Department of Defense Education Activity, and the Bureau of Indian Education.
Private schools are nominated by the Council for American Private Education.
Stay up to date with all of Mississippi's latest news by signing up for our free newsletter here. 
Copyright 2023 SuperTalk Mississippi Media. All rights reserved.