As the concerning Delta variant continues to spread across the state, today's report of 641 new COVID-19 cases represents the highest one-day rise since mid-March. 
The latest report—the first one-day increase in the 600s since March 13th— brings the state's total number of cases up to 325,713. Earlier this week, State Health Officer Dr. Thomas Dobbs reiterated that "pretty much all cases in Mississippi" are the Delta variant, which is known to be more contagious than the original virus. 
With the confirmation of 5 additional deaths, 7,456 Mississippians have now passed away from COVID-19. 
Hospitalizations continue to see an increase as well—up to 268 from 94 in late June. 
Additionally, there are now 36 active outbreaks in Mississippi long-term care facilities—up from 12 in late June. 
Officials continue to urge all Mississippians 12 & up to get vaccinated as an overwhelming majority of cases, deaths and hospitalizations are among the unvaccinated.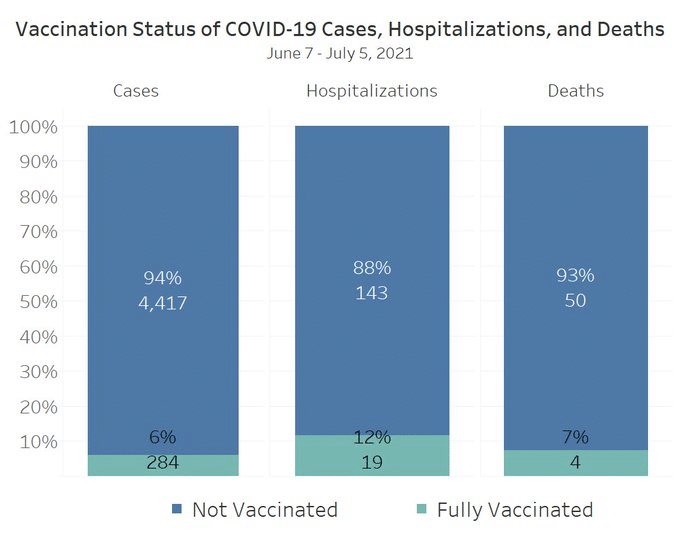 On Twitter, Dr. Dobbs did issue a correction related to the number of children currently in the ICU and on ventilators. 
With great and personal apologies – MS with 7 children in ICU with 2 on the ventilator (life support). A hospital has corrected it's report to us from last evening. And yes – 7 children with COVID.

Please be safe and if you are 12 or older – please protect yourself

— thomas dobbs (@TCBPubHealth) July 14, 2021
Mississippi's vaccination is now at 33.5% which is second in the country—.1% above Alabama