The 8th annual "Pirate Day in the Bay" is set to kick off on Friday, with the two-day event set to feature live music, food vendors, local art, and more for attendees of all ages.
Organized by Mystic Krewe of the Seahorse, the yearly pirate-themed festival in Bay St. Louis hosts numerous family-friendly activities including cardboard boat races, costume contests, and a pirate invasion golf cart parade.
The festival — which has been named a Top Twenty Event by the Southeast Tourism Society and Mississippi Magazine's 2021 Spring Festival M-List winner and 2022 Best of Travel Awards — draws over 5,000 locals and visitors from across the nation each year.
The Hancock County merchants have teamed up with Mystic Krewe of the Seahorse for the third year on a "Where ARRR the Pirates?" scavenger hunt challenging all residents and visitors to search for the picture of Captain Longbeard and Lady Claiborne displayed in the participating businesses.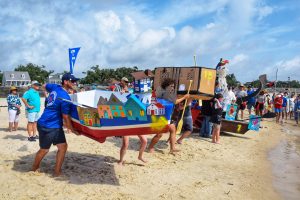 In addition to the scavenger hunt, the Historical Society is challenging all cities, municipalities, schools, organizations, individuals, or groups to get creative and build a cardboard boat and come "float your boat" off the beach adjacent to the BSL harbor.
Shoppers must scan the QR Code and register their visit to qualify for the winning prize of an overnight stay at the Pearl Hotel and a $100 gift certificate for dinner at Cuz's Old Town Oyster Bar & Grill. The scavenger hunt ends on May 21.
Although many of the events will be free, the weekend festival is the Mystic Krewe of the Seahorse's annual fundraiser, which allows them to support the arts, veterans services, scholarships, job creation, and other non-profit organizations in the community.
In 2022 alone, the Mystic Krewe of the Seahorse donated over $17,000 to an array of organizations in Hancock County. The Pub Crawl, Pirate Play Zone, and Pirate Invasion Golf Cart Parade will require attendees to pay a fee for participation.
Here's the full list of events planned for this year's Pirate Day in the Bay: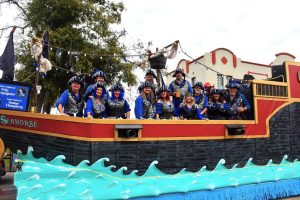 Friday, May 19
4:00 p.m. – Pirate Central & Vendors Open
5:45 p.m. – Pirates Welcome
6:00 p.m. to 9:30 p.m. – Pub Crawl and Treasure Hunt
7:00 p.m. to 11:00 p.m. – Live Music by Retro BSL
Saturday, May 20
8:00 a.m. – Cardboard Boat Races.
10:30 a.m. – Pirate Central & Vendors Open
11:00 a.m. – Lil' Buccaneers' Parade and Kids Costume Contest Sign Up
11:00 a.m. to 7:00 p.m. – Pirate Play Zone
12:00 p.m. – Kids Costume Contest.
1:00 p.m. – Adult Costume Contest Sign Up
2:00 p.m. – Adult Costume Contest
5:00 p.m. – Pirate Invasion Parade
Stay up to date with all of Mississippi's latest news by signing up for our free newsletter here. 
Copyright 2023 SuperTalk Mississippi Media. All rights reserved.