My sons, with their fine Mississippi public education (not being facetious), can easily recall the names of the two cities in the land of the rising sun that received the business end of an extinction ball used to put an end to World War II. I also grew up with the knowledge of the atomic-blasted sites of Hiroshima and Nagasaki, having written a paper or two on the topic for history in school.
When I was growing up, there seemed to be an urgency about the topic of nukes, albeit we were still heavily bogged down in the Cold War pre-Berlin Wall collapse. Hiroshima and Nagasaki seemed like bright beacon points in the history of the world.
Nowadays, my sons recall the city names with a high degree of academic apathy due to their perceived ancientness of the events. According to their sensibilities, we might as well be talking about Pompei or Atlantis for that matter.
The events that occurred in those two cities don't seem as important in their minds as they did in mine. Although it feels like there was also an unhealthy obsession with things like quicksand, the Loch Ness monster, and bigfoot in my school-age years. Maybe those topics stood out more because we didn't have all the gadgets, gizmos, live streams, and what not to distract us from the real dangers of life, like killer bees from South America.
On a recent business trip to a West Japan town called Kure, which is a stone's throw from Hiroshima, I snuck off to see the Atomic Dome. The Atomic Dome is a bank building that was nearly the only building to withstand nuclear thermal detonation within a three-kilometer radius.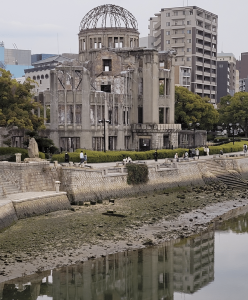 The statues, memorials, and plaques all around that portion of the city are a grim reminder of the lethality of humanity's capabilities if the conditions are right or wrong rather.
Two blocks away from a river that cuts through the center of town that was once so clogged with burned bodies of the blast victims who crawled to drink from the stream, I found a pleasant pedestrian street that seemed alive with happy and productive Japanese shop owners, pedestrians, and rebellious teens wearing their version of ridiculous "trendy" clothes.
After the emotional toil the Hiroshima site took on me, I needed a pick me up. 20-something years of being a food writer prepared me for all the wild and unique dishes I would find during my tour to Japan. On this particular day, I felt lonely and homesick for Coastal Mississippi.
That's when I saw a small oyster shop. In case you didn't know, Hiroshima is known for oysters. It was in the middle of the oyster season as well. I stopped into the small shop and heard the typical greeting to customers that you can hear all across Japan: "いらっしゃいませ!"
"Irasshaimase!" I replied with a hearty "Konnichiwa/hello." I looked at the menu and found an oyster platter. They had fried oysters, raw oysters, and chargrilled oysters. The adorable waitress with the striking but popular fashion features of sleek front straight bangs, cat eye mascara, knee-high black stockings, and a black baby doll skirt came over to me when she saw me looking at the oysters and asked if I liked oysters.
I looked up and said yes. She asked what oyster meal I would like to order. I said yes. One of each on the menu, please. Her mouth curled into a smile, her impossibly black eyes widened, and she asked if I was sure. I told her I was serious.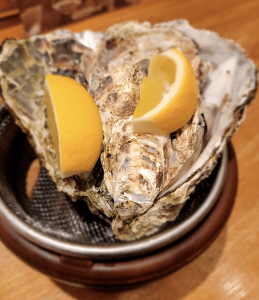 She walked 10 paces to the chef, and he nearly died laughing. He got to work immediately and began cooking the oyster feast I had ordered. Food is extremely cheap in Japan, and I have been taking advantage of it.
As the oysters started coming out, I realized I wasn't getting the typical Gulf Coast Oysters. These things were massive. I thought of trying the old trick of just gulping them down from their shells, but I realized that there was no way. They are so big they can't be swallowed whole.
Back in 2012, Jerry Dodge with the D'Iberville Chamber of Commerce tricked me into joining an oyster-eating competition in which trays worth of oysters were shoved in my face and I was forced to eat as many as I could as fast as possible. This felt like the same quantity, but I had all night.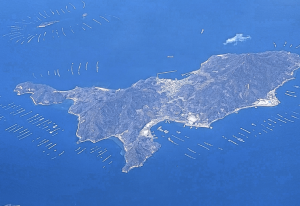 After I finished all my oysters, the chef greeted me with a drink called an oyster bomb. It's a simple drink: vodka, lemon juice, and cocktail sauce. You drop an oyster in the glass and slurp it down. Not my favorite, but hey…it's worth a shot. With my belly full, I went back to my hotel and settled in for the night.
When my business trip concluded, I took off from Hiroshima Airport. As we rose in the sky, I could see Hiroshima Bay below me and thousands of oyster farms in the water for as far as the eye could see. What a fantastic sight.
Even in the most foreign and remote places in the world, there are always small things that remind me of Mississippi. I can't wait to tell these stories in real life when I move back one day.
CONTINUE READING: A Mississippian in Japan — Did I hear a gunshot?
The views expressed by contributors are their own and not the views of SuperTalk Mississippi Media.
Stay up to date with all of Mississippi's latest news by signing up for our free newsletter here. 
Copyright 2023 SuperTalk Mississippi Media. All rights reserved.