An Airbnb listing in Greenville, Mississippi has been removed from the vacation rental company's website after advertising it as an "1830s slave cabin."
The cabin, also known as Panther Burn Cabin, sits on the estate of The Belmont Plantation, overlooking a 9,000-square-foot antebellum mansion.
Screenshots of the listing were shared in a TikTok video created by New Orleans civil rights attorney Wynton Yates. Photos and a description of the cabin were viewed by over two million TikTok users before Airbnb removed the listing from the website.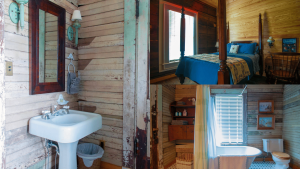 In Yates' video, he reads positive comments left by previous guests about their stay in the cabin before saying, "The history of slavery in this country is constantly denied — and now it's being mocked by being turned into a luxurious vacation spot."
Shortly after Yates' video began to gain popularity, Airbnb removed the listing and issued an apology.
"Properties that formerly housed the enslaved have no place on Airbnb," Airbnb spokesman Ben Breit said in a statement. "We apologize for any trauma or grief created by the presence of this listing, and others like it, and that we did not act sooner to address this issue."
According to Breit, Airbnb is working to remove all rental properties that are known to include slave quarters on the estate and create new policies to address properties associated with slavery.
The current owner of the property, Brad Hauser, has since spoken up, saying that he took ownership of the estate within the past month and is "strongly opposed" to the previous owner's methods of advertising the cabin.
"I intend to do all I can to right a terrible wrong and, hopefully, regain advertising on Airbnb so The Belmont can contribute to the most urgent demand for truth telling about the history of not only the South but the entire nation," Hauser said in a statement.
Hauser also clarified that despite what the previous owner included in the Airbnb description, the cabin was originally the plantation doctor's office, not a place to house slaves.
Stay up to date with all of Mississippi's latest news by signing up for our free newsletter here. 
Copyright 2023 SuperTalk Mississippi Media. All rights reserved.