The first accredited zero net energy (ZNE) home in Mississippi was unveiled during a dedication ceremony in Jackson by Atmos Energy and Habitat for Humanity Mississippi Capital Area (HFHMCA).
The home, which was built to meet green building standards and certifications, included rooftop photovoltaic solar panels, high-efficiency ENERGY STAR natural gas appliances, top-rated insulation, and windows, as well as other advanced weatherization features to improve energy efficiency.
"Having the first zero net energy home in Mississippi be a Habitat home is a wonderful gift made possible by Atmos," said Merrill McKewen, HFHMCA Executive Director.
During the ceremony, the Jackson residence was presented to the Brown family, which is comprised of a mother and daughter.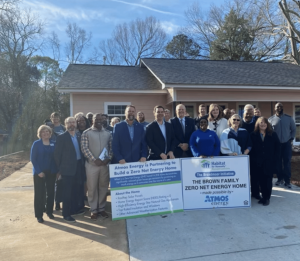 "Affordable housing begins with affordable energy, and this ZNE home showcases our commitment to Fueling Safe and Thriving Communities," said Matt Davidson, Atmos Energy Mississippi division president. "Natural gas is a part of the solution to achieve our low carbon energy future, and we are so proud that Ms. Brown and her lovely daughter will be able to enjoy an energy-efficient, comfortable home that partners natural gas with renewable energy to reduce greenhouse gas emissions while lowering her utility bills."
ZNE homes are designed to produce as much energy as they consume over the course of a year, which results in net zero energy consumption. Each home leverages high-efficiency natural gas heating and water heating appliances, advanced building envelope efficiency, and solar technology to make the home efficient and environmentally responsible.
In building this particular ZNE home, HFHMCA and Atmos Energy collaborated with Dickens & Associates (Energy Rater) and Mississippi Solar, LLC. Central District PSC Commissioner Brent Bailey was also present for the dedication.
"The high-efficiency natural gas appliances, sustainable construction techniques and renewable energy technologies utilized throughout the ZNE home guarantees long-term energy costs stability allowing the Brown family to maintain affordable energy bills year around," Commissioner Brent Bailey said. "I congratulate Atmos Energy and Habitat for Humanity for their collaborative efforts to create the first accredited ZNE home in Mississippi. This project provides a path for home builders who want to make home energy savings a priority in their community."
Stay up to date with all of Mississippi's latest news by signing up for our free newsletter here. 
Copyright 2023 SuperTalk Mississippi Media. All rights reserved.