Personal property from Mississippi blues legend B. B. King's estate is going up for sale.  Julien's Auctions announced King's collection will be up for auction on September 21st and includes King's instruments, stage work jackets, jewelry, awards, and personal items.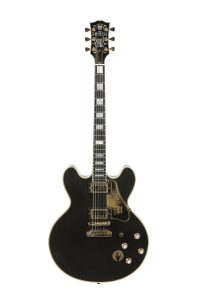 The most coveted item of the auction will be B.B.'s leading lady on the stage, "Lucille." The black Gibson ES-345 prototype 1 for 80 limited edition Lucille guitar that was gifted by Gibson to B.B. King on his 80th birthday. This "Lucille" was heavily used by King and served as his primary guitar on tour in his later years. The headstock has "B.B. King 80" and a crown inlaid with mother-of-pearl, "Gibson" on a gold plate, and the pickguard reads "[crown] B.B. King" in gold. The pickups read "B.B." in gold and the back of the headstock reads "Prototype 1."The guitar is accompanied by a hard leather case with "B.B. King" embroidered in gold and is estimated at $80,000-$100,000
"Julien's Auctions is proud to present this auction event honoring an American national treasure, the mighty B.B. King," said Martin Nolan, Executive Director of Julien's Auctions. "This splendid collection owned by one of the most influential blues musicians and greatest live performers of all time—from his National Medal of Arts to his iconic guitar, Lucille—is a testament to King's revered stature among rock royalty."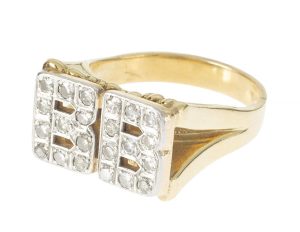 Born Riley B. King in Itta Bean, Mississippi, on September 16th, 1925, King began playing gospel music on street corners as a teen. In 1947, he hitchhiked to Memphis, TN, to pursue his music career and studied the blues with his cousin Bukka White, one of the most celebrated blues performers of his time. He landed his first big break on Sonny Boy Williamson's local radio show which led to other prolific gigs in Memphis, where he was inspired by other blues greats including Louis Jordan and T-Bone Walker.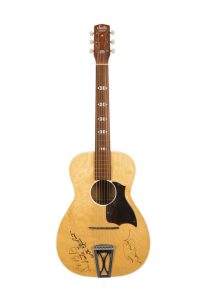 While developing a following in the Beale Street blues scene in the late 1940s/early 1950s, King began crafting his signature electric blues sound. After changing his name to Beale Street Blues Boy and later abbreviating it to B.B. King, the blues legend with his electric guitar was born.
In 1949, the famous legend of his "Lucille" guitar was born when, during one of King's shows, a fire broke out during a brawl and King went back into the burning building to save the guitar, narrowly escaping his own death. When he discovered that the brawl was over a woman named Lucille, he named his guitar ⁠—and each one of his trademark Gibson guitars in the decades to come ⁠—after her to remind himself to never fight over a woman or run into a burning building.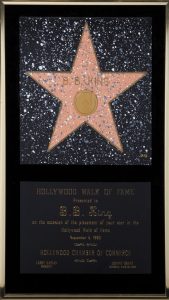 In the 1950s, King was considered one of the most important R&B artists with his first Number One Billboard R&B hit, 1952's "3 O'Clock Blues," and a string of hits that followed, all of which made him one of the top touring artists —as he clocked in a record-breaking 342 concerts in 1956. In the 1960s, his distinct guitar style of complex, vocal-like string bends and unmistakable vibrato developed a massive following and deep appreciation by the decade's greatest English rock legends including Eric Clapton, George Harrison, and the Rolling Stones.
He gained greater visibility of his artistry and sound among rock audiences at grand concert halls and festivals. The 60s also brought him greater fame with the release of Live at the Regal in 1964, the hits "Sweet Sixteen, Part I," "Don't Answer The Door, Part I," "Lucille" and his heralded opening act stint on the Rolling Stones' 1969 American Tour. In 1970, he won a Grammy Award for his most popular crossover hit "The Thrill Is Gone," which went to No. 15 on the Pop charts.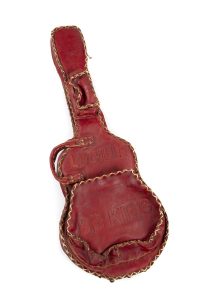 From the 1980s until his death in 2015, King toured extensively and appeared in numerous television shows and films including Blues Brothers 2000, where he played the lead singer of the Gator Boys along with Dr. John, Bo Diddley, and others. He reached further commercial success with his 1988 duet, "When Love Comes to Town," with the supergroup U2 and the double-platinum Grammy Award-winning blues album, Riding with the King (Reprise Records, 2000) with Eric Clapton. By 1998, it was estimated that King had played more than 15,000 concerts during his 65 years touring on the road.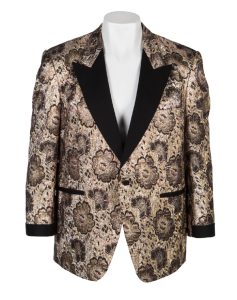 King's many honors included inductions into the Blues Foundation Hall of Fame in 1984 and into the Rock and Roll Hall of Fame in 1987; the NARAS' Lifetime Achievement Grammy Award in 1987; honorary doctorates from Tougaloo (MS) College in 1973, Yale University in 1977, Berklee College of Music in 1982, Rhodes College of Memphis in 1990, Mississippi Valley State University in 2002 and Brown University in 2007. In 1990, he received the National Medal of Arts and the National Award of Distinction from the University of Mississippi in 1992. In 2008, the B.B. King Museum and Delta Interpretive Center opened in Indianola, Mississippi. He died on May 14, 2015, at the age of 89 and is buried at the museum that bears his name.
Other auction highlights include:
a National Medal of Arts presented to King in 1990 by George H. W. Bush (estimate: $20,000-$30,000);
King's stage and photoshoot yellow gold ring with "BB" on the top, each letter accented with 11 round-cut diamonds for a total of 22 diamonds (estimate: $8,000-$10,000);
King's 2010 Savana G35 Touring Van that he used to transport his sound, audio, guitars, and equipment during the last tours of his career (estimate: $8,000 – $10,000);
an 18 karat yellow gold Hopkins & Hopkins pocket watch gifted by U2 engraved "B.B. King" on the back and engraved "Love U2 '89" in the interior (estimate: $3,000-$5,000);
his Hollywood Walk of Fame plaque (estimate: $4,000-$6,000) presented by the Hollywood Chamber of Commerce on September 5, 1990;
King's honorary Doctorate of Music diploma by Yale University granted on June 17, 1977 (estimate: $800-$1,200);
a handmade red leather guitar case embossed "Lucille and B.B. King," and inscribed "Happy Birthday from the B.B. King Orchestra" (estimate: $1,000-$2,000);
King's personal movie script of Blues Brothers 2000 (Universal Pictures, 1998) where he was featured as a guest star in the film (estimate: $300-$500);
King's show-stopping stage worn jackets including a green and pink jacquard jacket worn to the 46th Annual Grammy Awards on February 8, 2004 and a silver and gold metallic jacket worn to the first Grammy Nominations Concert at the Nokia Theater, Los Angeles on December 3, 2008, where he also performed on stage with John Mayer (each estimate: $5,000-$7,000);
a Stella Harmony acoustic guitar gifted and inscribed by Les Paul (estimate: $1,000-$2,000);
King's National Academy of Recording Arts & Sciences Grammy Nominee medal for Best Country Vocal Collaboration and Best Contemporary Blues Recording from 1990 where he also won a Grammy that year for Best Traditional Blues Recording (estimate: $2,000-$3,000);
a brick with a plaque reading "From the grandstand where Elvis Presley performed at the 1956 Miss-Ala. Fair & Dairy Show (estimate: $600-$800)
as well as his 1983 U.S. passport, little black book with contacts, holy Bible and more.
*Photos courtesy of Julien's Auctions
Stay up to date with all of Mississippi's latest news by signing up for our free newsletter here. 
Copyright 2023 SuperTalk Mississippi Media. All rights reserved.