Mississippi Chef Austin Sumrall walked away with a prize of $15,000 and the grand title after winning Sunday's episode of the Food Network's Alex vs. America.
Sumrall, the owner and chef at White Pillars Restaurant in Biloxi, took home the winning title after beating Alex Guarnaschelli during the second round of the show.
Three chefs from across the nation were chosen to compete against Guarnaschelli in a two-round competition that required each contestant to create a dish that falls into a certain genre of food. During Sunday's episode, all four competitors were asked to make a dish that was considered southern cuisine, with Sumrall submitting a "meat and three" for the judges to try.
Sumrall said during an interview on Good Things with Rebecca Turner that after some consideration, his group opted to create fried chicken, collard greens, grits, fried okra, and cornbread in a picnic-style setting within 45 minutes.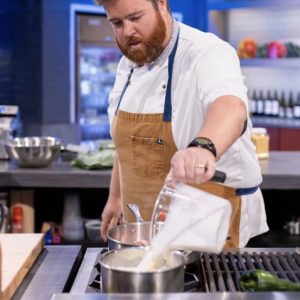 "Making three different dishes, plus protein, plus cornbread in 45 minutes, it's a lot," Sumrall stated. "I was really, really hustling."
Despite his southern roots, Sumrall's dish was ranked third after the first round, narrowly keeping the Biloxi native in the competition.
"I did think that my plating was possibly going to be an issue, but I thought that the food was going to carry me through because I thought everything tasted really good in the first round. They didn't love my grits, which is crazy because I feel like I make really good grits, but they said that they were under-seasoned," Sumrall explained. "I was surprised to be on the bottom. It kind of took my breath away."
During the second round, Guarnaschelli selected for the remaining chefs to cook an "on the farm" brunch plate within 35 minutes in an effort to get the upper hand over Sumrall.
"It was really crazy to go through it. You could tell it was hard for her, too," Sumrall said. "It's not easy to come up with an idea and execute it in that short of an amount of time."
Once the second round began, Sumrall redeemed himself by once again attempting to make grits along with oyster mushrooms, cherry tomatoes, and a gremolata, with the final outcome resulting in his dish being ranked first.
Watch the entire interview below.
Stay up to date with all of Mississippi's latest news by signing up for our free newsletter here. 
Copyright 2023 SuperTalk Mississippi Media. All rights reserved.