The 17th annual Bright Light Belhaven Nights is scheduled to kick off on Sunday, August 27 with the street festival set to feature numerous events throughout the entire day.
Instead of being held in the evening, this year's festival will be a progressive day of events starting at Sunflower Oven, then moving towards Urban Foxes, and ending at Fertile Ground Beer Co. and Belhaven Town Center.
Belhaven businesses will provide signature food and beverages, while several locations will host local musical talent. Local vendors will also be open for business, including Jxn Flea, Beans and Bananas Market, and more.
The free event will also invite attendees to register for a passport at The Oaks Museum before visiting Belhaven's "bright lights" for a stamp, which they can later validate to receive instant prizes.
"This next chapter of Bright Lights is highlighting bright spots in Belhaven," Bright Lights Committee Chair Molly West said. "Neighbors from near and far can dip into cafés, bakeries, breweries, markets, museums, and restaurants as they enjoy live music at four stages and two art markets. The indoor/outdoor model will also be useful for attendees to break from the weather."
Here's the schedule for this year's festival: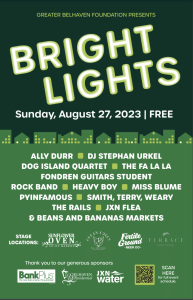 9:00 a.m. — Brunch Kick Off at Sunflower Oven
9:30 a.m. — Smith, Terry, Weary at Sunflower Oven
10:00 a.m. to 3:00 p.m. — JXN Flea (Market) at The Heights
10:00 a.m. to 4:00 p.m. — GBF Info Tent at The Oaks Museum
11:00 a.m. — Dog Island Quartet at Sunflower Oven
12:00 p.m. — DJ Stephan Urkel at Urban Foxes Neighbors Stage performance
1:00 p.m. — The Guiding Light at Urban Foxes Neighbors Stage performance
2:00 p.m. — Pyinfamous with Special Guest at Urban Foxes Neighbors Stage performance
3:00 p.m. — The Rails at Urban Foxes Neighbors Stage performance
4:00 p.m. — Fondren Guitars Student Rock Band at Terrace at Belhaven Town Center (BTC)
4:00 p.m. to 7:00 p.m. — GBF Info Tent at Manship at BTC
4:00 p.m. to 8:00 p.m. — BTC Market at Manship at BTC
5:00 p.m. — Ally Durr & Band at Fertile Ground Stage
6:00 p.m. — Heavy Boy at Fertile Ground Stage
7:00 p.m. — The Fa La La at Fertile Ground Stage
Bright Lights Belhaven Nights has repeatedly been named a top 20 event in the southeast for the month of August by the Southeast Tourism Society. The historic Belhaven neighborhood was also designated as one of the American Planning Association's "Great Neighborhoods in America 2014."
Stay up to date with all of Mississippi's latest news by signing up for our free newsletter here. 
Copyright 2023 SuperTalk Mississippi Media. All rights reserved.