Dallas Cowboys quarterback, and former Mississippi State quarterback, Dak Prescott, has lost yet another family member, this time with the passing of his older brother, Jace, who died at the age of 31 on Thursday.
The Cowboys issued a statement Thursday evening:
"It is with great sadness and support that we share the news of the passing of Jace Prescott today. The loss of Tad and Dak's brother is devastating. At this incredibly difficult time, the Prescott family asks only for prayers and respect for their privacy."
The cause of death has not been announced.
Jace, who was the middle of three brothers between Dak and Tad, played offensive line for Northwestern State (La.) from 2008-2010.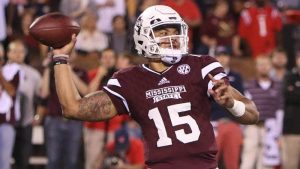 Prescott lost his mother, Peggy, to colon cancer in 2013 while he was at Mississippi State. However, Dak continues to be fueled by the inspiration and the memory of his mom.
Late Thursday night, Jerry Jones made a similar statement when asked about the tragic news during a virtual press conference.
"We are so saddened that Dak has lost his brother," Jerry Jones said. "We want him to help him get through this time. Whatever we can do to help him get through this tough time. When you're young, and Dak is young, death is really hard to understand to think about or live with. I have a particular sensitivity to players when they have a tragedy."
Both Stephen Jones and Mike McCarthy echoed their sentiments towards Dak and his family on the conference call as well.  You can view the press conference below. The statements begin around 30:37