A 29-year-old man in Louisiana was recently shot and killed after trying to sell his dirt bike to someone who responded to an ad he placed online.
Purchasing or selling online is commonplace, but there are risks.  Several law enforcement agencies across the state understand this and are now offering safe zones to make those sales or purchases.
The City of Clinton has set up an Internet Transaction Zone — a safe area just inside the lobby of the Clinton Police Department at 305 Monroe Street in Olde Towne Clinton.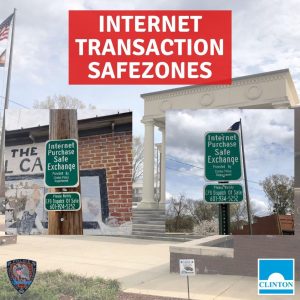 Marked by signage, the area serves as a safe location for locals to meet up to exchange goods and payments.  Video cameras record all transactions.
For larger internet transactions such as boats, trailers, and cars, the department has set up a safe zone on the west side of the Police Department. With signs marking the transaction spots, the inside and outside locations are monitored by video surveillance 24 hours per day.
Residents are encouraged to alert CPD of their transaction by calling 601-924-5252. This will allow dispatch to be aware of your presence and the transaction. Residents may also request dispatch to run a VIN or title check on vehicle and boat transactions to ensure that there are no liens or issues with the title.
The McComb Police Department has also established an area to safely buy or sell items.
About two years ago, the DeSoto County Sheriff's Department created a Safe Exchange Zone at the Sheriff's Department at 3091 Industrial Dr. West in Hernando.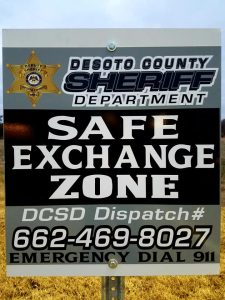 An announcement about the location stated, "It can always be a little uncomfortable meeting a stranger to exchange money and merchandise, so we have created a safer way to do it with the cops literally sitting at your backdoor."
In addition, the area can be used by single parents to pick up up their kids. According to the Sheriff's Department, the zone keeps both parties in check, when child custody issues and tensions arise.
If you do plan to make a purchase or sell an item online, here are a few tips to keep in mind to keep yourself safe.
Don't meet in a secluded area.
Take a friend.
Keep your cell phone with you.
Do not invite strangers to your home.
Let someone know where you are going and when you plan to return.
Do not give personal or financial information.
Never buy something without seeing it in person.
Stay up to date with all of Mississippi's latest news by signing up for our free newsletter here. 
Copyright 2023 SuperTalk Mississippi Media. All rights reserved.